Written on 11/7/2014 as a personal facebook post. I got so much feedback on it I decided to add some photos.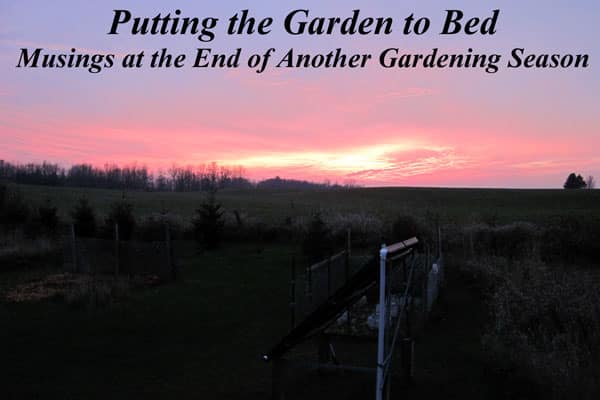 Today I put up the driveway markers for snow plowing, emptied the kitty litter out by the fruit trees to discourage the mousies, spread the ashes lightly around the garden, took out the compost, brought in the last of the pumpkins from the greenhouse and the little fairy from the garden, fed the birds, tucked some bins and posts into the greenhouse, and added more corn stalks on top of the parsnips to hold the straw down. The boys moved the water jugs around the grapes and blueberries for extra protection, and filled the wood racks. Tonight I froze celery and made pumpkin leather.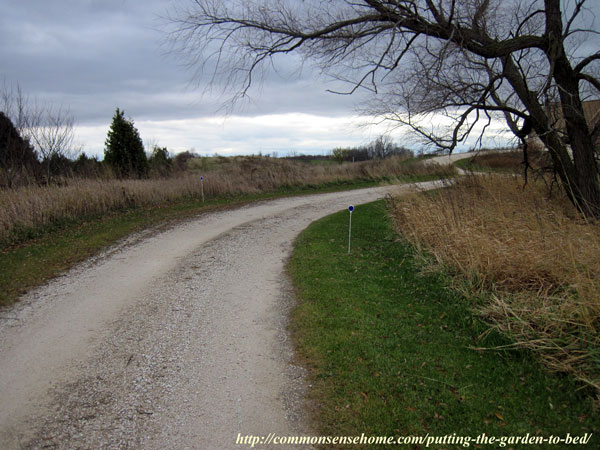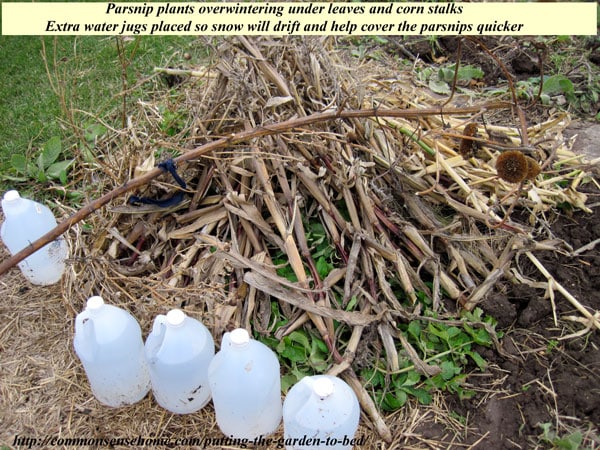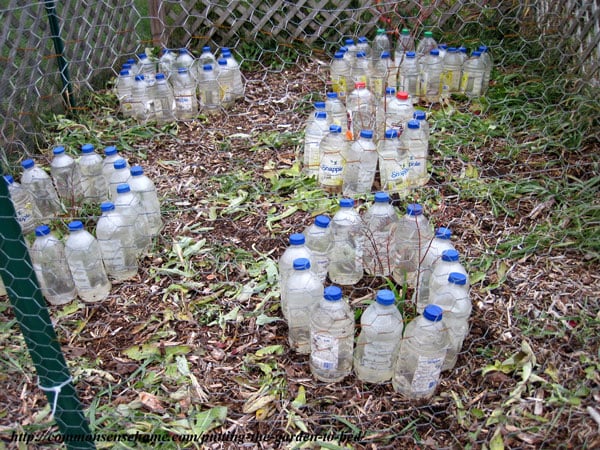 It's interesting to me how my perspective on the garden has changed over the years. I'm sure my garden looks like a mess to the average passerby, as all the neighbor's gardens are neatly plowed for spring. But when I walk outside, I see flocks of birdies hanging from the seedheads (wild and tame), foraging the abundant harvest. I know that if I wanted to, I could nibble right along with them, for many weed seeds are edible to humans, too. I have a bucket of plantain seeds waiting by the door to be stripped off their stems and stored for cooking. A few stray huckelberries hide here and there in the wildness. There are still fresh herbs that could be harvested for tea.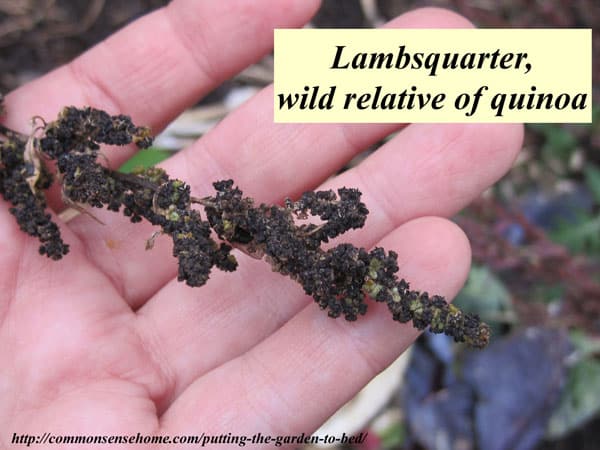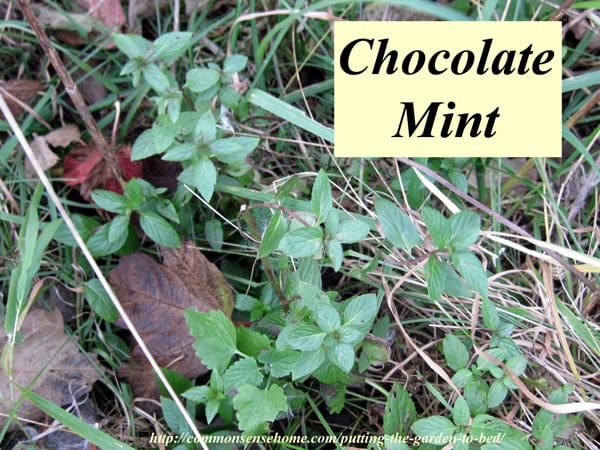 Hardy greens, wild and tame, are still standing in the cold. Kale, chard, spinach, cabbage (new heads sprouting), mallow, plantain, thistle – all still firm and green. The cold mellows out the flavor. I munched while I was working. Harvest now continues well past hard frost. There's more food than most people realize if you just know what to look for and are willing to try new things.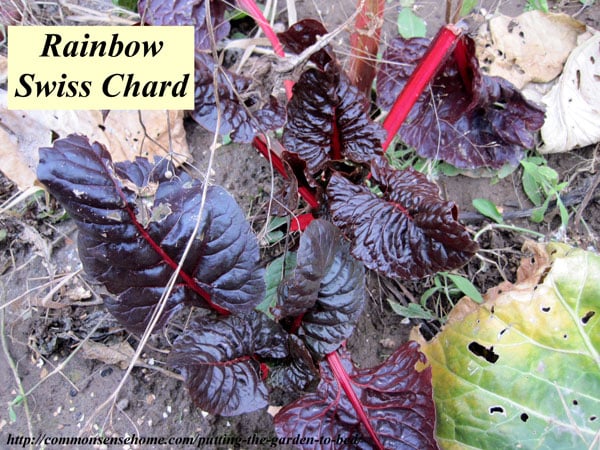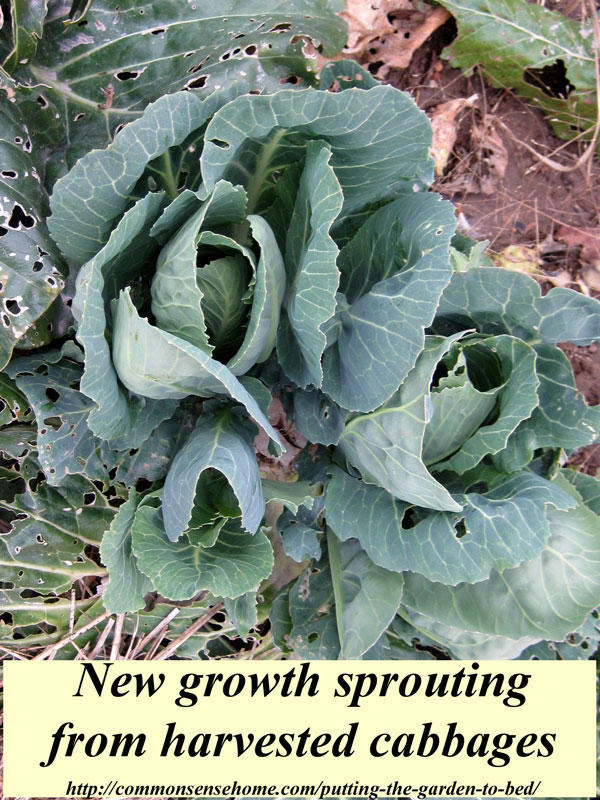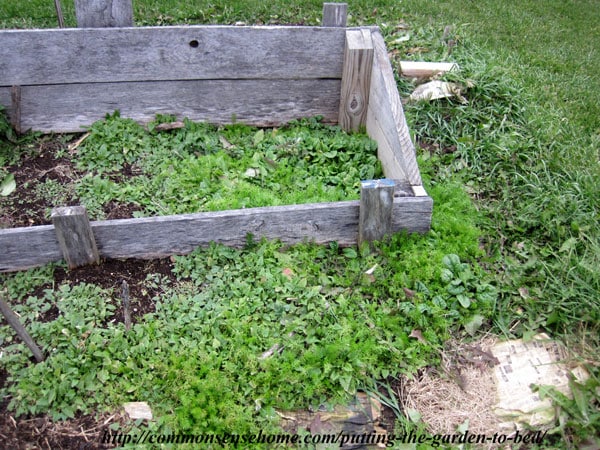 If I pull back mulch and look under the dead plants, it's so alive! All the little critters don't need to dig super deep into the soil or relocate. Yes, sometimes the troublemakers overwinter along with the good guys, but there are generally enough good guys to keep them in line.
Which brings me to the conclusion of my rambling – today I am grateful for this crazy abundance, and the eyes and knowledge to see what's been in front of me much of my life that many people never notice. The plants, wild and tame, that are like old friends to me now.
What does "Putting the Garden to Bed" mean?
My friend, Amanda, who helps me out with social media for the site and is new-ish to homesteading, asked me what I meant when I talked about "putting the garden to bed".
I don't have a set routine, that's just the term I use to refer to all the odds and ends that get done to wrap up another harvest season. All the trellises and fences are carefully taken down and stored for use again next year. The garlic and parsnips are mulched to protect them from the winter cold. Every young tree and small shrub is fenced or wrapped (or both) to protect them from deer and rodents. Items that will be damaged by the cold and snow are also brought in, like hoses, rain gauges, garden ornaments and the like. Any landscaping fabric that was used to provide extra warmth to heat loving garden plants is pulled up, cleaned and stored for reuse. Sometimes I cut down cornstalks and wild grape vines and use them for seasonal decorations.
We keep harvesting and preserving until the garden is buried under snow. Even then, some things like wild seed heads are still available. Many crops that are brought inside when hard frost threatens are processed further, into things like kraut and fruit leathers, or canned, dried or frozen for even longer storage. Right now I still have ground cherries and tomatillos rustling around my counter, as well as a few large zucchini and a few hot peppers.
There are seed heads from plantain and amaranth waiting in bins. I bring them into dry so they shed their seeds more easily. We're going to try popping the amaranth seeds this year. They're supposed to pop up like miniature popcorn. I'm tincturing wild roots from dandelion, burdock and yellow dock to use for medicine.
Sometime in the next couple of months, I'll go through my seed inventory and decide what I need for next year, and in February I'll start planting things like onion seeds that need a long time to grow. A few herb and flower seeds germinate better after time in the deep freeze, so that needs to be accounted for as well. We're working on adding more trees and shrubs to our permaculture plantings, so I'll need to talk to my husband and boys about what gets planted next, and how much we can reasonably add in one season.
This is where we're at right now. I'm grateful that we still had a harvest, in spite of the difficult weather (cold, wet spring; cold, dry summer; cold, wet fall). Looking forward to trying it all again next year. 🙂
How does your garden grow? I'd love to hear from you!
You may also enjoy: