Description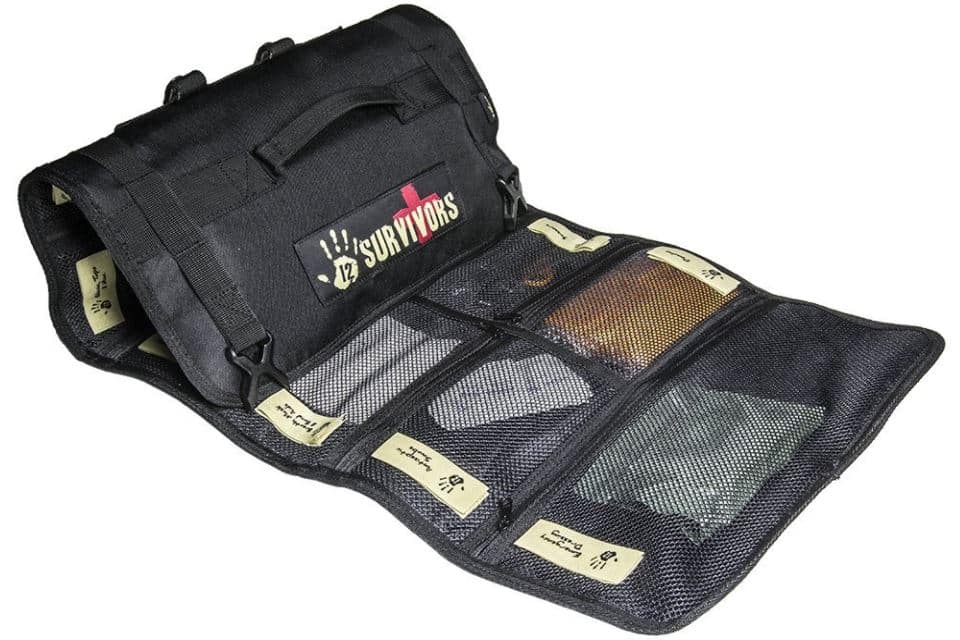 Our number one recommendation for a build your own first aid kit is the 12 Survivors First Aid Rollup Kit.  Note it has bad Amazon reviews because people think it has items in it.  IT IS NEARLY EMPTY.  YOU NEED TO BUY NEARLY ALL THE ITEMS TO ADD TO IT.
This is a great "base kit" for a family, a camp, car or storm/disaster. We have this kit as our main home kit and have customized it extensively.
The kit is 15 inch wide and rolls out to 33 inches long for 450 to 550 cubic inches of storage. There are 12 labeled pockets, 10 smaller and 2 bigger for easy access. It has a carry handle, clips, and straps to allow it can connect to a backpack, and has Velcro to keep it closed. This kit is geared for an entire family for trauma and basic emergencies. This roll out kit gives you fast, visible access, is customize-able and still fairly small.  You will need to add items it is not a complete kit.
Buy @ Amazon

You can customize the velcro labels on each of the mesh pockets. Each mesh pocket has the zippers along the long side (not top narrow side) which gives wider, easier access to contents. The straps are adjustable, so you can add more items to the kit and it will still close. This is the best kit currently, if you want labeling AND customization.
For the bad news:
YOU NEED TO BUY NEARLY EVERYTHING TO MAKE THIS A GOOD KIT. Also, you may want to replace what does come with it.
This is NOT a waterproof first aid kit. If you want to protect items from rain everything will need to be in ziplock bags inside the kit.
We wish there was a version of this kit that had the top row of zipper pouches smaller and bottom bigger, and one of the side pouches was slightly larger – it would be perfect. Laurie was impressed with how easy it was to find things inside it.
What we added. We added nearly everything from Group 1 and Group 2 and we recommend you consider doing the same.
For related information: