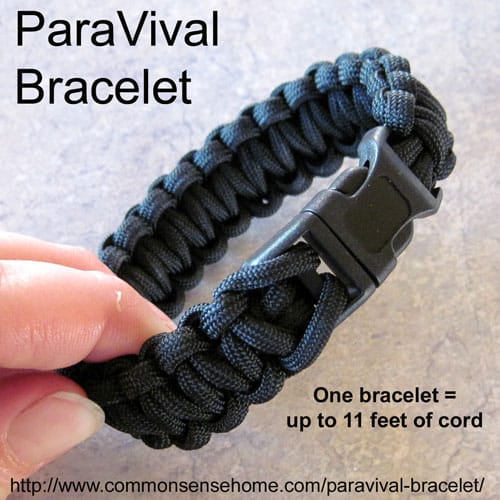 The ParaVival Bracelet is a compact survival bracelet made with  either Commercial 550 or MIL-C-5040 Type III 550 paracord. ParaVival offers 6 basic bracelet designs:
1 Color Cobra Bracelet (shown)
1 Color Cobra Bracelet MIL-C-5040 Type III
1 Color Fishtail Bracelet
Custom 2 Color Cobra Survival Bracelet
Custom 3 Color Cobra Survival Bracelet
Quick Release Gator Bracelet
These bracelets provide between 8-16 feet of paracord when unraveled "as is". To demonstrate, here's my youngest holding 10 feet of paracord – roughly one Baby Cobra bracelet.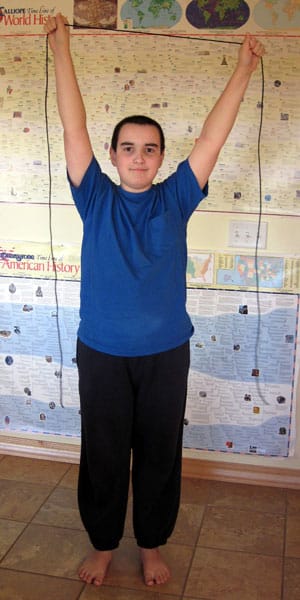 The paracord can be converted up to 200 feet of  10 pound test cord by breaking the base cord down to its inner strands. This fine inner cordage can be used for applications such as fishing, sewing, shelter building, simple repairs/bindings and more.
The ParaVival website explains:  "The paracord itself has 7 inner strands, each strand containing 3 inner strands of itself. Each of the these 7 inner strand has a breaking strength of roughly 50 pounds, and each of the 21 smaller strands have a breaking strength of roughly 10 pounds. In most applications such as strapping things down, building a shelter, or building a "bow" to create fire, 50 and 10 pounds of strength is more than enough."
ParaVival Bracelets are Easy to Deploy
Instead of using the short cut of melting the ends of the cord together to stabilize the bracelet, Paravival bracelets have an easy to use "tuck under" design, that allows you to take the bracelet apart quickly and leaving the entire cord intact.
See "Deploying Your Cobra Bracelet" for full instructions.
What's the Difference Between Commercial Paracord and MIL-C-5040 Type III 550 Paracord?
ParaVival explains:
Real type III 550 cord has 7 inner strands, each having a three inner strands of their own. In addition to that, one of the 7 strands is yellow/black in color. With the "commercial 550 paracord" or the "fake stuff", you'll most likely find 7 or 8 inner strands, but each strand only has 2 inner strands of their own. This commercial type also does not have the black/yellow strand. ParaVival.com offers genuine, military surplus, MIL-C-5040H Type III 550 paracord. We get our paracord from one of a handful of military spec braiding companies. That company is known as E.L. Woods Braiding Company. E.L. Woods Braiding Company is a military qualified braiding company whom provides 550 paracord to the military for their parachutes, hence "paracord" or "parachute cord".
A Solid Survival Product
All ParaVival products are made in America (in New Hampshire, specifically) to your specifications. They offer same day service and a full product warranty. They can be pretty stylish, too, if you want to get creative with your design. 🙂
These handy little bracelets offer an easy to carry little bit of insurance when you're camping or anywhere on the go. They can be used to:
Start a fire with a bow and drill
Make snowshoes
Build a snare trap
Make fishing line
Tie your food up in trees
Unwind into sewing string
Hang a tarp for shelter
Create a clothes line
Make a leash
You're only limited by your creativity (and I know some of you are extremely creative).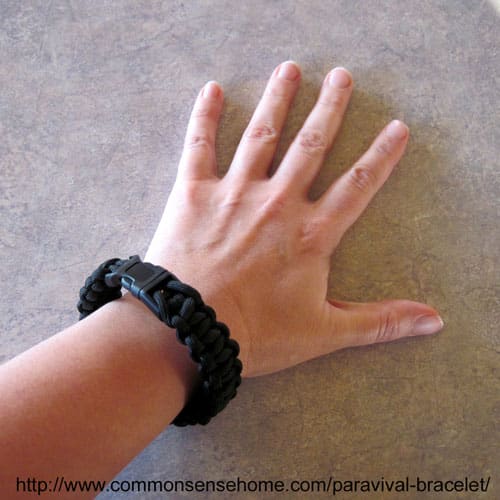 Win Your Own ParaVival Bracelet
ParaVival has generously offered to give away a free, custom designed bracelet (up to $14.99 value), to one lucky Common Sense Homesteading reader. Just use the Rafflecopter widget below to enter (email subscribers click through to the site). To earn your first two entries, visit ParaVival, and leave a comment on this post telling up which bracelet you like best and how you might use it.  Facebook and Twitter users can earn additional entries. Good luck! Contest ends 12/5/2012 at 12:01 a.m.
a Rafflecopter giveaway