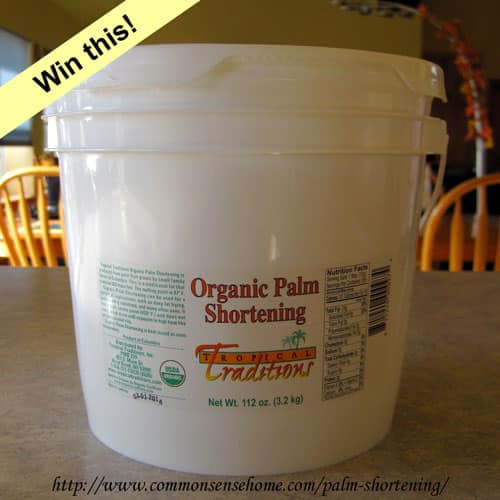 As many of you know, I've added more fats to my diet, including saturated fats such as coconut oil, lard, butter, poultry fat and tallow. One of the fats I've wanted to try for a while is palm shortening, and Tropical Traditions gave me the opportunity to try their palm shortening and review it, and to give you the chance to try it, too.
Why do we need saturated fat?
Fats are essential to health (fat soluble vitamins cannot be absorbed without them). They are used throughout your body. Dr. Mary Enig and Sally Fallon state in "The Skinny on Fats" that saturated fatty acids make up at least 50% of cell membranes. The influence bone health, heart health,  liver health and the immune system. (I encourage you to visit the site and read the entire article.)  In short, by avoiding healthy, minimally processed saturated fats, we've been short changing our bodies of the building blocks they need to be healthy.
What is Palm Shortening?
From the Tropical Traditions website:
Palm shortening is derived from palm oil. In its natural state, palm oil is a mixture of saturated and unsaturated fatty acids, with most of the unsaturated fat being monounsaturated fat. Palm shortening is palm oil that has some of its unsaturated fats removed, giving it a very firm texture, and high melting point. The melting point of our Organic Palm Shortening is 97 degrees F., making it very shelf stable. It is NOT hydrogenated, and contains NO trans fats! It is great for deep-fat frying and baking, and is not prone to rancidity. Since it has been separated from some of the unsaturated portion of the oil, it is colorless and odorless, and will not affect the taste of foods like Virgin Palm Oil does.
The mouth feel of the palm shortening is like velvet on your tongue. There is absolutely no "coating effect" (like when you eat an unnamed national brand chocolate sandwich with white, sugar laden hydrogenized fat filling and it leaves you mouth feeling scummy after). The flavor is delicate, and lends itself to either sweet or savory applications. (Say, for instance, if you wanted to make a filled cookie…)  It keeps just fine on the shelf in the pantry – no refrigeration required. (Great stock up food to store without electricity.)  The color is white, which melts to clear (virgin palm oil has a reddish tint). It looks a lot like hydrogenated vegetable shortening, but is much healthier and the taste is much better.
Tropical Traditions Palm Oil is Sustainably Grown
The Tropical Traditions website explains where their oil comes from:  "Tropical Traditions Organic Palm Shortening comes from small scale family farms in South America. These farmers are certified by ProForest, which ensures that they meet strict social, environmental and technical criteria. With regard to environmental criteria, the assessments are carried out at the landscape and operational level at both the farms and processing facilities. These assessments cover environmental impact on the soil, water, air, biodiversity and local communities. The lands the farmers use are not lands that were deforested. The lands used to grow the palm fruit are lands previously used for agricultural purposes (cattle, rice, banana)."
We need companies who invest in farming practices that build ecosystems instead of destroying them. Contrast this with heartbreaking destruction of the Amazonian rain forest to produce the so called "green" soy based biodiesel. In the article "Food For Thought – Soybean Endangers Brazil Amazon Rainforest", they share these ugly statistics:
Soy production has already destroyed 21 million hectares of forest in Brazil, and 80 million hectares, including portions of the Amazon basin. As currently scaled, configured and given expected growth, industrial soy monocultures can never be environmentally sustainable, and indeed may push the Amazon into wide-scale die-back while causing abrupt, run-away warming. Destruction of the Amazon forest is expected to increase the rate of global warming by 50 percent, while causing countless species to go extinct.
This palm oil is more expensive than a tub of soy, corn and cottonseed hydrogenated vegetable oil, but we vote with every dollar we spend for the future that we want for ourselves and our children, so if you can work it into the family budget, I think it's money well spent. It can be substituted for butter and other solid fats in baking and is less expensive than many organic fat options. It's also GMO free and certified organic.
Win Your Own Tropical Traditions Palm Shortening
You can win your own 1 gallon container of Organic Palm Oil Shortening, retail value $40.75.
More on Tropical Traditions…
Tropical Traditions is America's source for coconut oil. Their Gold Label Virgin Coconut Oil is hand crafted in small batches by family producers, and it is the highest quality coconut oil they offer. You can read more about how virgin coconut oil is different from other coconut oils on their website: What is Virgin Coconut Oil?
You can also watch the video they produced about Gold Label Virgin Coconut Oil:
Tropical Traditions also carries other varieties of affordable high quality
coconut oil
. Visit their website to check on current sales, to learn about the many
uses of coconut oil
, and to read about all the advantages of
buying coconut oil online
. Since the FDA does not want us to discuss the health benefits of coconut oil on a page where it is being sold or given away, here is the best website to read about the
health benefits of coconut oil
.
Note:  If you order by clicking on any of my links and have never ordered from Tropical Traditions in the past, you will receive a free book on Virgin Coconut Oil, and I will receive a discount coupon for referring you.
To enter, just subscribe to the Tropical Traditions newsletter. Additional entries can be earned by following Tropical Traditions and Common Sense Home via other social media (see rafflecopter widget for details – if you are reading via subscription, please visit the site to enter). The giveaway ends at 12:01 am central time on January 23, 2013. Must be over 18 years of age to enter. Open to residents of the US and Canada.
Giveaway is over. Thank you to everyone who entered.
Disclaimer: Tropical Traditions provided me with a free sample of this product to review, and I was under no obligation to review it if I so chose. Nor was I under any obligation to write a positive review or sponsor a product giveaway in return for the free product.
a Rafflecopter giveaway