How To Organically Get Rid Of Garden Pests, Forever
This is a guest post from Phil Nauta.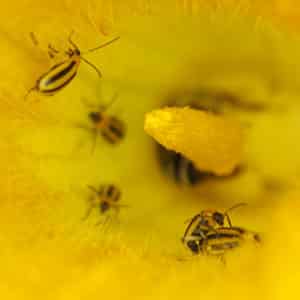 I get the impression that more and more people are coming to understand a fundamental truth – That human disease doesn't come because of a deficiency of drugs, it comes from a lack of health – mostly improper nutrition, inadequate exercise and too much stress.
And yet many of us who have figured that out haven't yet made the connection with the garden.
Why do insects and diseases eat your plants?

The answer is probably not what you'd expect. We tend to think these "pests" are making our plants sick, but it's actually the opposite – they're there because our plants are already sick.
Just as most diseases manifest in humans when we aren't optimally healthy, insects and diseases go after sick plants. That means plants with a nutritional imbalance, not plants with a pesticide deficiency.
In fact, pests don't even have the proper enzymes for digesting healthy plants.
Bigger animals do, and they prefer healthy plants, but insects and diseases go for sick plants that emit specific frequencies. Insects pick these frequencies up with their antennae.
Healthy plants don't emit these strong signals, so insects don't even see them as a food source.
I've been gardening for a long time, but I didn't stumble upon this concept until I started studying organic gardening and especially organic pest control in 2005.
I read a lot of interesting research about the topic, but was still skeptical at first. It took a few years of observation before I believed it.
Now, I see evidence of it all the time. The other day, I was looking at a group of 40 or so burning bushes in our nursery. Seven of them were covered in aphids. The rest had absolutely none.
The aphids had weeks to move over to the other plants, but obviously they were only interested in some of them, the sick ones.
I've also "cured" many plants of insect and disease infestations simply by improving the health of the plants. (Laurie's note – our organic farmer said that herd health also dramatically improves after farmers switch to organic production, in some cases with formerly diseases animals now testing clean.)
That doesn't mean pruning the predators out of the plants, which actually does nothing to help plant health. It means using inputs and techniques to help tip the plants into a state of health so that the predators no longer consider them a food source.
Organically Get Rid Of Garden Pests – Where to Start
If you want to improve the health of your plants to the point where insect and disease predators go away, I have three starting points for you. If you're growing food, this can also drastically increase your yield and storage time, and improve the taste and nutrient-density of your harvests.
1. Compost. I know you already know about this one, but sometimes the old methods stick around for a reason. Compost supplies nutrients, organic matter and just as important, beneficial microorganisms to improve the health of your soil and plants.
2. Microbial Inoculants. When there's not enough compost to go around, liquid inoculants such as compost tea and effective microorganisms can be used very sustainably for much less cost and time than compost, and can be applied to plant leaves where we really need these beneficial microorganisms, too.
3. Organic Fertilizers. I'm not really into most of the organic fertilizers on the market, but there are a few such as sea minerals that can be very useful while we're transitioning to a healthier ecosystem. In the long run, it's best to not use too many outside inputs, but in the first couple of years in a new garden, they're a great help to speed up the process.
Methods such as these – and other simple steps like proper watering and appropriate plant placement – will help ensure your plants are fit for human consumption, not insect and disease consumption.
While pesticides, including organic ones, only get rid of plant predators in the short term, creating health in your garden keeps them at bay forever.  (Laurie's note – I am working on these methods in my garden, but if you need a short term fix while you work on improving soil/plant health, you can check check out my Ultimate Guide to Natural Pest Control in the Garden.)
Feel free to ask any questions below!
This is a guest post from Phil Nauta, author of the book Building Soils Naturally, published by Acres U.S.A. He also runs an online organic gardening course called The Smiling Gardener Academy. He has taught for Gaia College, was an organic landscaper and ran an organic fertilizer business before starting SmilingGardener.com to teach practical organic gardening tips to home gardeners.
You can read a review of Phil's book here.