Natural Mosquito Repellents That Work (Plus Plants That Repel Mosquitoes)
Mosquitoes can ruin time outside and transmit disease. In this post, we'll discuss what attracts mosquitoes, natural mosquito repellents (including mosquito spray recipes), plants that repel mosquitoes, mosquito control tips for your yard, and ways to avoid getting bit.
If by chance you find this post after you've already been bit, check out "15 Home Remedies for Bug Bites and Stings – For Mosquito Bites and More".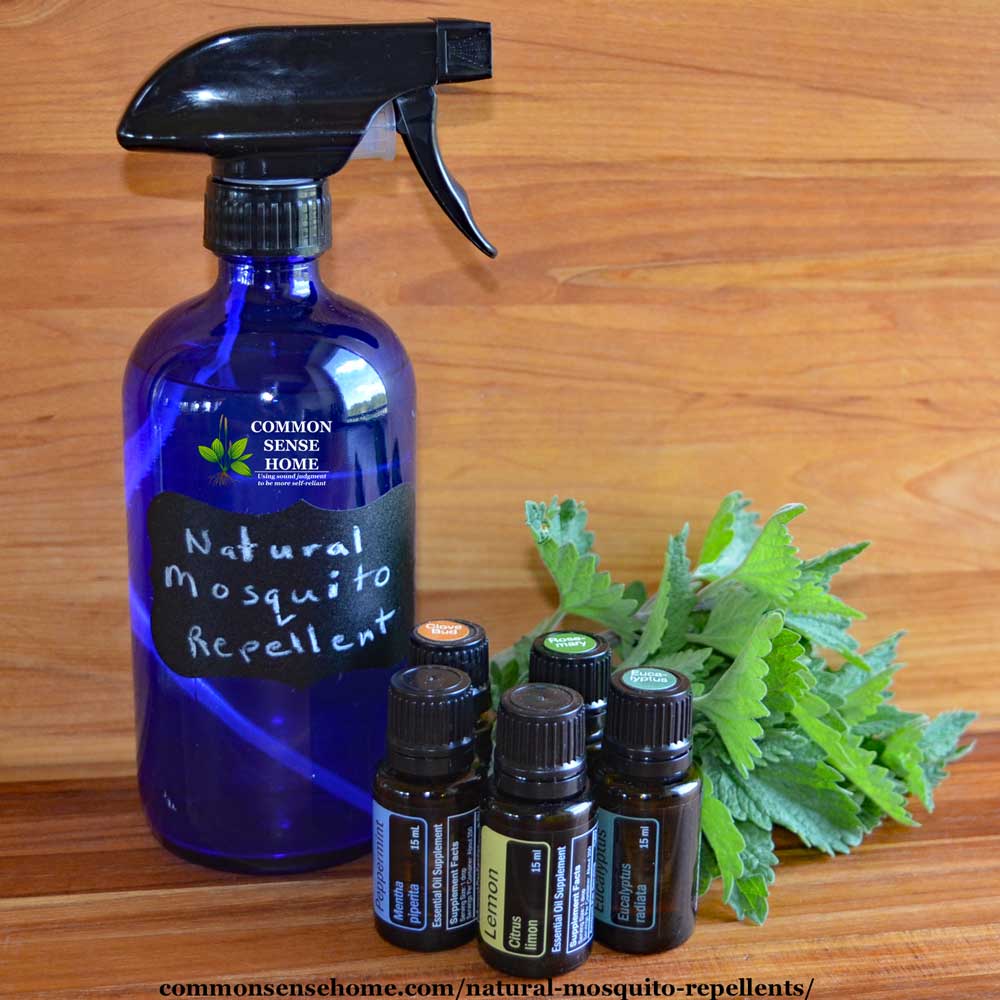 Why bother with mosquito control?
What's the most dangerous creature on earth? Without question the answer is: the mosquito. Mosquitoes and the diseases they spread have been responsible for killing more people than all the wars in history.
Even today, mosquitoes transmitting malaria kill 2 million to 3 million people and infect another 200 million or more every year. Tens of millions more are killed and debilitated by a host of other mosquito-borne diseases, including filariasis, yellow fever, dengue and encephalitis.
In the United States Encephalitis, meningitis and other diseases can develop from the bites of mosquitoes infected with certain viruses. These include the viruses of West Nile, St. Louis encephalitis, LaCrosse (California) encephalitis, and Eastern equine and Western equine encephalitis. (source)
The Center for Disease Control notes that since 2013, chikungunya virus has spread to 45 countries with over 2 million cases reported. This mosquito-borne virus can cause severe joint pain.
It's frustrating to work so hard at making my yard a place to relax, only to be attacked by blood sucking mosquitoes when I go outside! I swear I emit a homing device to mosquitoes as soon as I walk out of my house. My husband on the other hand, can stand by a swamp all day and never get bit!
This motivated me to research what caused mosquitoes to bite me more than others and how to get rid of mosquitoes.
What Attracts Mosquitoes?
Why do mosquitoes bite? Only female mosquitoes bite, because they need to drink your blood to develop and lay eggs. You're a nice hot lunch. (The males drink flower nectar.)
According to the Smithsonian article "Why Do Mosquitoes Bite Some People More Than Others?", there are several different factors that cause mosquitoes to bite you and not your neighbor, a few of them are:
You talk too much (This made my hubby laugh hysterically) – Mosquitoes are attracted to Carbon Dioxide, those who exhale (talk/breathe) more than others attract more mosquitoes.
Blood type O – According to a published study on "mosquito landing preferences", Those with type O blood attract more biting insects than those with A, B, or AB Blood.
Sweating – People who sweat or with higher body temperatures send signals to mosquitoes that the buffet is now open.
Mosquitoes Are Alcoholics – For unknown reasons, mosquitoes are attracted to those who consume alcohol more than those that don't. If you like to have an evening cocktail, it's best to stay indoors.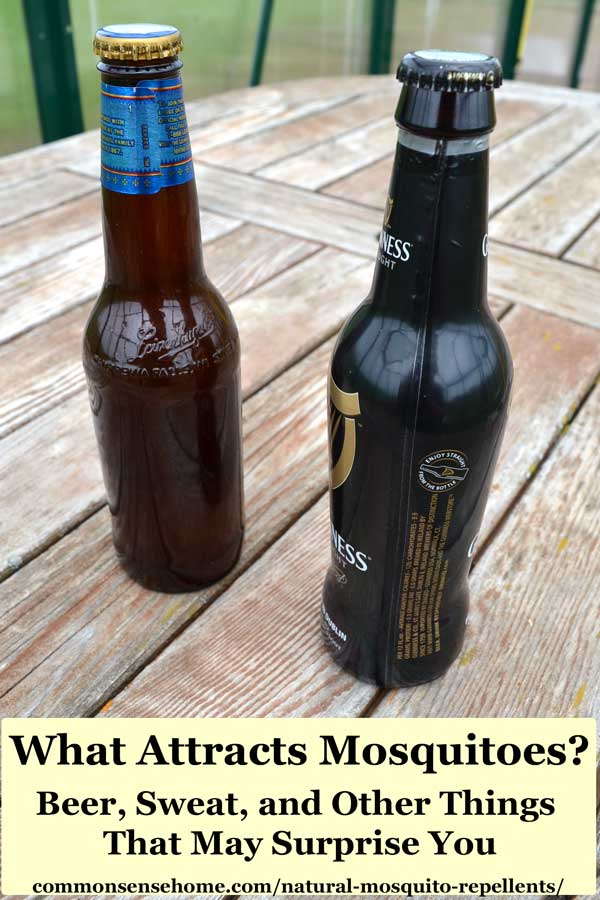 So if you don't drink, sweat, breathe or have the wrong blood type, you should be able to enjoy the outdoors without getting bit this summer!
If you're unable to do that, I do have some mosquito control alternatives and ways to avoid getting bit that have worked for me throughout the years.
We choose natural mosquito repellents and plants that repel mosquitoes because DEET has been linked to nerve damage.
What's the Best Natural Mosquito Repellent?
Repel Natural Insect Repellent is the top rated DEET free mosquito repellent by Consumer Reports, but you can also make other effective options. (See below.) Repel uses oil of lemon eucalyptus as the active ingredient.
In upcoming product development, Rutgers University has developed specialized catnip for commercial farmers that increases yield to make it more cost effective to produce.
James Simon, professor in the Department of Plant Biology and Pathology at the Rutgers School of Environment and Biological Sciences, notes that "Research conducted by others shows that the oil from the catnip plant is as efficient if not better than DEET, the most common pesticide in standard mosquito repellent." We always like to include catnip in our herbal mosquito repellent blends.
In a 1995 field study, a 2% neem oil mixed in coconut oil provided 96-100% protection from mosquitoes.
5 Tips for Mosquito Control and Avoiding Mosquito Bites
#1 – Control Mosquitoes by Removing or Treating Standing Water
Mosquitoes lay their eggs in water that is stagnant, shallow and high in organic matter. Get rid of the standing water, and you get rid of the mosquito eggs.
Mosquitoes complete three stages of their life cycle in the water (egg, larva and pupa) in about 4 to 14 days. As a result, standing water must remain stagnant for a minimum of 4 days in order to support the mosquito's life cycle. Elimination of potential mosquito breeding sites is the primary control measure used to reduce mosquito populations.
Treat water with mosquito dunks. Mosquito dunks slowly release Bacillus thuringiensis v. israelensis (BT) in water. BT is toxic for mosquitoes but considered safe for humans
Remove any objects around your yard that may collect water, such as buckets or toys with openings that hold water
Place screen with small holes over rain barrels
Use a pump or fountain in ponds to aerate the water (This solar fountain will let you aerate small areas without running electricity)
Replace any standing water in pools or bird baths once a week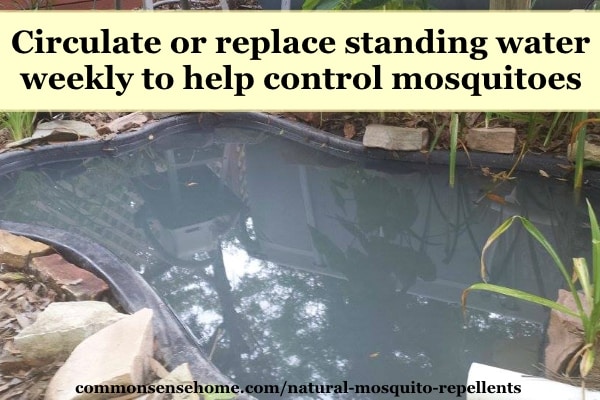 #2 – Provide Habitat for Animals that Eat Mosquitoes for Mosquito Control
For backyard mosquito control, invite animals that eat mosquitoes to your yard, such as:
Bats
Frogs
Fish
Turtles
Birds
Dragonflies
Hang bird feeders, build a bat house, invert broken terracotta pots to make frog houses, and add a few fish to the pond. All of these amazing creatures will help control your mosquito population.
A note on bats: While mosquitoes do not make up a large percentage of a typical bat diet (only 2-3%), they make impact mosquito reproduction, eating blood filled females who fly slower and are easier to catch. (They also make a more substantial meal.)
Michigan researchers tested this hypothesis with two enclosures in a wooded area, one with bats and one without, where insects could come and go freely. Within the enclosure, they placed standing water containers suitable for mosquito breeding areas.
Each day they counted the eggs laid in the standing water. At the end of the two month study, the enclosures with bats had 32% fewer mosquito eggs. (Source) Bats also eat common garden pests like corn earworm moths, cucumber beetles and june bugs.
#3 – Use Plants that Repel Mosquitoes
Several herbs, and some flowers, have been known to deter mosquitoes and other biting insects. Herbs make a great addition to yards or vegetable gardens because they are visually pleasing, can be used in cooking, and repel biting insects.
Not that long ago I participated in an herb sale at a local nursery, several of the volunteers and customers were complaining all day of the biting insects and how bad they were. I realized I wasn't getting bit (which is HIGHLY unheard of for me) and noticed I had been playing with herbs all day; rubbing them, tasting them, crushing their leaves, and brushing my hand over the top. I was in a constant state of releasing their oils and scents all day, thus protecting me.
Plants that repel mosquitoes work in a number of ways, so we have a whole section dedicated to their use below.
#4 – Avoid Peak Mosquito Feeding Times
The most common mosquito species feed at dawn and dusk and a few hours into the night, while some aggressive species feed all day. Avoid peak feeding times to reduce your risk of getting bit.
#5 – Wear Light Clothing
Light outfits provide more protection from mosquitoes than dark outfits. Why?
Mosquitoes aren't strong flyers, so they stay low to the ground. This means that they look up to target their prey. Dark colors stand out, while light shades blend into the sky. "Large, dark moving thing" usually means "food" to a mosquito.
Plants that Repel Mosquitoes
These plants have a history of use as natural mosquito repellents:
Lemon scented plants, including citronella grass, citronella plant, lemon grass, lemon balm, and lemon verbena
Scented geranium
Eucalyptus
Rosemary
Basil
Anise
Mint family plants, including (but not limited to) peppermint, spearmint and bee balm
Marigolds
Wormwood
Cedar
Cloves
6 Ways to Use Plants for Mosquito Control
Plant herbs in your garden anywhere and everywhere you can squeeze them in, the more the better.
Make mosquito planter pots. Protect the high use areas of your yard with planter pots. Choose a couple of the plants mentioned above and create container plantings to place by the entry doors, by your grill, by the pool and on the deck. Encourage friends and family to brush against the plants.
Potpourri. Dry the herbs and place in little bowls all over outside where you hang out and randomly run your fingers through the dried herbs to release the scent when you walk by.
In the dryer. Put a couple of drops of essential oils (any of the ones mentioned above) on an old cotton cloth and throw in the dryer with your clothes, it will give your clothes a natural insect repellent without putting anything on your skin
When camping – add a small bundle of herbs to your campfire to create an herbal smoke.
Make a Natural Mosquito Repellent (see below)
Note: Some of the compounds in plants that repel mosquitoes are volatile (they react with air and will evaporate), so it's important to note that natural mosquito repellents should be reapplied throughout the day for best results. If you're working with fresh plants, think about my experience at the herb sale – lots of contact, herbs used inside and outside. Enjoy that spicy food!
Natural Mosquito Repellents – 2 Recipes
I am giving you two recipes natural mosquito repellents because recipe #1 includes fresh herbs (my personal choice) and there are those that do not like to use (or can't use) essential oils. I believe it is best to use the entire herb/flower whenever possible. However, I realize not everyone has a plethora of herbs growing in their garden, so recipe #2 uses essential oils for those who have limited access to herbs. For further information, see "Herbs or Essential Oils – Which is Better?".
You can use or include as many of the herbs and flowers mentioned above to create your own mosquito spray and it will work just fine. This is a recipe that has worked for me (blood type O, excessive talking woman).
Natural Mosquito Repellent Recipe #1
You will need:
Empty, Clean Glass Jar w/Lid
Rubbing Alcohol, Vodka or Witch Hazel
Herbs: Mint, Eucalyptus, Lemon Balm and or Lemon Grass, Rosemary, Lavender, and Catnip
Directions
Coarsely chop herbs and place the herbs in your glass jar (fill as full as you can). Cover with alcohol or witch hazel, leaving ½-3/4" space at top. Seal with a secure lid.
Set jar in sunny location and leave for two weeks (can leave longer if desired). Try to shake jar every once in a while. Strain herbs and transfer liquid to a spray bottle. Shake before use.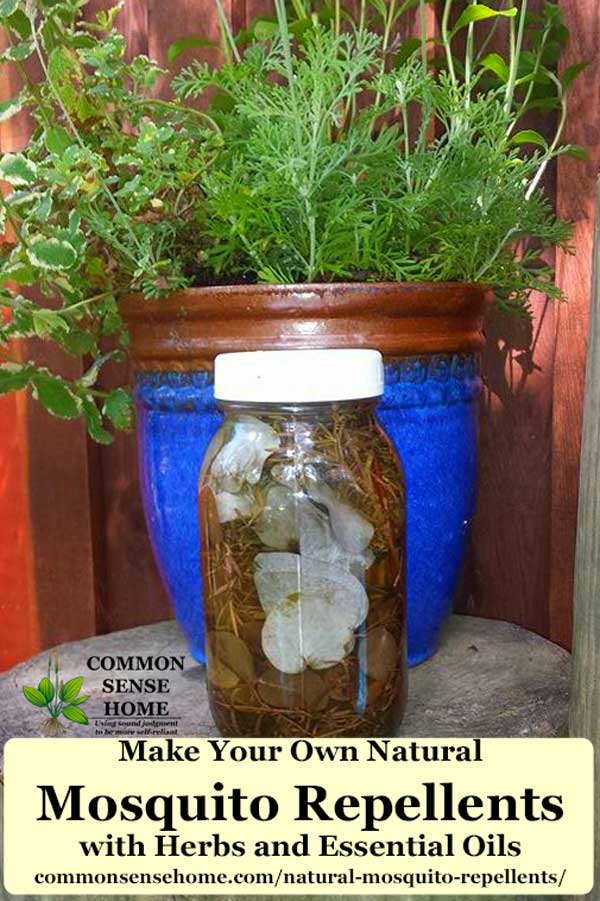 Natural Mosquito Repellent Recipe #2
Note: Some essential oils can cause skin irritation in sensitive individuals, especially mint and lemon. Spot test on a small area, or spritz on clothing instead of directly on skin.
You will need:
Empty, Clean Spray Bottle (I used a 16oz spray bottle) (Buy a glass spray bottle online.)
Rubbing Alcohol, Vodka or Witch Hazel
Distilled Water
Essential Oils:

Mint (10 drops)
Rosemary (5 drops)
Eucalyptus (5 drops)
Lemon (citronella) (10 drops)
Lavender (5 drops)
Clove (5 drops)
Directions
Fill Spray bottle ¾ with alcohol or witch hazel, add your essential oil drops, and add distilled water to fill. Shake before use.
Note: For more information on safe use of essential oils, visit: National Association for Holistic Aromatherapy- Safety Information and IFPA Guidelines for Aromatherapists working with pregnant clients.
I hope these mosquito control tips help you enjoy your time outside with minimal damage from bloodsucking insects.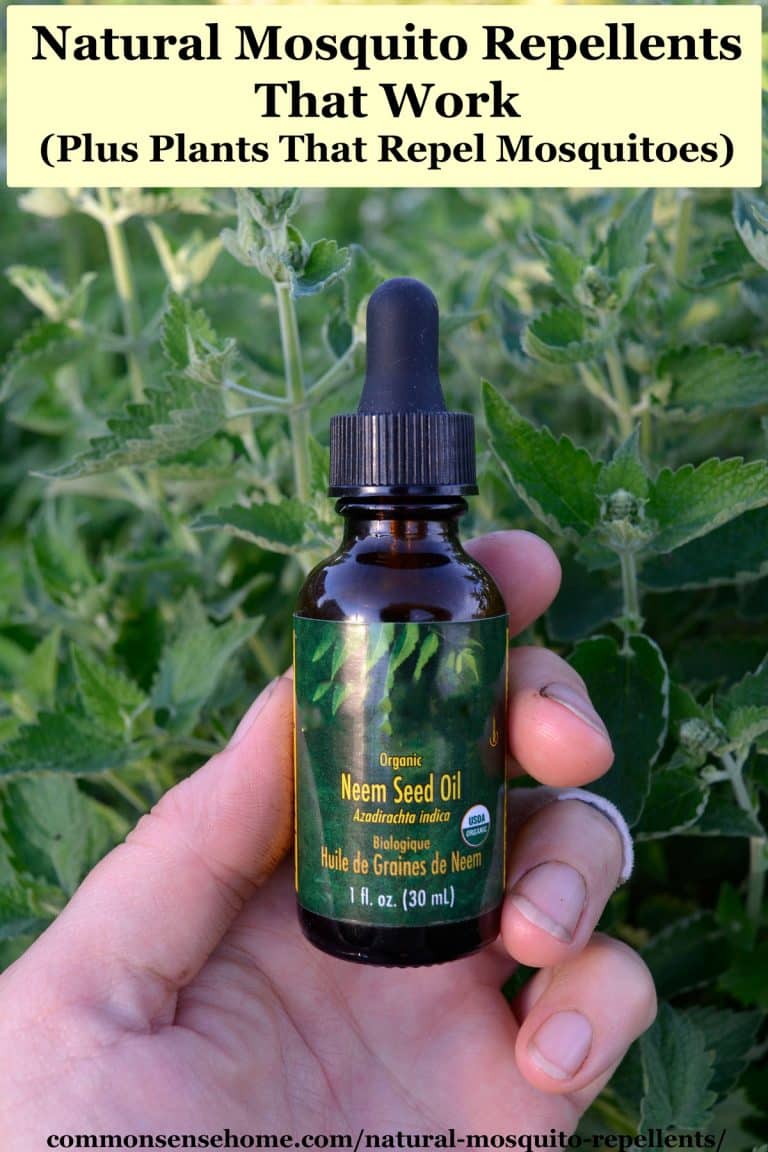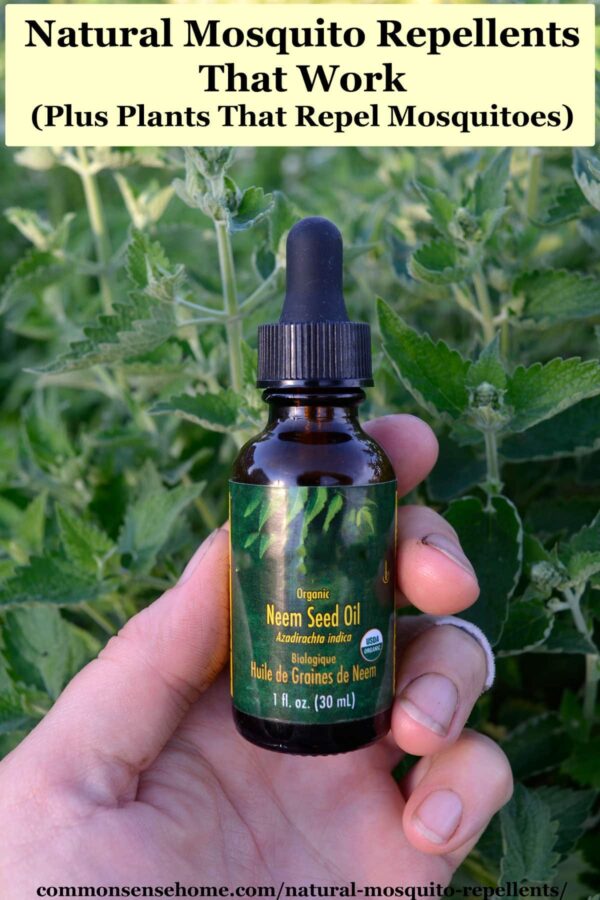 Did I miss some natural mosquito repellents that you swear by? Leave a comment and let me know! Pins and shares always much appreciated!
More Pest Control Information
You may also find useful:
This post is by Amber Bradshaw of My Homestead Life.
Amber and her family moved from their tiny homestead by the ocean in South Carolina to forty-six acres in the Smoky Mountains in East Tennessee.
While building their off-the-grid homestead, they live like the days of old – cooking without electricity, collecting water from the creek and raising chickens, goats, pigs, turkeys, bees, and guineas. They've recently filmed their journey for a TV show on the Discovery Channel and the DIY Network/HGTV called Building Off The Grid: The Smokey Mountain Homestead.
First published in 2015, last updated in 2019.