MSG – Making You Sicker and Fatter?
This is sold as good, wholesome food. Boy, it sure looks a whole lot better if you don't read the ingredient list. We've got at least three forms of MSG (monosodium glutamate, soy protein concentrate, yeast extract), possibly up to five (dried whey, spice extract). We've also got genetically modified vegetable oils.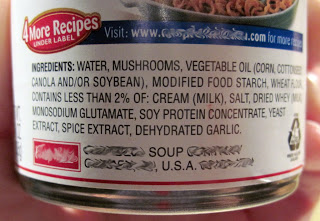 I was over at Food Renegade reading her post titled Why MSG is dangerous and where it is hiding, which got me started looking at MSG (Monosodium Glutamate). The MSG side effects I found were more than a little concerning.
"Chinese Restaurant Syndrome"
Have you ever felt "off" after eating Chinese takeout or other foods loaded with MSG? Advance Health Plan shares an interesting discussion of this phenomenon.
To defend themselves against epidemiological studies indicating that 25-30 per cent of the population reacted to monosodium glutamate and against individual reports of human adverse reactions that included migraine headache, seizures, asthma, and depression, the glutamate industry built the fiction that a few people might react to monosodium glutamate with the "Chinese restaurant syndrome": "burning," "tightness," and "numbness," all occurring at the same time, within two hours following ingestion.

They sent out a questionnaire and got 3,222 respondents, of whom 1.8 per cent reported having the exactly defined "Chinese restaurant syndrome." The fact that an additional 41.2 per cent of the subjects reported experiencing conditions that are associated with MSG-induced adverse reactions such as headache, diarrhea, chest pain, dizziness, palpitation, weakness, nausea/vomiting, abdominal cramps, chills, heartburn, unusual thirst, unusual perspiration, flushing sensation in face or chest, and tingling was ignored. Migraine headache, seizures, tachycardia, hives, skin rash, and depression, which were not offered as options, were not considered.

Soon the FDA (U.S. Food and Drug Administration) began to disseminate the misinformation that approximately 2 per cent of the population might be sensitive to MSG, reacting with the mild and transitory reactions of "Chinese restaurant syndrome."
So, more than 40% of people have some sort of immediate, obvious reaction, and the FDA tells us than around 2% are affected. Sound familiar? Long term, there are indicators that show potential links between MSG and many neurological disorders. Advance Health Plan sites: "a diverse number of disease conditions such as ALS (amyotrophic lateral sclerosis, a progressive degeneration of neurons and motor cells of the brain), Alzheimer's disease, seizures, and stroke are associated with the glutamate cascade."
MSG May Make You Fatter
A 2011 study showed that MSG consumption directly correlates with weight gain.
Researchers measured the the MSG consumption of more than 10,000 adults in China over the course of roughly 5.5 years, weighing each participant before and after they were tracked for the study. On average, those with the highest MSG intake were 30 percent more likely to become overweight by the end of the study than those who consumed the least of the flavoring agent. After excluding those who were overweight at the beginning of the study, that figure rose to 33 percent.
Where is MSG used in food?
Truthinlabeling.org has a very good list of food ingredients that serve as msg-reaction triggers. Here are the items they say ALWAYS contain MSG.
Glutamate
(E 620)

Glutamic acid
(E 620)

Monosodium glutamate
(E 621)
Monopotassium glutamate
(E 622)

Calcium glutamate




(E 623)

Monoammonium glutamate (E 624)

Magnesium glutamate
(E 625)


Natrium glutamate

(natrium is Latin/German for sodium)

Gelatin

Calcium caseinate

Sodium caseinate

Textured protein

anything

"hydrolyzed"

any "hydrolyzed … protein"

Yeast nutrient

Yeast extract

Yeast food

Autolyzed yeast

Vetsin

Ajinomoto



The following items MAY contain MSG:
Carrageenan

Maltodextrin

Malt extract

Natural pork flavoring

Citric acid

Malt flavoring

Bouillon and Broth

Natural chicken flavoring

Soy protein isolate

Natural beef flavoring

Ultra-pasteurized

Soy sauce

Stock

Barley malt

Soy sauce extract

Whey protein concentrate

Pectin

Soy protein

Whey protein

Protease

Soy protein concentrate

Whey protein isolate

Protease enzymes

Anything protein fortified

Flavors(s) & Flavoring(s)

Anything enzyme modified

Anything fermented

Natural flavor(s)




and flavoring(s)

Enzymes anything

Seasonings




(the word "seasonings")
They follow this up with an expansive explanation of still other ingredients in everything from personal care products to medications that may also trigger MSG reactions. It's crazy!
The one that really got me was this:
"Low fat and no fat milk products often include milk solids that contain MSG and/or contain Carrageenan, guar gum, and/or locust bean gum. Low fat and no fat versions of ice cream and cheese may not be as obvious as yogurt, milk, cream, cream cheese, cottage cheese, etc., but they are not an exception. "
I've been avoiding low fat dairy products for some time, but still – THIS IS REALLY FRUSTRATING! So many of the food on the shelf in the grocery store have this stuff it's almost impossible to avoid. My pantry has already radically transformed over the years. I guess it just keeps transforming.
Want to learn more? Check out the book "Excitotoxins – The Taste That Kills" by Dr. Russell Blaylock. While Dr. Blaylock tends to be somewhat over the top at times for my personal preference, I feel that we need to increase awareness of the overuse of these substances, often to mask inferior quality ingredients.