They say the most of mothers,
Are something pretty fine,
But no one else's mother,
Can be so dear as mine.
She never fails or falters,
When things go hard or wrong,
No matter what my troubles,
She'll help me right along.
This was a poem I recited as a little girl when I took my First Communion on Mother's Day. I still remember it to this day, even though I never wrote it down, probably because it fit my mother so well. She is the strongest woman I have ever met. She endured too many years with my birth father, a man who treated her poorly and wasn't worthy to kiss her feet, raising six children and operating a dairy farm basically on her own. She taught me so much about gardening, cooking, baking, canning, raising and processing poultry – so many, many things. I am so blessed to have her in my life as my mentor and one of my closest friends and confidants.
Another thing I remember from my childhood was the Mother's Day bouquet. Early in the morning on Mother's Day, I'd go out into the woods and pastures of our family farm in Northwest Wisconsin and pick an assortment of wildflowers. Note to younger self: dandelions and bloodroot do not make an attractive bouquet on day two. I've gotten a little more selective over the years. 🙂 This past May I had the pleasure of spending Mother's Day with my mom. My sister and I took a long walk on Saturday, scoping out the best spots to find flowers, and Sunday morning when mom came out to have breakfast her bouquet was waiting. It was nice to see the smile on her face.
You see, mom has been plagued these recent years by illness that has weakened her muscles to the extent that everyday activities are a challenge. I think what she misses most is the long hours in the garden. Still, she is my inspiration, because if she can keep going through all she has been burdened with, I can surely cope with my troubles.
So this leads me to another quote that also reminds me of my mom:
Some people, no matter how old they get, never lose their beauty – they merely move it from their faces into their hearts. ~Martin Buxbaum
I love you momma. You are my hero.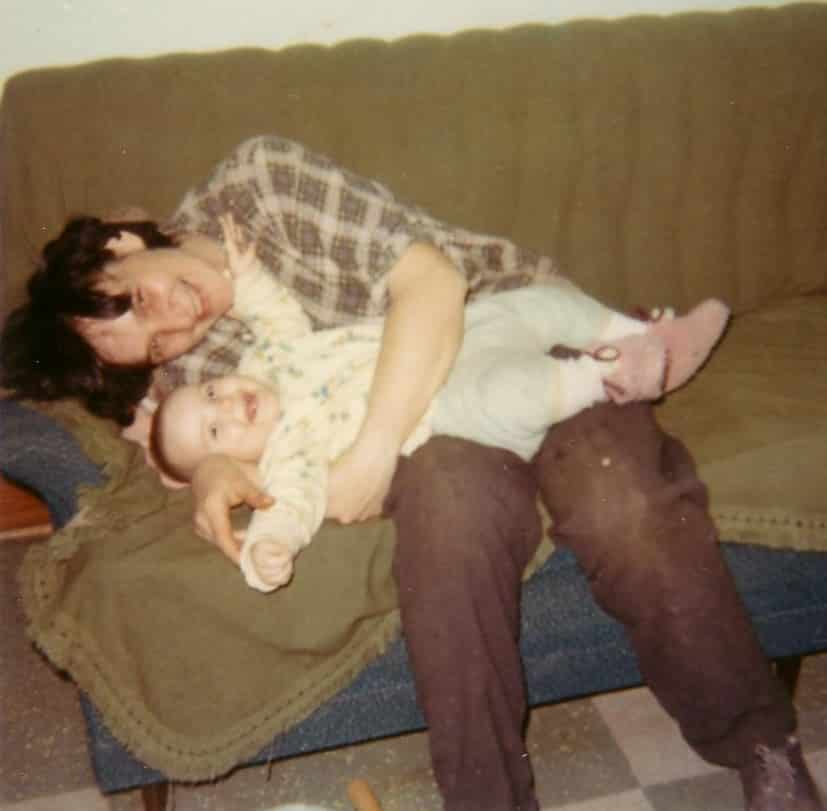 Here's a shot of momma and I when I was just a little peanut.

One more shot out by her garden in 2003.
My mom passed away on January 17, 2010. You can read more about her here.