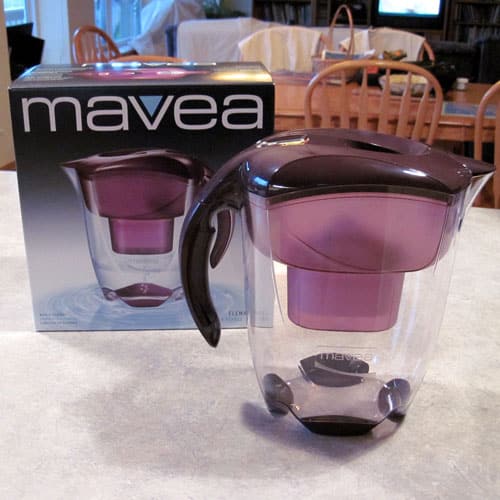 The Mavea Water Filter Pitcher is an attractive, easy to use, quick processing filter that removes odors and many common contaminants. The elongated footprint allows it to fit in most refrigerator doors for convenience, and the automatic pour through lid of the Mavea Elemaris XL opens and closes automatically. Just put in a stream of water to fill, and the lid closes when the reservoir is full.
Mavea Water Filter Pitcher – Pros and Cons
Pro: The filter is FAST. In a matter of minutes, an entire reservoir of water is filtered. It's been really handy during canning season for removing sulfur odor and hardness from our well water.
Pro: The pitcher is large, and can hold enough water to have a glass ready for everyone.
Pro: It's BPA free. (More on BPA in Slow Death by Rubber Duck.)
Pro: It's pretty. The Mavea Elemaris XL is available in eggplant, ruby red, sage green, white and black.
Pro: It's got a handy littler meter to remind you when to change the filter.
Pro: The filters are 100% recyclable.
Con: It doesn't remove fluoride, and is not recommended for filtering non-potable water. This is not suitable for emergency water filtration.
Con: For my tastes, I prefer the flavor of the Berkey filter better, but my husband prefers the taste of the water from this filter.
Con: The pitcher is plastic, so of course that's a "no" for those who are trying to go plastic free.
Mavea Water Filter Pitcher – FAQs
I'd like to share some information directly from the Mavea FAQ page:
How does the MAVEA Filtration System work?
The MAVEA filtration technology is an optimal mixture of activated carbon and ion exchange resin beads that work together with the unique cartridge shape to improve water taste and reduce limescale* and other contaminants (e.g. cadmium, copper, mercury, atrazine, simazine, benzene and tetrachloroethylene). This may help extend the life of small appliances such as coffee makers.
*Limescale reduction certified in internal tests, not certified by WQA
What are the benefits of MAVEA filtered water?
Tap water, whilst safe to drink, may contain substances which affect its taste, smell, appearance and overall quality. MAVEA filtered water significantly reduces chlorine taste and odor making your drinking water crystal clear and refreshingly delicious. MAVEA filtered water:
Makes great-tasting drinking water and beverages including, coffee and tea. Even your ice cubes look and taste better.
Makes coffee and tea develop their full flavor
Increases the life span of domestic appliances by reducing limescale build up*
*Limescale reduction certified in internal tests, not certified by WQA
How long does the cartridge last?
Water quality varies considerably; this in turn has an effect on the life of a cartridge. To ensure that your MAVEA filter is always working well we recommend that the cartridge is changed regularly, at least every 8 weeks or 40 gallons /150L The MAVEA Meter will let you know when to change your cartridge.