Kelly Kettle – Cook and Boil Water with Minimal Fuel
What's a Kelly Kettle?
The Kelly Kettle makes it quick and easy to boil water with minimal fuel in about 3 to 5 minutes. With the items in these kits, you can also use the Kelly Kettles for cooking and grilling. The Kelly Kettle was developed by the Kelly family in Ireland over 100 years ago, so they have some experience building these handy items.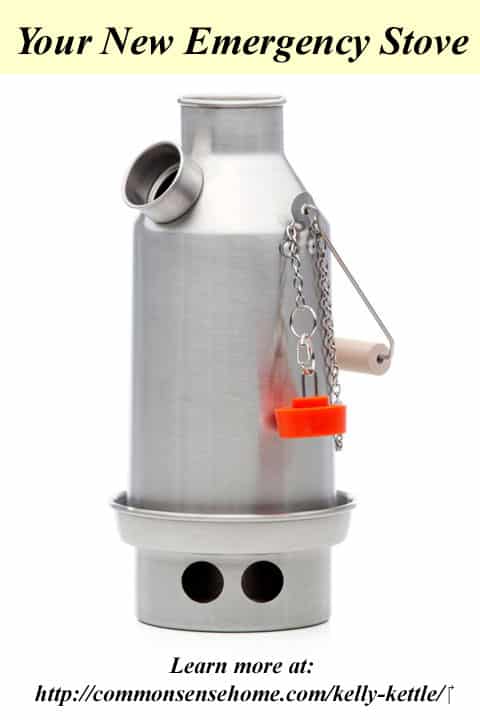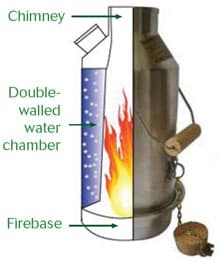 Any natural fuel can be used – from pine cones and sticks to dried dung (although I'd probably skip grilling over the dung…). Just build a fire in the base, put kettle in place, light it up, and in a matter of minutes you have boiling water. They work great in extreme weather conditions because the fire is protected by the Kelly Kettle.
No fuel to carry, light and compact, this is a great piece of gear for:
Campers
Back Packers and Hikers
Kayakers
Scouts
Fisherman and Hunters
And of course – Emergency Preparedness and Survival Use.
You can check out the Kelly Kettle in action in the video below. With the compact size and small amount of fuel used, I bet my brother could even use this in his hunting blind during deer season.
Available Kettles and Kits
The Kelly Kettles are available in three (3) sizes made from aluminum or stainless steel.
Base Camp Large Kettle: This kettle holds 54 oz or about 7 cups of water and comes in aluminum or stainless steel.
Scout Medium Kettle: This kettle holds 44 oz or about 5 ½ cups and is available ONLY in aluminum.
Trekker Small Kettle: This kettle holds 17oz or about 2 cups and is available in aluminum and stainless steel.
Also available for use with the Kettles is the Cook Set made of stainless steel. This accessory is great for heating food over the top of the kettle and for cooking some foods over the fire in the base.
The Kelly Kettle Scout Ultimate Kit includes Stainless Steel Scout Kettle, Cook set, Large Hobo Stove, Kelly Kettle Pot Support, 2 Stainless Steel Camping Cups, 2 Stainless Steel Camping Plates, Storage Bag. All items fit neatly within the kettle itself for transport / storage.
The Stainless Small Trekker Complete Kit includes Kelly's "mini" version of our popular Volcano Kettle. Compact & lightweight boiling approx. 19 oz. of water within a matter of minutes.
Simply refill and reboil on the same fire if more water is needed. Comes complete with the kettle, small cookset and pot support. The kettle only weighs 1.7lbs.
Other posts you may find useful: