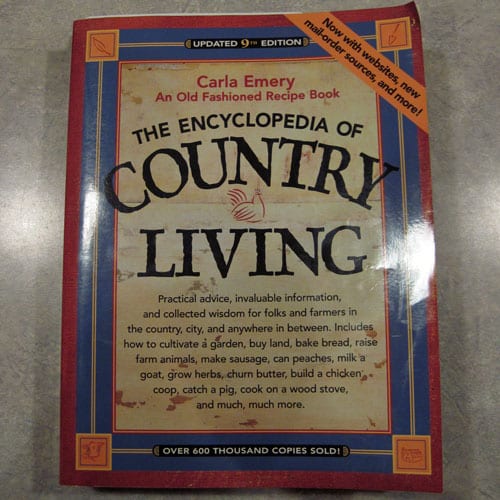 Part memoir, part reference, The Encyclopedia of Country Living is a labor of love written and rewritten for over 30 years by Carla Emery. The subtitle on the front cover states:
Includes how to cultivate a garden, buy land, bake bread, raise farm animals, make sausage, can peaches, milk a goat, grow herbs, churn butter, build a chicken coop, catch a pig, cook on a wood stove, and much, much more.
They couldn't be more right. Chapters include:
Oddments: Move to the country. Buy land. Sew a quilt. Live self-sufficiently.
Introduction to Plants: Plan a garden Save seeds Improve soil Raise earthworms. Grow mushrooms. Vegetarian eating.
Grasses, Grains, and Canes: Mow, shock, thresh, winnow. Grind oats. Dry corn. Make bread, pasta, fruit cake.
Vegetables: Garden to table.
Herbs and Spices: Cultivate, dry, freeze, store. Make sachets and cosmetics. About wild foods.
Tree Vine, Bush, and Bramble: Prune a tree. Raise nuts. Press apple cider. Grow fruits. Tap sugar maples.
Food Preservation: Freezing, canning, drying, root cellar storage.
Introduction to Animals: How to buy, house, feed, doctor and butcher animals, wild or tame.
Poultry: Raise chickens, turkeys, guineas, ducks.
Goats, Cows, and Home Dairying: Milking, making cheese.
Bee, Rabbit, Sheep, and Pig
There are over 2000 recipes, from herbal sachets to raspberry shrub to canning just about anything. You could try a recipe per day and be at it for years.
The Garden Vegetable section includes planting, harvesting, preservation, cooking and sometimes seed saving. (I had no idea there were so many ways to eat radishes.)
The Food Preservation section has a lot of great recipes – that's where I got my favorite spaghetti sauce recipe for canning. There are also old fashioned techniques such as preserving with vinegar, salt and fat.
The animal sections give a broad overview of what's required for critter raising, as well as what to do with the critters when it's time for harvest, whether it be eggs, milk, meat, fat, hide or anything else you could think of using.
Don't try to read this in one sitting! It's not that kind of book. At close to a thousand pages, it's simple overwhelming. Better to snuggle up with a section and peruse at leisure, or simply look up the specific information you need.
Are there better books for specific topics? Yes, but this is the most comprehensive homesteading book I've seen that gives enough details to be useful.
I really like this book. It's like taking a peek into Carla's life as her homesteading skills evolved. She makes you feel like you're talking to an old friend. I remember being saddened when I heard she passed away back in 2005. She will be greatly missed, but she left one heck of a legacy.
You may also enjoy these homesteading books: