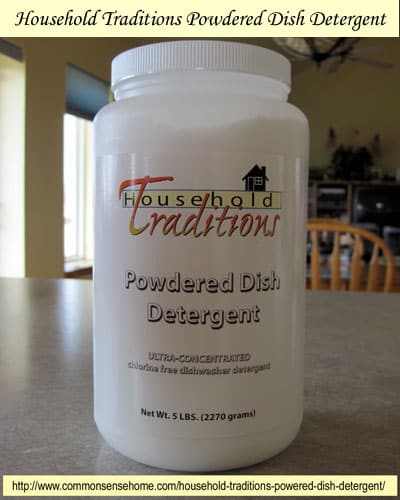 I'm working my way through the Tropical Traditions product line. Next up for review is their Household Traditions Powdered Dish Detergent, ultra-concentrated, chlorine free dishwasher detergent with enzymes. We have hard water and I skip the heated dry to save energy, so spots in the dishwasher are a chronic problem. I was curious to see how the TT powdered detergent compared to other brands I've tried.
What are the ingredients in Household Traditions Powdered Dish Detergent?
Household Traditions Powdered Dish Detergent contains: Sodium citrate, sodium carbonate, sodium percarbonate, surfactants, rinse agents, silicate. It is free of:
Chlorine
Phosphates
Fillers
Fragrances
How well does Household Traditions Powdered Dish Detergent work?
Overall, the detergent worked fairly well. It cleaned the dishes (but I do treat stuck on foods before loading the dishwasher – always have), and I needed about half a scoop per load, so the five pound container barely has a dent in it after a month of use.
My eldest really liked the fact that it was unscented, as the last powdered dish detergent I used had a lemongrass scent that I liked but he did not.
The down side – mixed results on the spots. Sometimes dishes came out pretty clear, like the jar below, sometimes I had more spots. A small cup of vinegar placed in the top rack of the washer definitely helps. What I didn't find was clumps of undissolved detergent (that happened when I tried making my own), so that was good to see.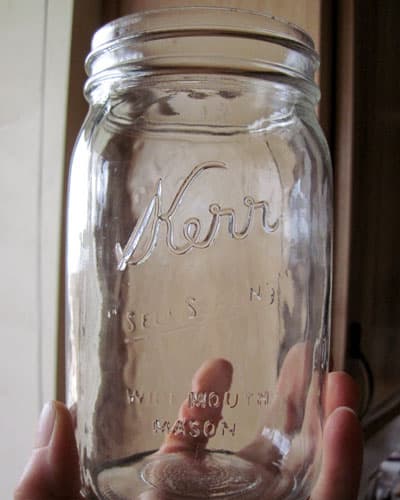 What's is a standard dish detergent, and why choose a natural option?
When you use a dish detergent, it's almost guaranteed that there will be some small amount of residue left on the dish. It may be very minimal, but over time, little things add up. The article, "Dishwasher Detergents – Are They Harmful?" explains:
To analyze the effects of detergents, we need to know more about the common ingredients of commercial dishwasher detergents in the market. Among them the prominent are Phosphates, Chlorine and petroleum-based ingredients.

Phosphates are common additives in detergents to soften the hard water. It enhances the cleaning power of the detergents, which is very helpful in spiking its popularity and while marketing. However, it causes health problems and major environmental hazards. Phosphate residues on dish surface may cause nausea, diarrhea and skin irritations. Phosphates are still active after waste water treatment. When they enter waterways, they act as fertilizers and encourage overgrowth of algae, which leads to drastic reduction of oxygen in water. This results in the depletion of other living organisms like fishes in water bodies.

Chlorine bleach is added to detergents for its disinfecting properties. As it is highly corrosive, it causes many health troubles like respiratory and skin irritations and stomach disorders. When combined with other cleaners, it produces toxic fumes, which are proved carcinogens and pollutes the environment.

Petroleum based ingredients poses problems in two ways – for health and environment. They contain toxins that create unnecessary health problems. Also, while production of these petroleum products, environment gets polluted.
More on Tropical Traditions…
Tropical Traditions also carries other varieties of affordable high quality
coconut oil
. Visit their website to check on current sales, to learn about the many
uses of coconut oil
, and to read about all the advantages of
buying coconut oil online
. Since the FDA does not want us to discuss the health benefits of coconut oil on a page where it is being sold or given away, here is the best website to read about the
health benefits of coconut oil
.
Note: If you order by clicking on any of my links and have never ordered from Tropical Traditions in the past, you will receive a free book on Virgin Coconut Oil, and I will receive a discount coupon for referring you.
Disclaimer: Tropical Traditions provided me with a free sample of this product to review, and I was under no obligation to review it if I so chose. Nor was I under any obligation to write a positive review or sponsor a product giveaway in return for the free product.