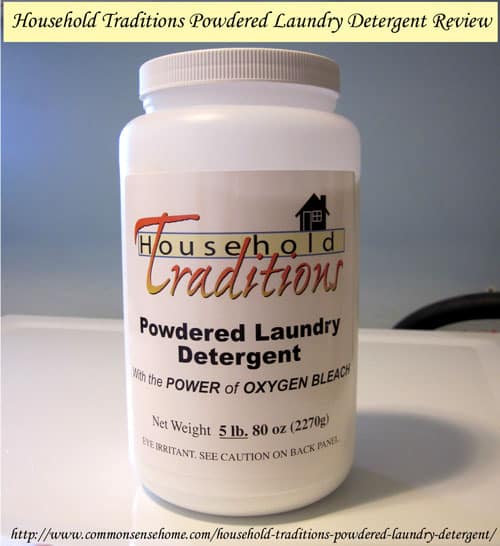 Time for another visit with Tropical Traditions. Next up for review is their Household Traditions Powdered Laundry Detergent, a honking big tub (5 pounds) of laundry magic waiting to happen. I've been alternating this detergent with my regular detergent for over a month, and I've barely put a dent in the container. It's highly concentrated, so a little goes a long way.
What are the ingredients in Household Traditions Powdered Laundry Detergent?
Household Traditions Powdered Laundry Detergent contains: Soda ash, sodium percarbonate, mild surfactants.
It is free of:
Perfumes
Phosphates
Fillers
Chlorine
Dyes
How well does Household Traditions Powdered Laundry Detergent work?
I've got somewhat mixed reviews on this product for my washing machine.
Pros:
Cleans well.
Rinses clean – no residue left on clothes.
Doesn't leave a scent behind.
Does not produce lots of suds, which can be an issue with high efficiency washers.
Cons:
The only real problem I've run into is that the detergent does not dissolve fully in the detergent dispenser. I've got a Whirlpool Duet front loader with a pull out detergent dispenser at the top left. Sometimes after a wash, I find clumped detergent in the dispenser. I talked with someone at Tropical Traditions, and they said it is rated for use with high efficiency washers. With their machine (a top loader), they sprinkle the detergent in before the clothes go in, and this works well. I've tried sprinkling the detergent in with the clothes, and it does dissolve this way, but it's a little awkward to use. I think I'd prefer the liquid detergent.
Are there toxic chemicals in your laundry products?
That "fresh from the laundry" smell that many people look for as a sign that clothes are clean can unfortunately mean just the opposite – that they are instead loaded with toxic chemicals. Researchers from the University of Washington looked at air fresheners and laundry products, and discovered an assortment of nasty chemicals that were not listed on the label. One of the researchers, Anne Steinemann, is quoted in Science Daily:
"I was surprised by both the number and the potential toxicity of the chemicals that were found," Steinemann said. Chemicals included acetone, the active ingredient in paint thinner and nail-polish remover; limonene, a molecule with a citrus scent; and acetaldehyde, chloromethane and 1,4-dioxane.

"Nearly 100 volatile organic compounds were emitted from these six products, and none were listed on any product label. Plus, five of the six products emitted one or more carcinogenic 'hazardous air pollutants,' which are considered by the Environmental Protection Agency to have no safe exposure level," Steinemann said.
That "lemon fresh scent" could literally be making you sick. These chemicals are particularly problematic for those with asthma or other breathing issues. You can view Material Safety Data Sheets online at the SIRI MSDS Index to check for product toxicity.
On a related note, I found out this weekend that triclosan, the antibacterial agent used in many soaps, sanitizers and personal care products, breaks down into a form of dioxin in the environment. It makes me wonder if our urge to chemically sanitize is yet another contributor to the rising number of cancer cases and auto-immune disorders. See Dioxin Photoproducts of Triclosan and Its Chlorinated Derivatives in Sediment Cores, Products Containing Triclosan and Health Effects of Dioxins.
Win Your Own Household Traditions Powdered Laundry Detergent
You can win your own 5 pound container of Household Traditions Powdered Laundry Detergent, retail value $30.00.
To enter, just subscribe to the Tropical Traditions newsletter. Additional entries can be earned by following Tropical Traditions and Common Sense Home via other social media (see rafflecopter widget for details – if you are reading via subscription, please visit the site to enter). The giveaway ends at 12:01 am central time on July 11, 2013. Must be over 18 years of age to enter. Open to residents of the US and Canada.
More on Tropical Traditions…
Tropical Traditions is America's source for coconut oil. Their Gold Label Virgin Coconut Oil is hand crafted in small batches by family producers, and it is the highest quality coconut oil they offer. You can read more about how virgin coconut oil is different from other coconut oils on their website: What is Virgin Coconut Oil?
You can also watch the video they produced about Gold Label Virgin Coconut Oil:
Tropical Traditions also carries other varieties of affordable high quality
coconut oil
. Visit their website to check on current sales, to learn about the many
uses of coconut oil
, and to read about all the advantages of
buying coconut oil online
. Since the FDA does not want us to discuss the health benefits of coconut oil on a page where it is being sold or given away, here is the best website to read about the
health benefits of coconut oil
.
Note: If you order by clicking on any of my links and have never ordered from Tropical Traditions in the past, you will receive a free book on Virgin Coconut Oil, and I will receive a discount coupon for referring you.
Disclaimer: Tropical Traditions provided me with a free sample of this product to review, and I was under no obligation to review it if I so chose. Nor was I under any obligation to write a positive review or sponsor a product giveaway in return for the free product.
a Rafflecopter giveaway