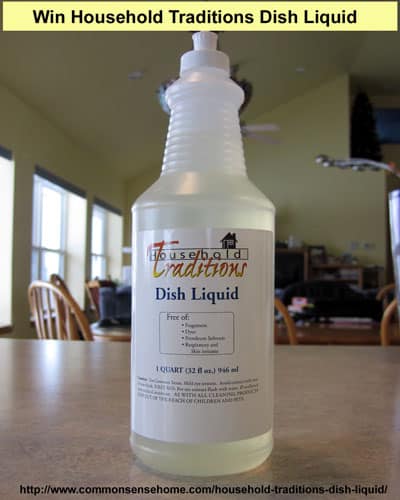 Next up for review of TT products is their Household Traditions Dish Detergent. I'm always looking for different options for less toxic cleaning products that work, so I wanted to give this dish soap a try.
What are the ingredients in Household Traditions Dish Liquid?
Household Traditions Dish Liquid contains: Deionized water, coconut and sugar-based cleansing and sudsing agents, plant-based surfactants, emulsifiers. It is free of:
Fragrances
Dyes
Petroleum Solvents
Respiratory and Skin irritants
How well does Household Traditions Dish Liquid work?
I found the dish liquid to work well at cutting grease and getting off everything my kitchen had to offer. Unlike some natural dish liquids I've tried, it made nice bubbles (see photo below), which stuck around for the whole batch of dishes. I know I don't absolutely *need* bubbles for cleaning, but what can I say – I like them. Also, I encountered something unexpected while washing – my glassware got so clean it squeaked! I washed a gallon jar from milk, and as I was putting it in the dish drainer, I noticed it was squeaking like fresh cheese curds against my hands. I've never had that happen before. I did find it to dry out my hands a little – not as much as some brands, a little more than others. Rub on a bit of lotion bar and I'm good.
Why Use Non-Toxic Cleaners?
In the article "Are Household Cleaners Harmful?", Dr. Weil lists common chemicals found in household cleaners:
Chlorine bleach (sodium hypochlorite): If mixed with ammonia, vinegar or other acid-based cleaners, it will release toxic chloramine gas; short-term exposure to this gas can cause mild asthmatic symptoms or more serious respiratory problems. Never mix bleach with these other substances.

Petroleum distillates: Found in metal polishes, these chemicals can irritate the eyes and lungs; longer-term exposure can damage the nervous system, kidneys, eyes and skin.

Ammonia: Can irritate eyes and lungs and cause headaches.

Phenol and cresol: Found in disinfectants, and if ingested can cause diarrhea, fainting, dizziness, and kidney and liver damage.

Nitrobenzene: Found in furniture and floor polishes, and if inhaled can cause shallow breathing; if ingested can cause poisoning and death. This substance has also been linked to cancer and birth defects.

Formaldehyde: Used as a preservative in many household products, formaldehyde is a suspected human carcinogen that can irritate your eyes, throat, skin and lungs.

Naphthalene: Found in mothballs, this suspected carcinogen may damage the eyes, blood cells, liver, kidneys, skin and the central nervous system.

Paradichlorbenzene: Another chemical in mothballs, can harm the central nervous system, liver and kidneys.

Hydrochloric acid or sodium acid sulfate: Found in toilet bowl cleaners, these chemicals can burn the skin and cause blindness if splashed in the eyes, or can burn the stomach if ingested.
We've got enough chemicals in out everyday lives without using them for cleaning, too. Any chemicals left as residue on dishes and cutlery will likely be ingested or absorbed through the skin. The David Suzuki Foundation has another excellent post titled "The dirt on toxic chemicals in household cleaning products"
Why not choose a gentler, safer option?

Buy Household Traditions Dish Liquid or other Non-toxic Cleaners
More on Tropical Traditions…
Tropical Traditions is America's source for coconut oil. Their Gold Label Virgin Coconut Oil is hand crafted in small batches by family producers, and it is the highest quality coconut oil they offer. You can read more about how virgin coconut oil is different from other coconut oils on their website: What is Virgin Coconut Oil?
You can also watch the video they produced about Gold Label Virgin Coconut Oil:
Tropical Traditions also carries other varieties of affordable high quality
coconut oil
. Visit their website to check on current sales, to learn about the many
uses of coconut oil
, and to read about all the advantages of
buying coconut oil online
. Since the FDA does not want us to discuss the health benefits of coconut oil on a page where it is being sold or given away, here is the best website to read about the
health benefits of coconut oil
.
Note: If you order by clicking on any of my links and have never ordered from Tropical Traditions in the past, you will receive a free book on Virgin Coconut Oil, and I will receive a discount coupon for referring you.
Disclaimer: Tropical Traditions provided me with a free sample of this product to review, and I was under no obligation to review it if I so chose. Nor was I under any obligation to write a positive review or sponsor a product giveaway in return for the free product.