A Homesteading Love Story – Part Two – Pursuing the Dream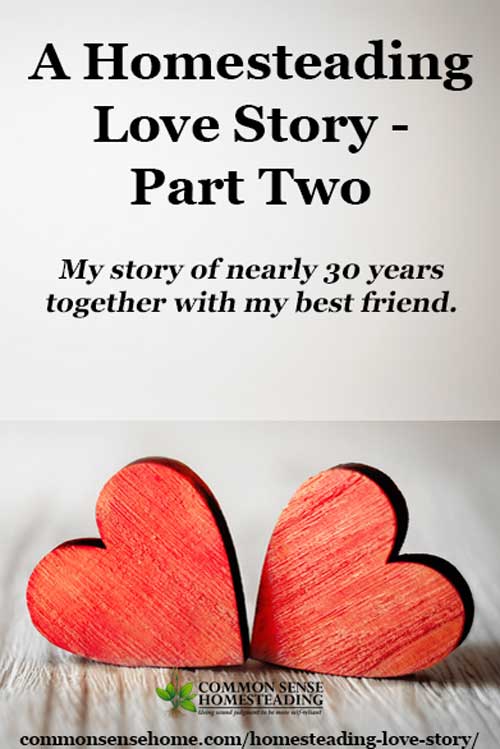 The Engagement
After graduation, I job hunted for several months from Madison, but came up empty handed. August suggested that I move in with him at his parent's place (with their blessing – they had a big house). Now I know that some people will be put off by the idea of living together before marriage, but I sincerely believe that if you can live with both your future husband and your future in-laws for an extended time, your marriage is likely to last. You will see the good, the bad and the ugly. My husband's parents are good people, and seeing them still happily married after so many years together was a very positive thing for me, since both my dad and stepdad were pretty rotten.
August took me with on a business trip to California shortly after we moved in together in May 1994, and planned a romantic proposal on the beach. Of course, he forgot to pack the ring, so that didn't go quite as planned. Life is like that. When we got home, he proposed with his grandmother's engagement ring. She blessed us with their wedding bands as well. She and Grandpa Neverman were together so long that the bands were worn thin with age, so I only wear them on special occasions, but will treasure them always.
In case you missed it, you can read part one of this story here.
Getting Married, Take One
I finally got a job with a local solar contractor in August of that year. As I got ready to start the next week, August called me from work and said he wanted to get married. I told him, yes, that was the plan, since we were engaged. He replied that he wanted to get married right away because he was concerned that I didn't have insurance coverage. Not one to argue with my (future) husband, I set about making phone calls and arranging the details.
His parents were out of town, and mine weren't up to traveling so far on short notice, so we ended up with a simple civil service attended attended by a few close friends, Grandma Ida and Great Uncle Bill. The service was outside, and they were jackhammering across the street. I got bit on my forehead by a fierce-rocious mosquito that got blood all over when I swatted it. Afterwards, we ordered a couple of pizzas and went home with our friends to watch movies. August's co-workers threw him a small party, and one sweet lady made us a wedding cake. I ducked over from work during lunch time in my jeans and steel toed boots to celebrate. (Photo below.)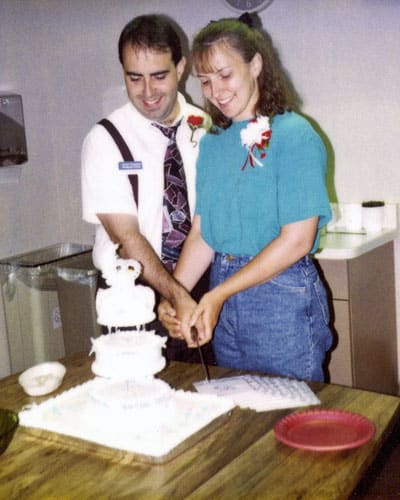 … and Married Again
Instead of having a big wedding, we saved our pennies and built our first home the next year. The following year, we had a renewal of our vows and threw a bigger party. August's mom wanted to give us a more proper introduction to married life and the rest of the family. My closest friend since childhood, Emma, made my wedding dress. My sister made the wedding cake. I made up all the decorations. My MIL, Jane, and I made up the invitations on the computer. We had 16 members of my family sleeping over at our place that weekend, from the guest bedroom to the fold out couch to sleeping bags in front of the fireplace . Who says you can't have a nice party on a budget? 🙂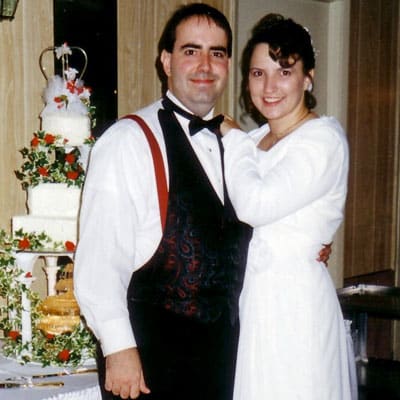 For our wedding vows, August simply said, "You are my everything." It still chokes me up. What more could a woman ask for?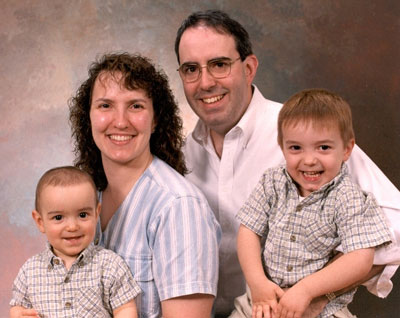 The next year, we had our first son. Two years later, our second. We decided to homeschool. Things were going pretty smoothly at our home in the 'burbs.
Building Our Dream Home and Bumps in the Road
After nine years in our first home, we decided to follow our dream to build our homestead in the country. Financially things looked good. August was in line to be the head of his department at his long term employer. The housing market was strong so we got a good price for our home and it sold after just a few months on the market.
We built our home. We moved in. I planted. Things were going well. Then the hammer dropped. August's employer decided to "restructure" him and many other senior staff out of their jobs. The economy went down the toilet. He hunted and hunted, and interviewed for positions from New Jersey to California, and several spots in between, and came up with nothing. My thyroid decided it was a good time to go haywire. Luckily, he did get a severance package, and we had savings to fall back on, but it was a scary time.
After a year, he got a consulting job with a company two hours away. That consulting job turned into a full time position, and he was there for five long years. He stayed there during the week and came home on weekends. Finally, in 2014, he found a job closer to home. It meant a pay cut, but it was worth it to have him home again.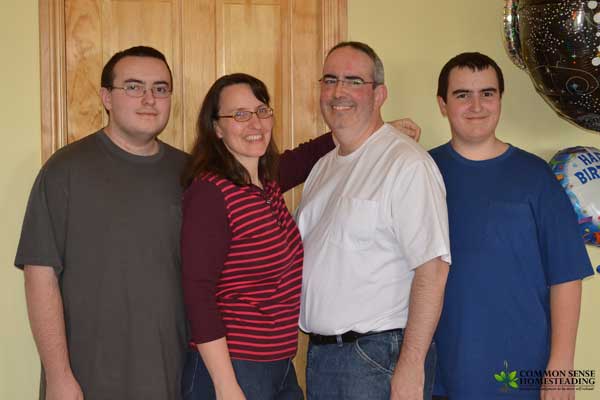 My Happy Ending to Our Homesteading Love Story
There is no "Big Finish". No limo, no white horse, no easy answers to ongoing challenges. The world is in transition, and life will always throw you curve balls. I simply feel extremely blessed to be loved by someone who truly cares for me, and I for him, to share common interests, dreams and values. He even appreciates my goofy sense of humor (most of the time ;-)). I feel blessed that we enjoy doing things as a family, instead of everyone heading off to separate activities. I look forward to spending the rest of my life with one man, the man that I love. It's kind of like the Adam Sandler song below, without the mullet.
As an aside, one of the coolest things about moving out to the country was finding out how many of our neighbors had been married for over 50 years. My in-laws just celebrated their 50th wedding anniversary, too. It's nice to see marriages surviving in our crazy world.
So what's your story? I hope you have people in your life that appreciate you, too, and that you focus on the simple joys of love and friendship this Valentine's Day, instead of all the commercial hype.
You may also enjoy:
Originally published in 2012, updated in 2017.