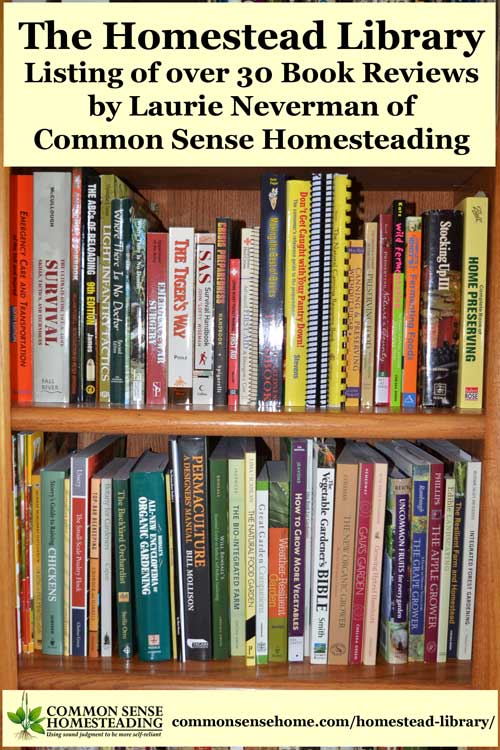 Recommended Reading for Your Homestead Library
For those who love a good book as much as we do. This list of homesteading book reviews includes homesteading, cooking, preserving, wildcrafting, herbalism, preparedness and more. There are so many amazing books out there that you can add to your homestead library to help you on your journey. Some of our books are furnished for review by the publishers, some I've purchased.
Book Reviews Currently Available at Common Sense Home
General Homesteading
The Encyclopedia of Country Living – Endless Homestead Inspiration
The Independent Farmstead – Farming with Minimal or No Outside Inputs
The New Livestock Farmer: The Business of Raising and Selling Ethical Meat
Backyard Farming on an Acre (More or Less)
How to Make Money Homesteading
The Doable Off-Grid Homestead – Homesteading on the Cheap
The Lost Ways Book – Does it Live Up to the Hype?
Raising Pastured Rabbits – Book Review and Recommendations
The Small-Scale Poultry Flock – Quality Natural Poultry Care
50 Do-It-Yourself Projects for Keeping Chickens – Chicken Coops and More
My Favorite Backyard Chicken Books
Holistic Goat Care – The Owner's Manual for Healthy Goats
Food and Food Preservation
The Complete Idiot's Guide to Fermenting Foods
The Natural Canning Resource Book
The Nourished Kitchen Cookbook
Brew Beer Like a Yeti – Techniques and Traditional Recipes
Wildcrafting/Herbalism
Recommended Wildcrafting Reference Books
Wild Yeast Brewing – Books About Wild Beer, Wine, Mead and More
The Pocket Guide to Wild Mushrooms
Pawpaw – In Search of America's Forgotten Fruit
Gardening
Fresh Food from Small Spaces – Grow Fresh Food in the City or Suburbs
Building Soils Naturally – Innovative Methods for Organic Gardeners
Working with Nature – Shifting Paradigms and The Essence of Organic Gardening
The Planet Whizbang Idea Book for Gardeners
The Lean Farm – Making More Income with Less Work
The Lean Farm Guide to Growing Vegetables – Efficient Organic Production
The New Organic Grower – Techniques for the Home and Market Gardener
The Market Gardener: A Successful Grower's Handbook for Small-Scale Organic Farming
The Greenhouse and Hoophouse Grower's Handbook – Change the Way You Grow
The Resilient Gardener – Grow Potatoes, Corn, Beans, Squash, and Eggs
The BackYard Orchardist – Learn to Grow Over 10 Different Fruits
Permaculture
The Minimalist Gardener – Gardening with Less Work and Fewer Inputs
4 reviews in one post – The Wild Wisdom of Weeds, Farming the Woods, Integrated Forest Gardening, Organic Mushroom Farming
Edible Landscaping with a Permaculture Twist
The Bio-Integrated Farm – Water Gardening Like You Never Imagined
The Forest Garden Greenhouse: Creating an Indoor Permaculture Oasis
Holzer Permaculture – A Lifetime of Food Growing Innovation
Restoration Agriculture: Real World Permaculture for Farmers
Beyond the War on Invasive Species – A Permaculture Approach to Ecosystem Restoration
Mycorrhizal Planet – Nurturing Fungi to to Build Soil Fertility and Support Plant Health
Hybrid Hazelnuts – The Revolutionary Crop for Food, Fuel and Biomass
Silvopasture Guide Book – Combining Trees and Livestock
Permaculture Guide to Reed Beds for Home Wastewater Treatment
Preparedness
Living Ready Pocket Manual – First Aid Fundamentals for Survival
Honey, Mud, Maggots and Other Medical Marvels – The Science Behind Folk Remedies and Old Wives' Tales
Going Off The Grid, The How-To Book Of Simple Living and Happiness
Health and Nutrition
"Back in Control – A Surgeon's Roadmap Out of Chronic Pain"
Common Sense Health: Diet, Detox and Physical Activities
The Common Sense Home Remedies Series
Deep Nutrition: Why Your Genes Need Traditional Foods
All Hands on Pet: Your How-to Guide on Home Physical Therapy Methods for Pets
Environmental Toxins
The photos at the top and bottom of this post are from my own personal bookshelves, so you can see I've got no shortage of reading material. 😉 If you see a book title in the top or bottom photos that you'd like to know more about, please ask, and I'll do my best to get a review up sooner rather than later.