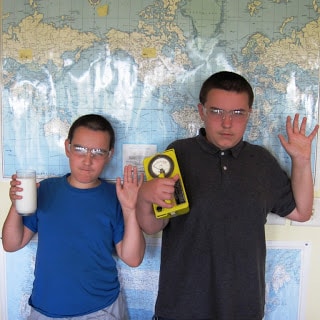 A Wisconsin homeschool family was held at gunpoint by a multi-agency SWAT team yesterday on suspicion of possession of raw milk and fissionable materials.
The official in charge of the raid stated that the family was first suspected of dealing in raw milk when the children were spotted out in public during school hours, sporting smiles and milk mustaches. Upon further investigation, a cow and calf were found in their backyard.
"This is just not right," said FDA official Mr. Imablowhard. "After all, it's not as if people have the right to choose the foods they eat to keep their family's healthy. Government experts know better than any consumer, no matter how well educated they are or how much research they have done."
While they were conducting the raw milk raid, the SWAT team also stumbled upon the homemade thorium reactor the family had built in the basement. The homeschool mother explained:
"Ever since my kids read on the internet about how 1 gram of thorium produces the equivalent energy of 7,500 gallons of gasoline, they've been obsessed with building a home reactor. Since we live close to two nuclear plants, we were able to request some of their spent fuel for homeschooling purposes. The boys were convinced that a sample of thorium about the size of packing peanut will provide all of our energy needs for years. How could I say no?"
FDA official Mr. Imablowhard shrugged off the possession of fissionable material as a minor offense. "We know the homeschooling movement has been growing in this country, and other government agencies have been working to slow that down through the use of ever more burdensome regulation, but the raw milk is what's really dangerous here."
The family's root cellar, canning pantry, two freezer and refrigerator were all emptied and the contents placed in a hot warehouse, guaranteeing food spoilage and growth of pathogenic bacteria so that the family could be sued at a later date for selling unsafe food, even though they hadn't actually sold anything to anyone. Imablowhard stated. "You just can't be too careful. They might have decided to sell something to someone at some point in the future."
Although the above story is pure spoof – this sort of thing is happening in our country right now. A lot of you have probably heard about the Rawsome raid in California. Maybe you haven't heard about how the Stowers family was held at gunpoint while their food was taken? What about Estrella Family Creamery? And the FDA has said repeatedly that we have no right to choose what we eat. It's official, documented policy. (Follow the link if you want to know more.) Our rights are being stripped more and more each day.
The thorium bit was a hat tip to the gentleman building a nuclear reactor in his kitchen. The thorium technology exists and is being kept from commercialization by copious amounts of government regulation and folks with a vested interest in keeping energy rates sky high. (Completely serious on this one folks. In my former life I was a mechanical engineer and have studied power plant technology and toured various power generation facilities.) I firmly believe that we should be working on moving forward, not backward, when it comes to energy policy, and that new technologies such as thorium reactors and sewage based ethanol are the way to do it. (Sorry, I don't think solar is the answer we're looking for, for many reasons.) When you hear there's no way we can produce enough power for everyone, don't believe it.
We owe it to ourselves and future generations to do better, in terms of nutrition and energy production. We can feed and power the world. We can make things better.
So there you have it – my bit of Monday Madness and some food for thought for the week. Let me know if you think I'm crazy, or if you'd like to learn more. As always, if you enjoy the article, please pass it along. Have a wonderful and productive week, and watch out for those SWAT teams!
This post has been added to Fight Back Friday.