I've been working on detoxifying our home and our diets (slowly – it's a process). Some things are easy, like avoiding margarine and soy – we never really liked them anyway. I hate the smell of chemicals, so again avoiding standard cleaners is a no-brainer. White vinegar, non-toxic dish soap and essential oils do the bulk of my work.
Personal care products can be a little trickier. I've been switching us to natural and organic on some things, but they can be pricey. As I been researching thyroid function, I've found that fluoride can cause big problems with the thyroid because it competes with and displaces iodine in your body. Also, fluoride bonds with aluminum, which is present in many municipal water supplies, which gets us back to the whole aluminum/Alzheimer's connection. Not good.
I've tried some natural non-fluoridated toothpaste varieties, and they work fine, but I figure if I could mix up some homemade toothpaste from ingredients I already have on hand, so much the better.
I found a recipe at Tammy's Recipes.
Print
Homemade Toothpaste Recipe
Ingredients
2 tablespoons coconut oil
3 tablespoons baking soda
1/2 small packet of stevia powder
20-25 drops of peppermint oil*
Instructions
Mix all ingredients together in a small bowl, using a fork.
This, I thought I could try. I'm a coconut oil fan,and I figured the sweetener and flavoring would make it more like regular toothpaste. The boys were keen on experimenting with other flavors (their choices were root beer and cherry). Me, I wanted vanilla mint.
We gathered the ingredients…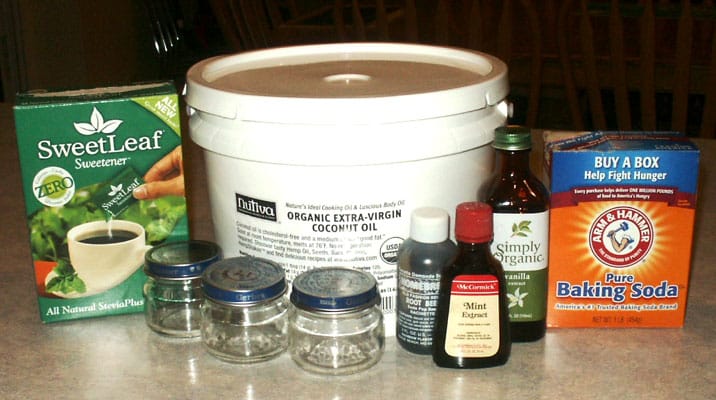 Started mixing…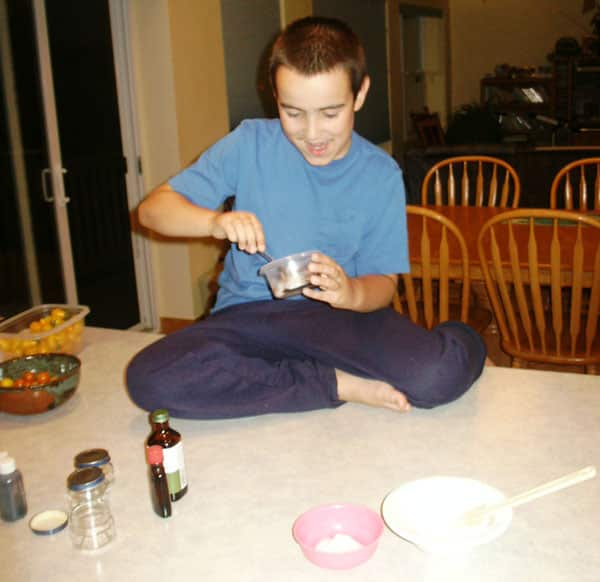 and ended up with a bowl of smooth paste.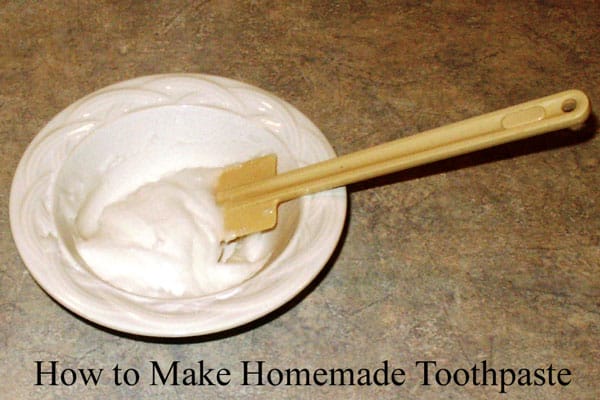 We divided this into three bowls and added flavorings, then taste-tested. Not a yummy. I know you're not supposed to eat your toothpaste, but I think it should at least be pleasant to put in your mouth. I ended up scrubbing the kitchen sink with the boys' mixtures. Mine I diluted with more coconut oil and added more flavoring. It has mellowed out over time, but I still don't find it appealing to brush with. (Sorry, Tammy 🙁 ). It irritates my gums if I use it morning and night. I've been using it intermittently, and will probably use it up (or scrub the sink with it…). Once it's gone I'm going to try yet another recipe, this time from Passionate Homemaking.
Print
Homemade Toothsoap
Ingredients
1 Tbsp Dr. Bronners castile liquid soap – contains coconut, olive, palm oils – we use Baby Mild unscented (because it is more versatile for us, and covers multiply uses in one product) and then flavor with an essential oil or two

5 Tbsp coconut oil

1 Tbsp or more olive oil or water – to get the consistency you want – this makes it pourable to put in the soap dispenser

Essential oil (20-25 drops), I use orange and peppermint together, as peppermint alone is a little strong for me, but you can use whatever combination you like. If using Peppermint Dr Bronner's soap, you can skip this altogether.

Stevia, to sweeten to your taste – a few dashes or so works
The author warns against too much sampling, as the essential oils can burn the tongue with repeated application. She puts her toothsoap in a new soap dispenser.
Live and learn – I'm looking forward to trying this recipe in the future. Maybe the boys will get their root beer flavored toothpaste yet.