Hen House Plans and Best Chicken Breeds for the Homestead
Hen house plans are a necessary element of just about every backyard laying chicken flock, unless you buy a pre-made coop. In the course of our chicken research, I was offered a free review copy of "DIY chicken Coops – The Complete Guide to Building Your Own Chicken Coop" by John White at ChickenCoopGuides.com, so I decided to check it out.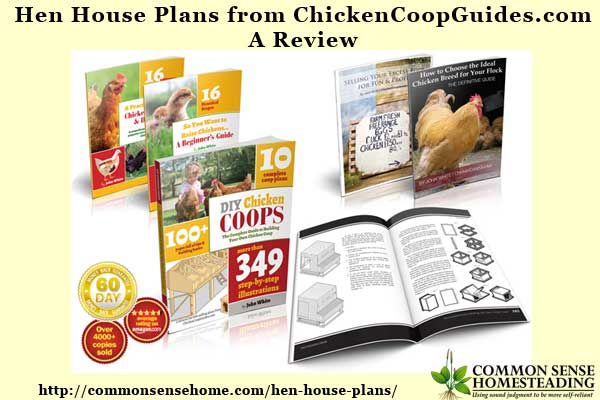 John's book comes as a set with four other chicken books, to cover the basic questions of the beginning chicken owner. The bonus books are:
How to Choose the Ideal chicken Breed for Your Flock – The Definitive Guide
So You Want to Raise Chickens… A Beginner's Guide
A Practical Guide to Chicken Illnesses & Diseases
Selling Your Excess Eggs for Fun and Profit
Hen House Plans for Every Size Flock
From the Cluck Carrier for 1-5 birds to the Mul-T Coop housing up to 60 birds plus a storage shed, DIY Chicken Coops has a solid assortment of chicken coop plans. There's also a small mobile brooder and a chicken run for protecting your birds.
The book opens with a discussion of chicken coop essentials, such as space requirements, access, roosts, nesting boxes, runs, litter, food, water and more and basics of sensible building design to make it easy to take good care of your chickens. Each design is presented with text and illustrations to take you through the building process step by step. John wraps up with a Q & A section covering common building questions.
From a print quality perspective, the print and illustrations are clear and bright, and I was able to open the book to lay flat for without busting the binding – always a good feature.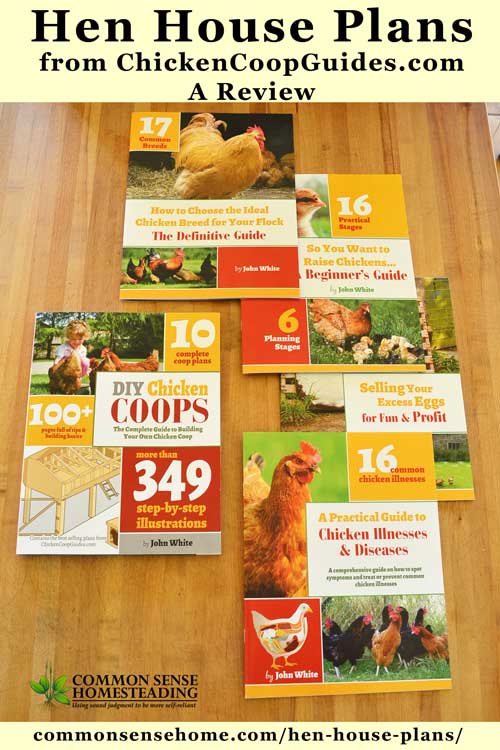 Getting Started with Chickens
So You Want to Raise Chickens… A Beginner's Guide takes the reader from finding out if chickens are legal where you live (better to know before than after you have your flock of hens) to predator deterrents to feeds, herbs and working chickens in the garden. There are six planning stage topics to get you ready for chickens, and 16 topics directly related to chicken care.
The section on raising chicks is a little skimpy, but we have you pretty well covered for that here on the site with the post, "Getting Started with Meat Chickens". (Meat chickens and laying hens start out pretty much the same when they are tiny, then get different rations as they grow and mature to meet their dietary needs.)
Troubleshooting Sick Chickens
A Practical Guide to Chicken Illnesses & Diseases discusses 16 common chicken illnesses. Each entry is accompanied by a quick reference diagram that shows the area of the bird affected, plus symptoms, treatment and prevention tips.
What to do with Extra Eggs
Should you be blessed with more eggs than you can use, Selling Your Excess Eggs for Fun and Profit offers suggestions for ways to sell your eggs, legal considerations and how to develop a basic business plan with optional supplementary products.
Which Chicken Breed is Best for Eggs?
Every chicken owner has their preference, especially if they've been working with birds for a while. How to Choose the Ideal chicken Breed for Your Flock – The Definitive Guide provides an overview of 17 common chicken breeds, including the following information:
Class
Type
Size
Purpose
Egg productivity
Egg Color
Egg size
Rarity
Climate tolerance
Personality
Recognized varieties
John's favorites are shown in the infographic below.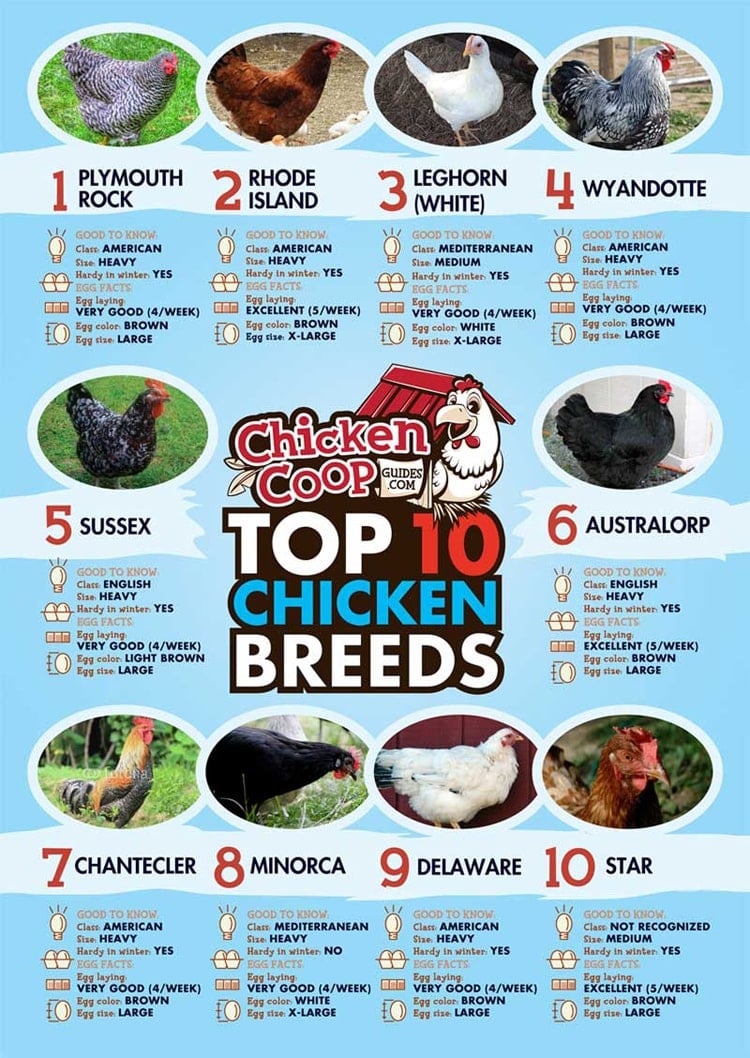 After reviewing the books, I decided to sign up as an affiliate for the guides, so if you use the links from my site and decide to purchase the product, I receive and affiliate payment at no extra cost to you. There's a video on John's site that features photos of several different coops built from the plans included in the book, so you can get a better idea of just how they look when completed.
The book set is a good general overview of what's needed for a backyard flock, with a good variety of coop plans to fix pretty much any situation.
You may also enjoy: