7 Easy Tips for Greener Gifting – From Homemade to Fair Trade
I know that retailers love the holiday season because of the gift buying frenzy, but spending a lot of time in crowded stores is not my idea of fun. We prepare homemade jams, jellies and other treats throughout the year for gift baskets. I also keep an eye out for items at thrift stores and garage sales that I know would be a good fit for someone on my holiday list.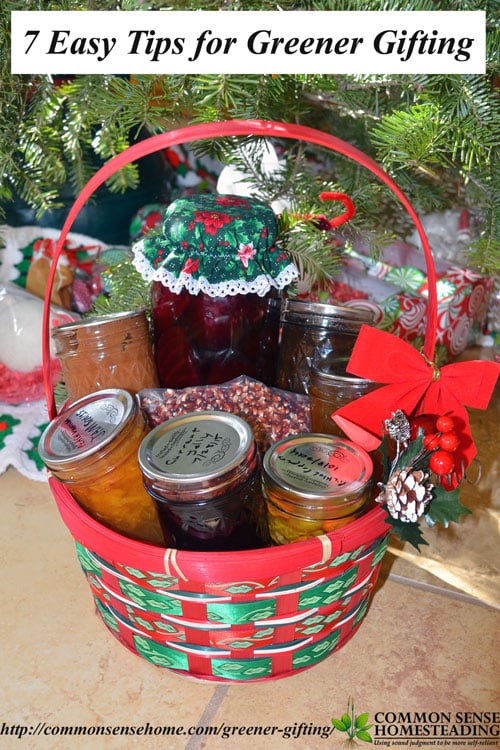 A few things are purchased new – I haven't yet learned how to whip up computer parts in the kitchen – but I am not a big shopper. I'd rather focus on spending time together with people I care about. Throwing some great food in the mix is also welcome, as there are a number of recipes I typically make only for holidays. In this post I'll share a few tips for greener gifting that are good for our wallets and the environment.
7 Easy Tips for Greener Gifting
#1 – Buy Local
I don't know what it's like in your area, but around here we have craft fairs and a wonderful array of locally made products available year round. Just a few minutes from us is Kele Alpaca Farm. Each year they host a holiday bazaar in a renovated old log cabin that is filled with ceramics, soaps, fiber arts and many other wonderful handmade gifts. Just a few miles the other direction is Aissen Tree Farm, where they also have a holiday gift shop featuring many hand made products. The local Lions Club has an annual poinsettia sale just after Thanksgiving at one of the largest nurseries in the entire United States – which also just happens to be a few minutes from our home.
In addition to the crafts and plants, our area has many tasty food gifts as well. Who wouldn't like some honey, real maple syrup, fresh squeaky cheese curds, dried Door County cherries (they even come chocolate dipped) or pastured beef?
If you don't have quite what you want close by, simply buying within the country instead of getting things shipped in from overseas helps keep American workers (or for those in other countries, whatever country you hail from) employed.
#2 – Give Time Instead of Money
What's more precious than anything else I can think of and always in short supply? Time. We can't magically make more hours in the day, but offering to help with a project or mind younger children when parents are busy is truly a blessing. I am so very thankful for our friends who came to help with the greenhouse assembly and move, especially the Buntin family, who put in some grueling hours in the hot sun to help get it assembled.
If you are extra tight on time yourself, consider a gift certificate to a local service provider, like a cleaning service, tree trimmer or something fun like a massage.
Which brings us to #3…
The time that goes into prepping homemade gifts is a labor of love. The dryer balls, homemade soaps, home rendered lard and other items I've received from friends over the years have all been put to good use. My friend, Amber, has a great list of homemade gifts that you can make for under $1.
Many of my friends don't can as much as the boys and I do, or they stick to more basic recipes. An assortment of our home canned goods is always a hit. If you need some last minute gifts, jams and jellies can be whipped up quickly. Frozen fruit or fruit juice works just fine. See the full listing of jams, jellies and spreads on the site. I also have quite a few recipes for cookies and other easy to make treats on the recipe page.
#4 – Give a Gift to Someone Truly in Need
I'm happy to see this trend becoming more popular in recent years. Instead of trying to find a gift for the person who already has everything they need/want, how about donating to those truly in need in honor of your giftee? Or just help out for the sake of helping. Pick a cause that's near and dear to you and help them out.
#5 – Buy Used
Just because someone else doesn't need an item anymore doesn't mean that item needs to head for the trash. Thrift stores and online options make it easier than ever to hunt down the items you want. Many items were better made in years past, so an older well built something may well outlast its modern counterpart.
#6 – Buy Fair Trade
Artisans, farmers and other workers abroad do depend on international sales to help support their businesses. Supporting Fair Trade products helps people make a living wage that can support their families and their communities.
Some Fair Trade organizations include:
The Fair Trade Federation (FTF)
World Fair Trade Organization (WTFO)
European Fair Trade Association (EFTA)
Fairtrade Labeling Organizations International (FLO)
TransFair USA, Network of European World Shops (NEWS!)
Alter–Eco
Gepa
Cafédirect
Traidcraft
#7 – Green Your Wrapping
When it comes to wrapping, greener options can also be more frugal options. I regularly use (and reuse) gift bags, comic strips, and colored tissue paper. Fabric gift bags are easy to sew or can be purchased from a variety of sources. You could even repurpose a pretty old pillowcase or sheet for a larger gift. Get creative!
To help you with ideas, here are a few posts from my blogging friends: