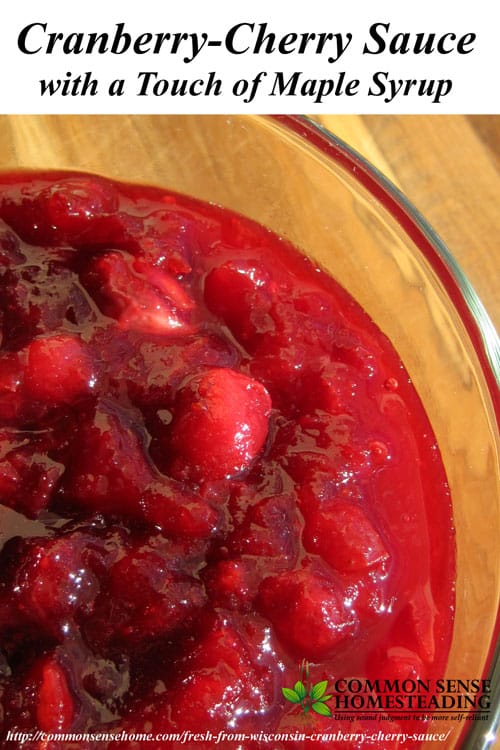 Did you know which state produces the most cranberries? That would be my home – Wisconsin, which produces nearly 2/3 of the cranberry crop annually. Near my home in North East Wisconsin, we also have Door County, which produces a sizable crop of tart cherries, plus quite a number of maple syrup producers.
I figured I'd try something a little different this year and combine three of my favorite Wisconsin foods – cranberries, tart cherries and maple syrup. Cherries are naturally sweeter than cranberries, so this allows you to cut back on the sugar compared to standard cranberry sauce. Maple syrup and sugar also have trace minerals not found in refined sugars. And, of course, brightly colored cranberries and cherries are also loaded with antioxidants.
Print
Cranberry Cherry Sauce
Scale
Ingredients
12 ounce

s fresh or frozen cranberries (

3 cup

s)

1 cup

tart cherries, fresh or frozen

1 1/2 cup

s water

1/2

–

1

cup white sugar or organic evaporated cane juice

1/2 cup

maple sugar or maple syrup
Instructions
In a colander or strainer, rinse cranberries with cool water, and remove any stems or blemished berries. Measure out cherries, but do not drain or thaw. (If you thaw the cherries too far in advance, their color will fade. Freshly thawed or partially thawed cherries are fine.)
Heat water and sugars (or syrup) to boiling in 3-quart saucepan over medium heat, stirring occasionally. (Syrup will result in a thinner sauce.) Continue boiling 5 minutes longer, stirring occasionally.
Stir in cranberries and cherries. Heat to boiling over medium heat, stirring occasionally. Continue boiling about 5 minutes longer, stirring occasionally, until cranberries begin to pop. As the cranberries pop, they release pectin, which will help to thicken the sauce. Pour sauce into bowl or container. Refrigerate about 3 hours or until chilled. Sauce will thicken as it cools. Sugar acts as a preservative, plus the fruit is fairly acidic, so this should hold very well in the refrigerator.
Have a wonderful holiday season. Don't forget to share if you find this post interesting.