For the Ladies – Getting Started with Firearms (Part 2)
This is part two of a guest post mostly for the ladies, but I suspect some gentlemen may find this useful as well. To those who have considered getting a gun for self-defense, this is for you. Today we cover selecting a firearm, some common gun related terms, and why you need proper training.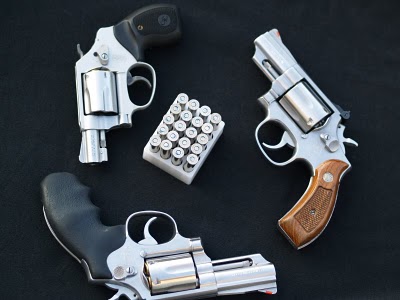 How to Find a Firearm
"No – you don't want the P220, you need something that's girl sized". The last time I heard that was from the gun store employee who DIDN'T make a $850 sale.
It's not as common as it used to be, but on occasion you will find a gun store employee who either ignores you or suggests a "girl gun". Take your business elsewhere. You wouldn't buy a new outfit at a store where the clerk thought you were fat when you're not, so why buy a gun at a place where they assume you're an idiot because you have breasts. It's getting better all the time ladies. On a business trip to St. Louis I walked into the Gander Mountain in St. Louis, asked about 1911's in .45 and the store clerk didn't bat an eye though his smile went up about 2000 watt at a new customer.
If you don't want a tiny gun, don't let a clerk talk you into one simply because it's a "ladies gun" for "small hands" like tiny .22 or .25 auto, that without a well aimed shot, wouldn't stop a charging hamster. A .22 is a GREAT gun to learn the basics and keep your skills up but if you only have the money for one gun for self defense get something with a little more stopping power.
There is a lot of good information out there on selecting a firearm to fit and learning to use it. Some of the best technical information available comes from Kathy Jackson at http://www.corneredcat.com/. Kathy has published a whole book on the subject that is a worthwhile investment, she's also a genuinely nice lady that has been a good role model for me in many things.
But just because a gun is larger in size or grip (what you wrap your hand around) doesn't mean it's not a good fit for a female shooter. I know delicate women who handle a 1911 like no one's business. In my opinion, there are no girl guns or guy guns. A gun is not male or female. You can buy a pink gun but that doesn't make it a "girl's gun", just an ugly one (my opinion, I just hate the color pink). There are women with smallish hands that can handle a large gun, if they choose to, and men with big huge bear paws that can handily fire a small piece. There are women with large hands and/or long fingers and men with small palms and/or short fingers. Don't let a seller tell you a gun is a "girl gun" because of its grip or overall size.
You can rent a gun to try it out. Renting is not just for overly large TV sets anymore. Many larger indoor ranges will rent you a gun so you can try it out for an hour or two. If you have no idea which one to start with, ask your instructor, ask other female shooters. But don't rush into purchasing anything just because you think you have to buy one to get started. Like a car or a husband you don't want the first one that comes along even if it's all shiny and new.
For a first self defense firearm I'd recommend a revolver.
Why get a revolver? They're about as simple as you can get. Point and shoot. Each trigger pull feels the same from first to last. You have no controls to fumble with and you can't accidentally eject the magazine while you try and get your hands around it. They're easy to tell if they are loaded and you can clean them without dynamite and your own personal engineer.
A revolver is pretty well immune to jamming, and if it misfires, you can simply pull the trigger again to fire the next chamber. Not all revolvers look like some of those hand cannons you see Clint Eastwood carrying in old Westerns. Some of them are actually easy to tote around. Look for something in a .38 special or a .357 magnum.
What's a Round? A round is simply another name for a bullet or cartridge. If you want a semi auto, and it's not going to be your primary carry for self defense piece, start with a small round like the .22. It's not your first choice in self defense, the round doesn't have that much stopping power unless perfectly placed but it will teach you the basics, and allow you to practice stance, aim and grip at a very affordable price. I keep a .22 for practice. even if what I carry for self defense is a MUCH bigger round. Try the .22 out, if it seems too "wimpy" for your taste, look for something in 9 mm, .40 S & W, or .380 working your way up to .45 ACP if your goal is self defense, not just shooting sports.
It's more than On/Off but it's not near as complex as some things you'd find in your own cupboard. But you need to be familiar and be able to use all of the gun's controls without any motion that is uncomfortable or causes you muscle pain. If there is a thumb safety, make sure you can crisply flick it off with the thumb of your firing hand. Make sure you can reach to operate the slide release, safety/decocker and mag release (labeled in the picture here which is my Sig Sauer P220 .45 that the nice man said was too much gun for a girl).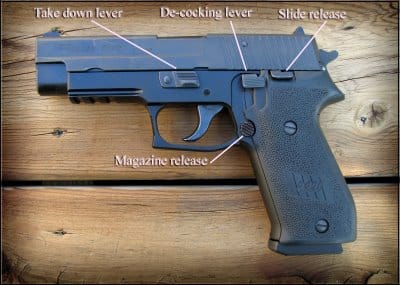 Learn to take care of your firearm, not just shoot it. It may take you a while, but have your instructor or a shooting friend or family member show you how to clean and protect the finish of your firearm. If you look like a million bucks and then go home and have your hubby clean your guns it doesn't say much for your confidence. Cleaning it will make you more comfortable operating it, and besides, if you smell like a little Hoppes No. 9 your better half may offer to do some chores in exchange for a kiss.
Network with other gun owners: There are a number of women bloggers who shoot. I'm sure they exist, but it's a rare one of us that thinks she's better than any of the others, jealous of others successes. We are all willing to teach, just as we are still willing to learn. Don't hesitate to ask for help, for feedback, for encouragement. You will get it.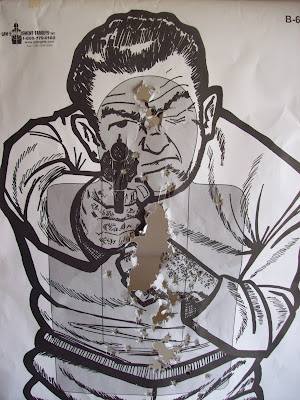 Lastly – be proficient. If faced with a danger to your life, a gun hidden in a drawer, which you have not practiced with, is going to do you more harm than good.
You can do this! Many women have a real aptitude for target shooting, and it's the one physical activity where men and women can be truly equal. Remember, despite my saying above, "armed and safe", a gun is not a charm that will magically keep the criminals away, and you can't bluff your way out of a dangerous situation with a gun you are hesitant to use, either technically or morally. Criminals can sense fear and hesitation like any wild animal can. A gun will only protect you if you are honestly and demonstrably prepared to use it. That requires a mindset of confidence in it, in yourself, and regular practice. .
It's a choice of being proficient or being prey. That's an easy choice for me.
Read "Getting Started with Firearms – (Part 1)" here.
Brigid writes at Home on the Range – mausersandmuffins.blogspot.com
Her bio reads, "Swept wing cowgirl for Uncle Sam meets doctorate in forensic geekery. I like solving puzzles. Life is an adventure that usually involves a sidearm and a trusty black lab."
I admire her wit and humor, and her fine selection of bacon recipes. She writes posts that will tug at your heart strings, make you laugh and make your tummy rumble. Take time to stop by for a visit, you'll be glad you did.