Early Greens from the Garden
Alas, my ground outside is still very much covered with snow and ice, and here I am ogling greens seeds old and new. I love the variety you can find by shopping through seed catalogs.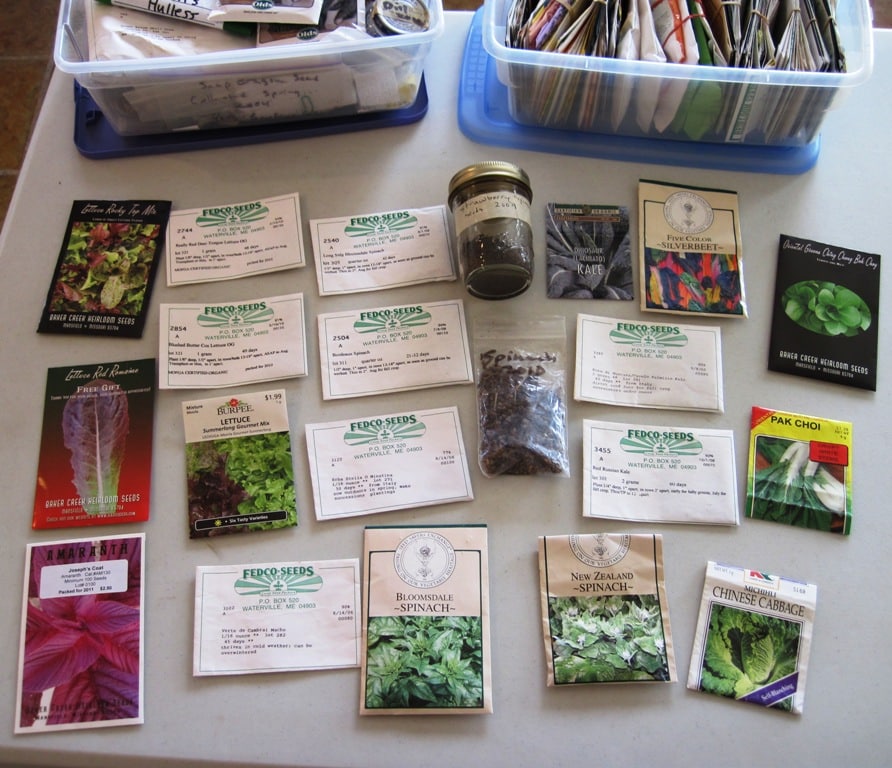 This years planned greens include:
Lettuce – Rocky Top Mix
Lettuce – Red Romaine
Amaranth – Joseph's Coat
Lettuce – Really Red Deer Tongue
Lettuce – Blushed Butter Cos
Lettuce – Summerlong Gourmet Mix
Mache – Verte de Cambre
Spinach – Bloomsdale Long Standing
Spinach – Bordeaux
Minutina – Erba de Stella
Strawberry Spinach (saved seed)
Spinach (saved seed)
Kale – Dinosaur (Lacinato)
Swiss Chard – Five Color Silverbeet
Kale – Nero de Tuscana
Kale – Red Russian
New Zealand Spinach
Bok Choy – Ching Chang
Chinese Cabbage – Michili
To get a jump on the season, I've got an indoor planting bench and a small greenhouse attached to the house. This year, I decided to try something different and pre-sprouted and grew out some pea seeds just for use as greens. The tender tops and little tendrils make a nice salad addition.
To sprout my peas, I placed them in a wide mouth mason jar, covered them with water and the sprouting strainer lid, and let them soak overnight. In the morning, drain and rinse and leave them on the counter for a few days, rinsing once or twice a day. By the end of they week, you've got something like this: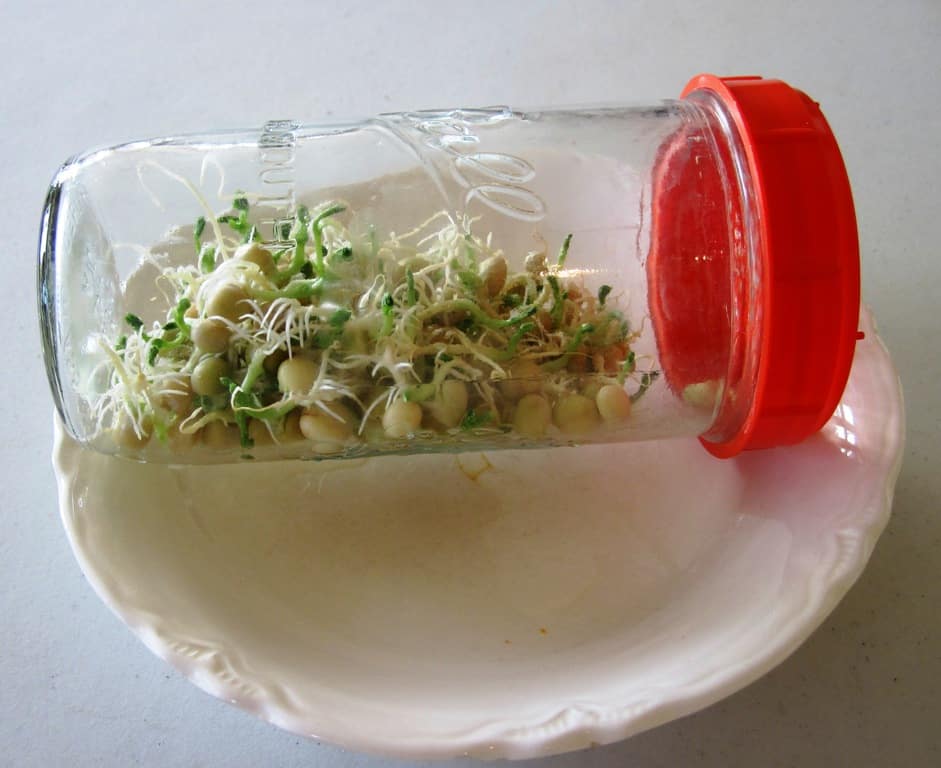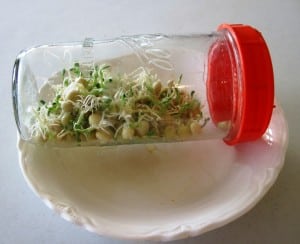 As you can see, the peas have developed nice little root systems. Some of them haven't sprouted, so those get tossed.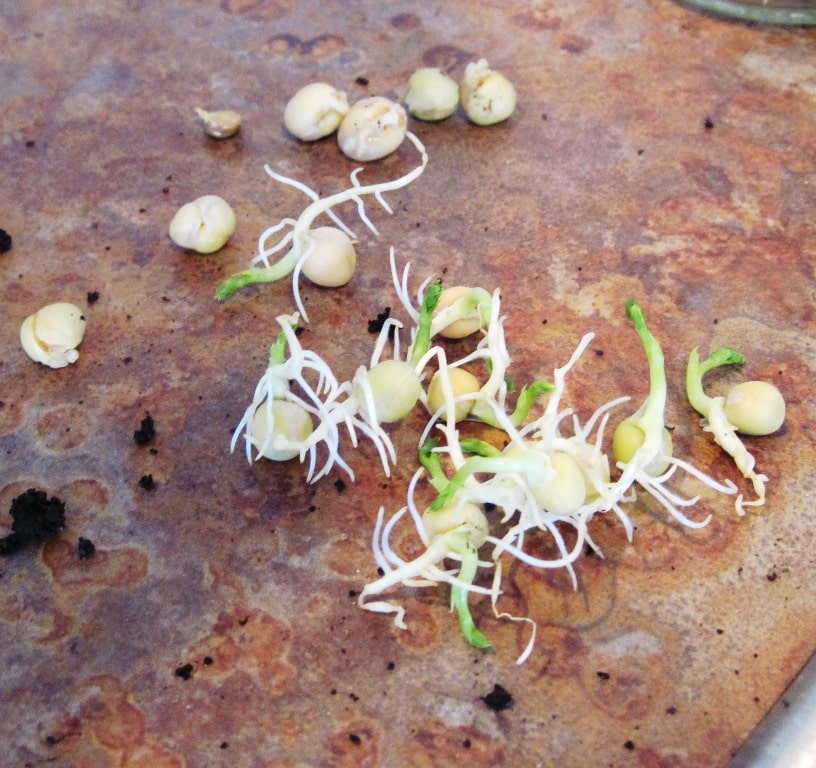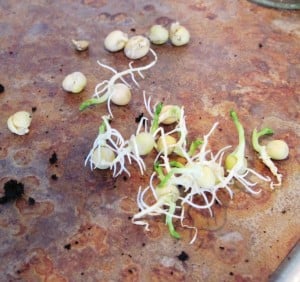 I put some potting soil in old organic salad mix trays, snuggled the little seedlings in and tucked them under the grow lights. At the same time, I started some Rocky Top lettuce mix, some butter Cos, some spinach, some Alyssum and some Painted Tongue.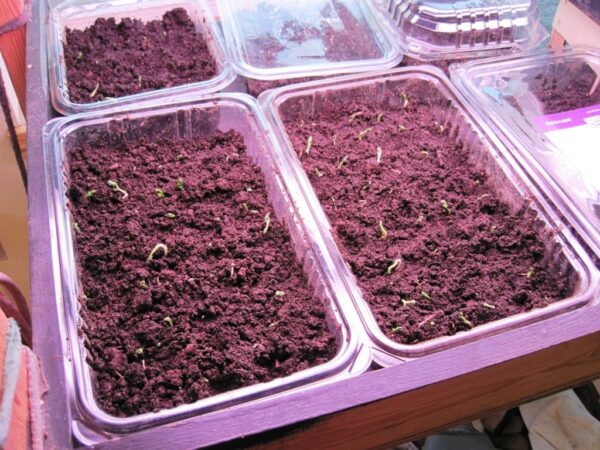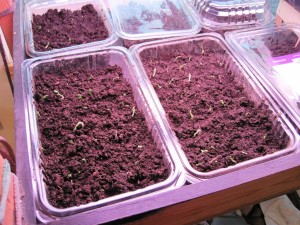 Two days later, and the peas were coming along nicely.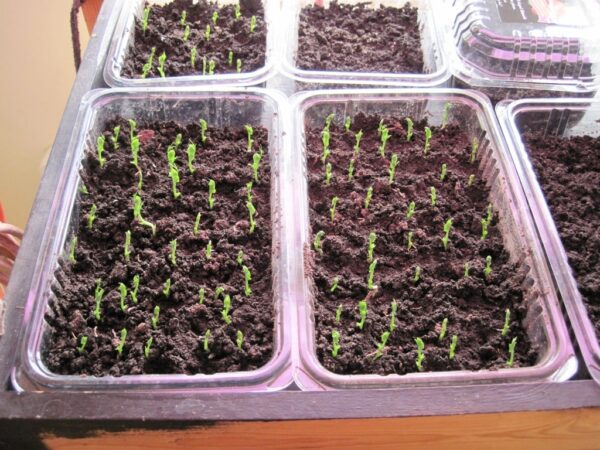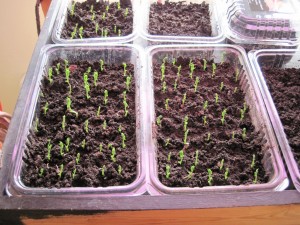 A week later, and the first pea tops were ready to harvest. The salad greens and flowers were poking up out of the soil. As I said, it's been really cold and dreary here, so I'm setting no records for rampant growth. I moved all of these trays out to the greenhouse shortly after this photo, and they've really been creeping along.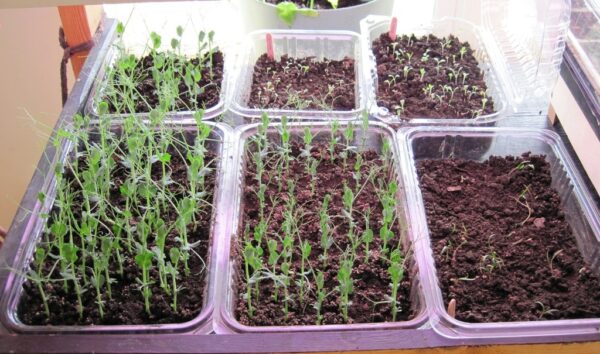 Here's my first bowl of pea tops.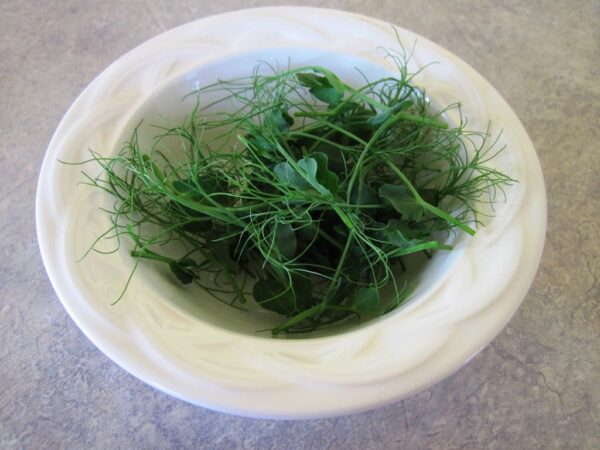 I added them to a nice mixed salad with some organic store bought greens (a month later, and the lettuce and spinach are almost ready to harvest as micro greens – trying to be patient). Here we've got some leftover shell peas from supper the previous night, greens, pea tops, crispy walnuts, raw milk bleu cheese from Nala's, soaked sunflower seeds, dried cranberries, dried blueberries, balsamic vinegar and flaxseed oil. I regularly enjoy having a big mess o' salad like this for lunch. Sometimes I'll add sardines or pickled fish, or fresh sourdough bread slathered with plenty of butter.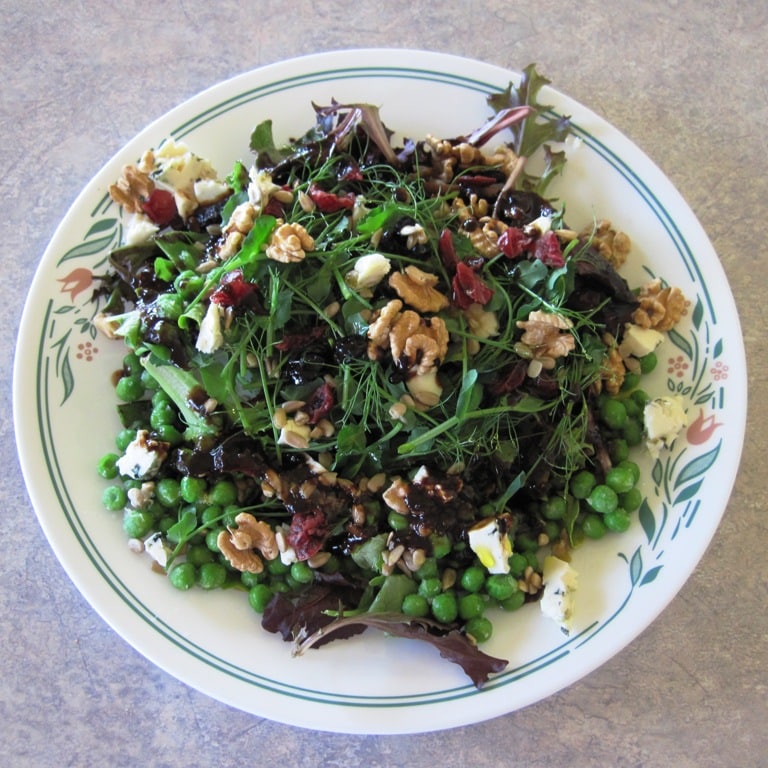 Temps are finally warming up this week, so I'll be starting more seeds inside and hopefully be able to plant outside within the next few weeks. I decided I'm going to use my sprouting jar to pre-sprout my early peas before plating them out in the garden (these really early ones will remain inside for greens) , since I regularly have germination issues with peas when the ground is cold and wet. I've got some worm castings from Whitetail Organics to top dress the soil, which adds a nice little nitrogen boost that leafy veggies love (I also add it to my potting mix). The worm castings don't have the potential disease issues of improperly finished compost or pathogen potential of other manures, which is another reason I like to use vermicompost if I have it. Most greens do well in (or prefer) cooler weather, so they are great season extenders.
What are your favorite greens? Do you have any tips for growing them that you'd like to share?
UPDATE: The snow has finally cleared from the garden, and I can see the semi-permanent greens bed that had just started leafing out last fall coming to life. I've been letting this corner of my garden self-seed with mache and strawberry spinach. Last fall it was getting quite overgrown with inedible weeds (the dandelions went in the salad bowl, too), so I cleaned it and added spinach. The little plants are about an inch tall. Yeah!