Sometimes what's wrong to everyone else is what's right for you, and sometimes even if you do everything "right" you still get skunked.
I've been debating about what to write next here in the deep, dark ever so snowy winter. There have been a lot of not so fun things going on in my life that have put a kibosh on my inspiration levels, so I figured I'd tackle sharing something that has been rolling around in my head for a while.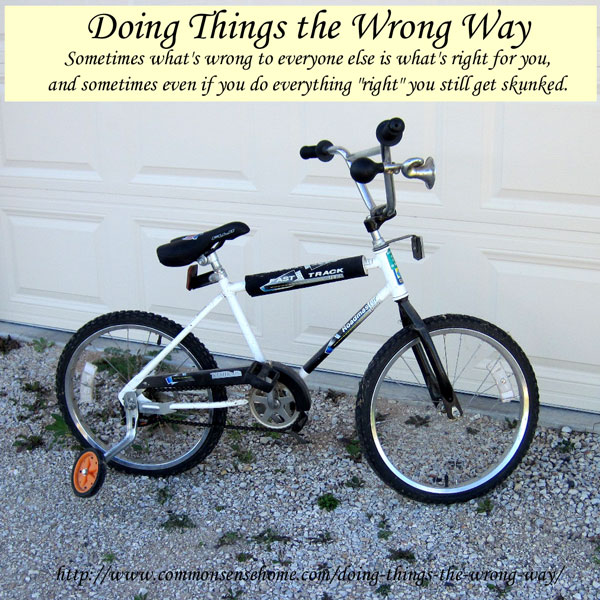 Sometimes what's wrong to everyone else is what's right for you
When I was a kid, I had some trouble learning how to ride a bike. Everyone told me that the best way to learn was to practice coasting down a hill. Well, I've never much cared for going fast, and whipping down the hill in our yard made me feel completely out of control. I did eventually learn how to ride – by pedaling back up the hill. It might have been bass ackwards, but that was more my speed. ( I am not speedy. I am methodical. Okay, I am often slow.)
When I went off to college, I didn't know what I wanted to do. My high school aptitude tests said "artist" and "singer" at the top (really), but the term "starving artist" made me figure those were more suited to a hobby than a regular job. Right behind the artsy stuff was "biomedical engineer", but I was nervous about that because when I'm around sick or hurt people I just want to make it all better, and I didn't think I'd be able to leave work at work. In the end I decided to get a math degree with physics minor, with the intention of getting an engineering associates degree up at Michigan Tech. As it got closer to graduation, I decided I might as well get a Masters degree since I was doing more school and it would take about the same time.
I applied to Mechanical Engineering program at UW Madison with the expectation of focusing on renewable energy. In my application, I told them that I wanted to save the world. They still let me in. After the fact, they told me that I was an experiment, because they had never allowed a non-engineering student into the Engineering Masters degree program. I survived, but I don't recommend it because of a little something called "engineering assumptions". That said, the friendships I made while I was an undergraduate at UW Superior have lasted for years, and that's where I met my best friend and husband, August, so it all worked out for the best. You can read our story here. We've been married nearly 20 years now, and I'm looking forward to 20 more.
Sometimes Even if You do Everything "Right" You Still Get Skunked
We are the cautious sort. We became engaged when I finished graduate school after dating for a couple of years – no rushing into anything. We'd been engaged for several months while I was job hunting, and I finally got a job and was scheduled to start the following week when August called me at home and said he wanted to get married – right away, so I was covered by his insurance. We were married one week later in a simple ceremony with a Justice of the Peace, and lived with his parents while we saved to built our first house. After we built the house, we threw a "real" wedding and renewed our vows. We had our first boy the next year, and our second son two years later. We saved and dreamed of our place in the country. I was home with the boys, and August was moving up through management and was in line to be the head of his department. We sold our first home and bought 35 acres in the country to build our "dream house". Everything seemed to be going right on track (although the home building did go rather slow). We moved in during 2005 and set to planting a garden and trees and other edibles and getting to know our country neighbors.
Then in 2008, the kimchee hit the fan. After nearly 16 years of service with his employer, August (and most of top management in his area) was "reorganized" out of a job. After sending out dozens of resumes and literally traveling all over the country (from New Jersey to Nebraska) hunting for employment, he started a consulting job that ended up with him working at the IT Director at the Medical College of Wisconsin – 2 hours away. He stayed with friends at first, and then we ended up buying a small condo because it was cheaper than renting. Four years later, and we are still stuck living apart during the week and together on the weekends. His contract (he is still working for the consulting company) expires in 2014, so he will be out of job again. We don't know when, but he said if he were his boss he would probably do it mid-year before the rest of the employees are transitioned. This is coupled with 2013 being one of the most expensive years we have had with very little to show for it. August was hit in a car accident (he is okay, was just banged up) and we had to replace his car, and our heat exchanger died in our space heating system, which will require replacing the heater. I'm being sued over my late mother's estate by my step-sisters, a horrid, garbled mess that has dragged on for nearly four years. We tried early on (and repeatedly) to settle, but they vowed that they would get every penny they could. It's like a bad dream that just won't end.
I don't know how we could have done things differently to avoid being where we're at. As far as I can tell, our biggest mistake was trusting people. I don't want to stop doing that completely.
Moving Forward
I don't know what to do, but doing nothing is not an option, so we keep plugging along. The only way to never make mistakes is to do nothing, and even then, things can still go wrong. I don't know what the heck's going to happen in 2014, but somehow we will get through it. We have each other and everyone is reasonably healthy, there's enough money to pay the bills. The rest is gravy.
I just want you to know that you are not alone when you are struggling. Sometimes we think the people we meet on the internet live a charmed life (probably because that's the picture most try to paint). This blogger does not, and I believe in being honest. I'm learning as I go. I hope you'll be patient with me as I figure things out and enjoy sharing the journey.
All my best to you and yours this holiday season and beyond. Thank you for taking the time to read my ramblings.
P.S. If there's some topic you'd really like to see covered on the site, leave a comment, as I could use some inspiration.