Lumpy Breasts? Cure Breast Cysts
Cancer rates are rising around the world, with the worldwide incidence of cancer expected to increase 75 percent by 2030. Around 2 million women are developing breast or cervical cancer every year. No one seems to have a clear answer for why this is happening – I suspect a variety of influences, primarily revolving around the toxins in our environment. I think we've got a lot of garbage building up in our systems, and not too many easy ways of getting it out.
Can Using Deodorant and Shaving Your Armpits Contribute to Breast Cancer?

Maybe. Some studies have been done that have shown that women who more vigorously groomed their armpits (shaved more frequently and used more armpit products) had earlier onset of breast cancers, but these studies have been limited in scope. Other studies have shown higher levels of aluminum (commonly used in deodorants) in cancerous versus non-cancerous breast tissue. Parabens (found in deodorants and other personal care products) were found in 99% of tissues collected from mastectomies. Whatever you put on your skin will be absorbed by the skin – that's how transdermal medicine patches work.
Sweating is one of the ways our bodies clear out toxins. If we don't allow our bodies to sweat (for example, by the constant use of antiperspirant), wouldn't it make sense that toxins could build up more easily? I've been using Herbalix Detox deodorant regularly for about a year now, and while I haven't noticed huge visible changes (other than my rash disappearing and loosing some weight), when I had thyroid blood work done recently, my antibody count was way down. My throat feels less swollen, too. (I have Hashimoto's Thyroiditis, which is an autoimmune inflammation of the thyroid gland.) Other folks have seen more obvious changes.
A Deodorant That Helps Heals Breast Cysts
Thermographic imaging has recently gained popularity as a diagnostic tool for breast exams that can be used without exposing the patient to dangerous radiation. A "normal" image is typically mostly symmetrical, although there may be some variation. Extreme hot or cold spots or changes over time are indicators that additional testing may be needed. (For a discussion of the procedure and examples of normal and abnormal breasts, visit BreastThermography.com.)
While only a small percentage of cysts lead to breast cancer (about 1 in 1000), they can be extremely uncomfortable. Various suggestions have been made as to the cause of these cysts, including hormone fluctuations, congested lymph nodes, and breast infection or injury. Treatment options range from doing nothing and letting the cysts drain on their own to using a needle to drain (and potentially biopsy) the fluid in the cyst.
Suggested home remedies for cysts include:
Coenzyme Q10
Evening primrose oil
Vitamin E
Limiting caffeine and salt
Massage and other topical applications
You can read more on home remedies for cysts at homemademedicine.com.
Herbalix detox deodorant has been shown to help the breast clear and heal breast cysts, which can clearly be seen in these thermographic images. (The detox deodorant may also contribute to a reduction in breast cancer rates, but this has not yet been clinically proven.) Remember – no doctor, pill or cream can "cure" you, they can only help (or prevent) your body from healing itself.
At the top of the post is the initial image. Note that blockage in the axilla (armpit area) and also the deep reds and blues.
As the treatment progresses, we can see the flow of fluids from under the breast (like a j valve) up and around to the axilla The heat patterns changes over time with the axilla getting hotter as it collects the fluids and ultimately discharges them.
For a brief period of time, which you can see in the third image of left right breast, it shows a hotter pattern (white) in the axilla. This is because of the heavy draining that was occurring.
The last image shows both breast much cooler and the underarms are open and flowing. We can see that the final image is much more uniform (and undoubtedly more comfortable) for the patient. Whatever was preventing her body from healing has been cleared out.
Since it's estimated that at least 70% of women will develop breast cysts at some point in our lives, I think it's great that there's a simple treatment that has proven results. I hope that those of you who have suffered with breast cysts find this post useful (thankfully, I haven't had to deal with them just yet).
Although I am an Herbalix affiliate, which means I receive a small payment if you make a purchase through my link, I haven't been compensated in any way for writing this post. I simply asked Liz and Mike to keep me up to date with the results of their current testing. I use their products daily, and believe they are safe and effective.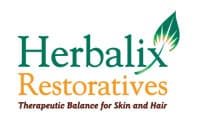 If you have other natural remedies for breast cysts, I'd appreciate it if you'd share your experience in the comment section. If you have an skin or detox related questions, you can share those, too, and I'll do my best to dig up some answers, or ask the Herbalix folks for their input.
You may also enjoy the following posts:
*A note on the organic preservative used in Herbalix products:
"Our proprietary Herbalix™ blend is a complex and potent herbal/botanical tincture that has its origins in Chinese, East Indian and Native American traditions. It is safe, totally chemical free and carries with it nature's innate molecular message of healthful balance and harmony.
Herbalix is created by systematically blending and distilling (maceration) sixty very select botanicals, each one harvested and infused at the peak of its vitality. It takes about eight weeks to complete this process. The combination of land and sea herbs blend together as the tides, where fresh and salt water mix and create life. These powerful botanicals come from three continents and also the world's oceans.
Herbalix is formulated to enhance natural skin health and vitality. It also serves as our exclusive preservative system throughout the entire Herbalix Restoratives product line. It has proven to be extremely effective in its preservative capabilities, throughout varied and stringent lab studies that have been conducted in the United States. Because Herbalix is such an effective natural preservative, there is no need for us to use any synthetic preservative systems, i.e.: parabens, urea, etc.
We feel very good about this, as it allows us to present to you not only products that are exceedingly clean in formulation, but that deliver powerful and effective results.
The Herbalix preservative does not harm good bacteria, only the bad. The list of ingredients is rather long and only serves to show what we start out with. In the end, we have a creation made from the ingredients, a chemical change that makes something new and separate from its components.
Whenever anyone has a concern about specific ingredients, we are happy to acknowledge if it is a part of the formula. We know that any herb in the compound would not be representative of allergies, due to the process they undergo. However we honor any concerns and can confirm the presence or absence for any one. In this way we can keep our list proprietary.
Our products are ideal for the chemically sensitive, and part of this is because of the purity of our natural preservative, the Herbalix. "