My husband and I are working on a book titled Common Sense Preparedness. There's been quite a bit of attention given to extreme prepping (like the folks in the Doomsday Preppers show), but much less publicity given to everyday emergencies that are much more likely (see Odds of Everyday Emergencies) such as illness, injury and exposure to toxic substances. This book is intended as a preparation guide for people busy living their lives. I'll be sharing excerpts from the book as we work on it, and to encourage you to start thinking about preparedness, I'm also going to be hosting a weekly preparedness link up.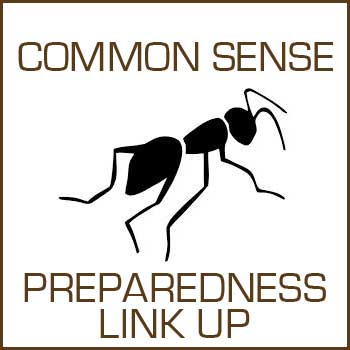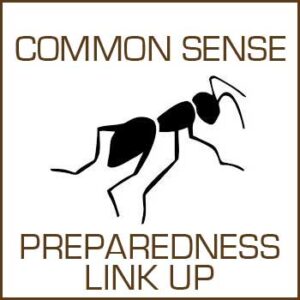 Being Prepared is Insurance
Insurance protects you from unexpected events. A small stock of food and supplies pays you when you need it unexpectedly. Having a generator when there isn't one for 300 miles is priceless. A good water filter when you are up to your knees in contaminated flood water will keep you drinking safe filtered water. Buying things in bulk and when they are on sale and stockpiling at least a small amount will end up saving you money and giving you a safety cushion.
Do some minor stockpiling of dry goods and canned food. That small stock will help you through a storm or unemployment, protecting you and your loved ones. The stock of food provides a level of "insurance" for other surprises such as you or your loved ones losing their job, or even a simple snowstorm when your refrigerator is nearly empty. If you have a stockpile it's a lot easier to live through those smaller events and even bigger events like unemployment.
Shop for items that are made to last. Balance investment in items with investment in yourself. Learning skills is as valuable as having stuff. Once you learn something it is yours forever.

Common Sense Preparedness Link Up
I chose the symbol of an ant for the link up because of the old fable of "The Ant and the Grasshopper":
In a field one summer's day a Grasshopper was hopping about, chirping and singing to its heart's content. An Ant passed by, bearing along with great toil an ear of corn he was taking to the nest.

"Why not come and chat with me," said the Grasshopper, "instead of toiling and moiling in that way?"

"I am helping to lay up food for the winter," said the Ant, "and recommend you to do the same."

"Why bother about winter?" said the Grasshopper; we have got plenty of food at present." But the Ant went on its way and continued its toil.

When the winter came the Grasshopper found itself dying of hunger, while it saw the ants distributing, every day, corn and grain from the stores they had collected in the summer.

Then the Grasshopper knew…

It is best to prepare for the days of necessity.
1. This is a preparedness link up for those who want to be more self-sufficient. We welcome posts on growing/raising/hunting food and food storage, self-reliance skills, home remedies, wildcrafting, building and repairing, emergency medicine and all things prepping. Just use the link up tool below to enter your post. Please link directly to the relevant post, not your blog's main page.
2. Please link back to this post from your featured content. You may use the image at the top of the post as part of your link if you would like to do so.
3. Keep it clean, skip the ads. This is a PG-13 site, and I want to feature prepping posts, not ads and giveaways. Each week I'll be adding my favorite posts to the Common Sense Preparedness board on Pinterest.
4. Leave a comment if you'd like to share a little more information about your post and/or any preparing you're currently working on.
If you are reading this post via email, click through to join in or visit this week's links. Don't forget to check out the Preparedness page for a list of articles already on the website.