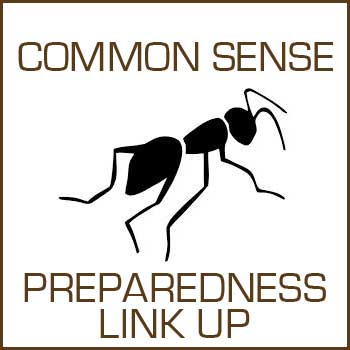 It's Common Sense Preparedness Link Up time again. This week the skies have opened up and it's rained for three days straight. It's chilly, too. Most of the garden is coping pretty well, except for the transplants that are still waiting patiently to be set out. Ah well. At least it's not freezing or flooding, and it's supposed to warm up and dry up a bit this weekend.
Today's post is about planning, because without a plan, it's pretty hard to get anything done. If you have plans you can build around them and can prepare the supplies and materials you need to implement them. A plan gives you a fighting chance. Even when things don't go as expected, you've still got a basic strategy for getting things sorted out and back on track.
Preparedness – Develop a Plan
Decide what you are planning for. Consider the odds of everyday emergencies. Look at risks specifically associated with your area, such as tornadoes, wild fires, hurricanes. blizzards or earthquakes. Be aware of more widespread risks, such as financial collapse, pandemics or skyrocketing fuel costs. Determine your primary focus and start there. Planning for one event often carries over to other potentially problematic events.
Prepare to implement your plan. What equipment and training do you need to implement your plan? Remember – water, food, shelter as first priorities, then documentation (such as insurance papers and important information stored offsite) and cash reserves, if possible, to restart after the crisis has passed.
Prepare materials
Prepare yourself
Prepare "to do" list
Prepare documents
Prepare your family and friends
Practice your plan. Perfect practice makes perfect performance. Having tools and not knowing how to use them isn't much better than not having them at all, and can sometimes be worse. I cringe when I watch prepper shows and they say things like, "We've got seeds and we're going to learn to grow a garden when we run out of stored food." The time to practice the skills you need is *not* when your life depends on them. Go camping to learn to cook and carry on without electricity. Practice marksmanship and try hunting once you've learned to shoot well. Take a food preservation class at your local cooperative extension office. Grow something – anything – to get a feeling for what it takes to produce food in your area. If you're in a potential evacuation zone, practice "bugging out" once a month and time it to make sure you can do it quickly and have everything you need.
Review your plan regularly. When you test plans you will find problems, and even if you don't, you will probably find ways to improve your planning. Circumstances change so your plans must too. You need to be confident you are preparing appropriately and investing wisely.
It's common sense to prepare for the things that will very likely happen. Going overboard to the point that you are not living your life is not productive.
Preparing Around the World
The entire country of Switzerland is preparing. Every school, house, office building, hospital and government building has shelter. They have enough underground bunkers for their entire population plus about 14% more. Read"Bunkers for All". It's not all done right, and its likely there would be supply shortages, but the basics are there. Sweden and Finland have a similar bunkers, as does China. China also has large scale underground military bunkers. See "Check Out China's Impenetrable Underground Military Bunkers" at Business Insider.
Russia and the United States are building bunkers. The article "Russians to Rapidly Build 5000 Bomb Shelters in Moscow by 2012" states that "Russia Today reports that 5000 new bomb shelters are being constructed in the capitol city of Moscow" and that "The U.S. (government) is reportedly building these bunkers so rapidly, and on such a large scale, that private contractors are unable to acquire materials to build bunkers for individual clients." They also indicate that "the US government is one of, if not the largest buyer of survival foods like freeze dried foods and MRE's for emergency preparedness deployment."
If these world governments are making these types of large scale preparations, doesn't it make sense to do a little preparing for yourself?
Common Sense Preparedness Link Up #5
I chose the symbol of an ant for the link up because of the old fable of "The Ant and the Grasshopper".
1. This is a preparedness link up for those who want to be more self-sufficient. We welcome posts on growing/raising/hunting food and food storage, self-reliance skills, home remedies, herbalism, wildcrafting, building and repairing, emergency medicine and all things prepping. Just use the link up tool below to enter your post. Please link directly to the relevant post, not your blog's main page.
2. Please link back to this post from your featured content. You may use the image below as part of your link if you would like to do so. Sites that don't link back will not be featured on the CSH facebook page or Pinterest boards.
3. Keep it clean, skip the ads. This is a PG-13 site, and I want to feature prepping posts, not ads and giveaways. Each week I'll be adding my favorite posts to the Common Sense Preparedness board on Pinterest.
4. Leave a comment if you'd like to share a little more information about your post and/or any preparing you're currently working on.
If you are reading this post via email, click through to join in or visit this week's links. Don't forget to check out the Preparedness page for a list of articles already on the website.