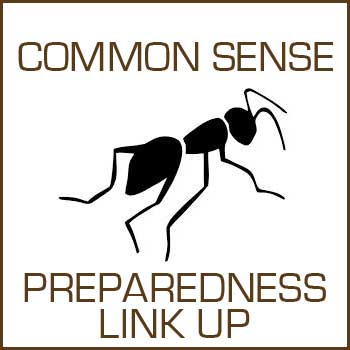 It's Common Sense Preparedness Link Up time again. I apologize for not having it consistently live at the same time each week, but as any of you who have been around for a while know, sometimes my blogging has to take a back seat to the rest of life. Right now, it's planting season, and there's a lot to plant. The boys and I are gaining on it, but a late frost last week and rain all this week has thrown a bit of a monkey wrench in things. I'm still waiting for a visit from the poop fairy, too, and he's running late. The poop fairy is my next door neighbor, who brings over a large amount of well-rotted manure each season. I rotate the black gold into different beds each year, and plant some of the heavy feeding crops (like squash and pumpkins) right into the pile, then mulch heavily. Over the course of the season, the manure breaks down further, the vine crops grow like wild fire, and the next year the bed is covered with beautiful fluffy organic matter. It's super easy soil building. I track the addition in my garden planner so I can rotate crops appropriately through the area.
On to prepping things beyond the garden…
Being Prepared Means Paying Attention
Most of being prepared means paying attention. Pay attention to what you need, what you eat, what you would need if things were more chaotic. Pay attention to what you should be investing in.
Ask yourself some questions:
Food
Do I have enough food storage to eat for several days without going to the grocery store? Am I stocked up on dry and/or canned goods I eat anyway? Can I grow a garden? Will my family eat what I grow in the garden?
Water
Will I have enough water if the faucet stops working? If the water is contaminated (very common during flooding), do I have a way to filter it?
First Aid/Medical
Do I have enough basic first aid supplies and the skills to use them?
Are you prepared if the pharmacy is closed for 2 to 4 weeks? Do family members have ID bracelets or other jewelry listing allergies or medicinal conditions that can be worn on their person? Do you have lists of medications and dosages, in case those who require them are unable to speak for themselves or medicate themselves?
Evacuation
Are all my emergency items in one spot?
If the house or apartment was destroyed, do I have any way to claim insurance? Tip: Put a list in Dropbox or another online secure location so you can access it if you need to evacuate. (Don't forget to keep your password with you.)
Being Prepared Means Being Responsible
You are responsible to protect yourself, your family and (we believe) your community. This means being prepared for the likely problems such as storms or a job change. Preparing means saving up for unexpected expenses, such as your car being damaged in an accident. It means planning ahead for conditions such as drought, floods and inflation – whatever is most likely to impact you. See "Odds of Everyday Emergencies".
Even if you have no income to speak of, you can prepare by educating yourself. Free educational resources are available at the library, on the internet, or through government agencies such as your local Cooperative Extension Office.
Common Sense Preparedness Link Up #4
I chose the symbol of an ant for the link up because of the old fable of "The Ant and the Grasshopper".
1. This is a preparedness link up for those who want to be more self-sufficient. We welcome posts on growing/raising/hunting food and food storage, self-reliance skills, home remedies, herbalism, wildcrafting, building and repairing, emergency medicine and all things prepping. Just use the link up tool below to enter your post. Please link directly to the relevant post, not your blog's main page.
2. Please link back to this post from your featured content. You may use the image below as part of your link if you would like to do so. Sites that don't link back will not be featured on the CSH facebook page or Pinterest boards.
3. Keep it clean, skip the ads. This is a PG-13 site, and I want to feature prepping posts, not ads and giveaways. Each week I'll be adding my favorite posts to the Common Sense Preparedness board on Pinterest.
4. Leave a comment if you'd like to share a little more information about your post and/or any preparing you're currently working on.
If you are reading this post via email, click through to join in or visit this week's links. Don't forget to check out the Preparedness page for a list of articles already on the website.