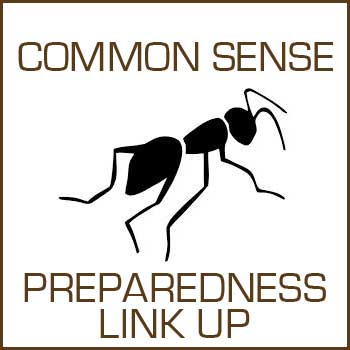 Now that the weather's finally warmed up, planting is in full gear. August and the boys put in 25 new evergreens in the tree line (windbreak) last weekend, and the boys and I have been working on the garden. Lots more to do yet, but that'll happen when you're planting over an acre. The boys sure can eat now that they're teenagers. I tend to be a little slow getting things in, too, compared to some of the neighbors. I've found that planting in warmer soil leads to faster germination, and many late planted crops easily catch up to their early planted counterparts.
We also made a batch of dandelion wine, which has become one of my annual rituals. It's medicinal as well as pleasant to drink. I was happy to see a number of useful volunteer plants in the garden, such as strawberry spinach, plantain, curly dock, kale and more. The wild crabapples are in full bloom, and I'm considering a batch of apple blossom wine. Anyone have a recipe? (I may have to wing it or invest in another wine recipe book.) Wine is also good for bartering, even if you're not much of a drinker.
How We Learned to Prepare
Although I still feel like I'm barely scratching the surface when it comes to being prepared, by default living in the country lends itself to a more prepared lifestyle. It's just not practical to go to the store for every little thing, so you stock up, make do or do without. This is especially true in the winter when our long driveway regularly fills up with snow.
As for my husband and myself, we grew up in with different backgrounds, but both learned useful skills. August was a Boy Scout and in the Air Force and Air National Guard. He's had EMT training and his mom was a nurse. He's told me stories of his family pulling over to help with car accidents when he was a kid and professional response times were a lot slower. His parents had a big preparedness cabinet in the basement with spare blankets, flashlights, extra food storage and other odds and ends. (We've got their old radiation meter.) The combination of "being prepared" and knowing the real risks from his military training influences his view of everything. He can rattle off 100s of terrible events that could impact our daily lives from a few days to over a decade. We've often talked about planning for the worst and hoping for the best.
I grew up on a dairy farm in northwest Wisconsin as the youngest of six kids. We didn't have much money, and mom worked really hard to provide for all of us. She always had a huge garden, and did tons of canning and freezing. We'd make up a monster batch of sauerkraut each fall. Mom had a 15 gallon crock passed down from her mother that she used. She'd chop the cabbage, salt it and put it in the crock, and I'd wash my feet very thoroughly and then stomp the kraut into the crock to pack it down. We had milk and meat from the cows. There were always big flocks of poultry – mostly chickens, geese and ducks.
Mom never threw anything out if there was a possible use for it. I remember when she ran a large metal spoon through the lawnmower (she's been using it in one of her flower beds and had forgotten it in the grass). She beat out the worst of the dents and curves and put it right back in the drawer. "It's still good," she told me. She always made me laugh. Because of her I've always had something growing, even if it was only a couple of plants in a dorm room window. Her memory inspires me every day.
Common Sense Preparedness Link Up #3
I chose the symbol of an ant for the link up because of the old fable of "The Ant and the Grasshopper".
1. This is a preparedness link up for those who want to be more self-sufficient. We welcome posts on growing/raising/hunting food and food storage, self-reliance skills, home remedies, herbalism, wildcrafting, building and repairing, emergency medicine and all things prepping. Just use the link up tool below to enter your post. Please link directly to the relevant post, not your blog's main page.
2. Please link back to this post from your featured content. You may use the image below as part of your link if you would like to do so. Sites that don't link back will not be featured on the CSH facebook page or Pinterest boards.
3. Keep it clean, skip the ads. This is a PG-13 site, and I want to feature prepping posts, not ads and giveaways. Each week I'll be adding my favorite posts to the Common Sense Preparedness board on Pinterest.
4. Leave a comment if you'd like to share a little more information about your post and/or any preparing you're currently working on.
If you are reading this post via email, click through to join in or visit this week's links. Don't forget to check out the Preparedness page for a list of articles already on the website.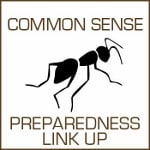 <