Chocolate Raspberry Granola Cookies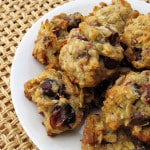 Scale
Ingredients
Dry ingredients
2 cup

s rolled oats

1 1/2 cup

s whole wheat flour (may substitute sprouted flour for improved digestion or coconut flour for a glu

ten

free option)

1 cup

walnut or pecan pieces

1 cup

sunflower seeds

1 cup

dried cranberries or cherries

1 cup

chocolate chips or chunks

1/3 cup

shredded coconut

1/2 teaspoon

baking soda

1/2 teaspoon

baking powder

1/2 teaspoon

unrefined salt
Wet ingredients
1 cup

melted coconut oil

3/4 cup

warm honey

2

eggs

1/4

–

1/2

cup raspberry pulp reserved from juicing or making jelly, or substitute (see below)

1 1/2 teaspoon

vanilla extract
Instructions
In a large bowl, combine dry ingredients.
In a medium bowl, combine wet ingredients.
Have all ingredients warm or at room temperature.
This will help keep the coconut oil from firming up too soon and getting lumpy.
Pour wet ingredients into dry.
Blend well.
If dough is too sticky, refrigerate to firm it up for easier handling.
Form into 1 – 1 1/2 inch balls and place evenly spaced on a cookie sheet.
Bake at 375 F for 10-12 minutes, until cookies are soft set and bottoms lightly browned. Cookies will firm up as they cool.
Flatten cookies slightly before baking.
Cookies will spread only a small amount.
Makes around 40 large cookies (1 1/2 to 2 inch) or 60 smaller cookies (1 to 1 1/2 inch).
Notes
I like to use a mix of nuts and leave them in fairly large pieces.
Both cranberries and cherries blend well with the raspberry/chocolate flavor combination.
I prefer chocolate chunks over chips in this one because of the other large ingredients pieces.
If you don't have raspberry pulp, you could also substitute 1/2 cup crushed raspberries and add a bit more flour, or use freeze dried raspberries, or use raspberries that had been frozen, thawed and drained.