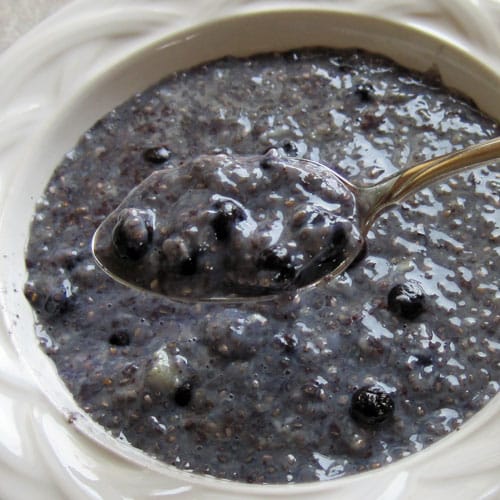 In the mood for a quick bowl of of comfort food that's loaded with healthy fats and antioxidants and tastes great? Need a simple hot breakfast cereal idea that's gluten free? Have you heard about the health benefits of chia seeds but didn't know how to use them? Here's a simple recipe for a chia-blueberry porridge that cooks in minutes and fills you up for hours.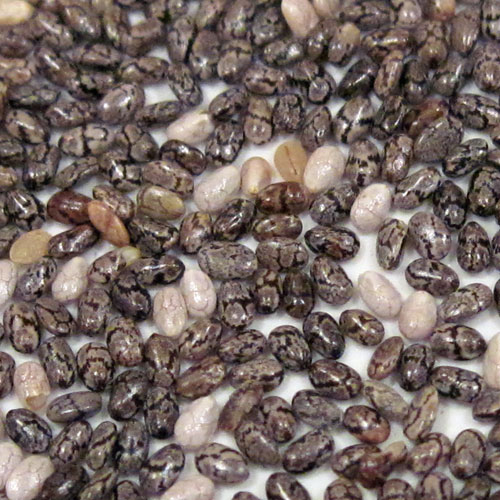 What are chia seeds?
Chia seeds come from the chia plant (yes, this is the same ch-ch-chia of the commercials with the pottery animals), which is a member of the mint family. It is native to the coastal areas of California, and is best suited to an arid climate and poor soil (and much warmer temperatures than I have here in Wisconsin). If you'd care to try and grow it, you can find instructions here.
Chia was used as a food source by both the Aztecs and the Mayans. The seeds contain omega-3 and omega-6 fatty acids, fiber, B-vitamins, protein and calcium. They help to regulate blood sugar and blood pressure. Chia seeds have a great storage life – up to three years at room temperature – which it why it made my Top Ten Real Foods to Store Without Electricity list. They are really quite beautiful, as you can see in the photo above, but you might not notice because they are only around the size of poppy seeds.
Chia seeds are hydrophilic, which means they swell and absorb water. They make a good binding agent in recipes and can be used as an egg substitute in recipes by mixing 1 tablespoon chia seeds with 1/4 cup water. Mix well and allow to sit for 5-10 minutes. This substitutes for one egg. They are also useful for coping with flu symptoms, as they help with hydration and soothing the digestive tract.
Where can I buy chia seeds?
They are starting to show up in more health food stores and natural food departments. I buy my chia in bulk through United Natural Foods. I've gotten some good deals on TruRoots Chia Seeds. You can also find them online at Amazon.com and other retailers.
Print
Chia-Blueberry Porridge
1/2 cup

milk (or coconut milk)

2

–

3

tablespoons chia seeds (depending on desired thickness)

1

egg

1/2

scoop acai powder (optional)
pinch of unrefined salt

1/2 cup

blueberries, fresh or frozen
drizzle of maple syrup or sprinkle of green stevia powder, optional
In a small sauce pot, whisk together milk, chia, egg, acai powder and salt. Let stand five to ten minutes to give chia time to absorb liquid. The longer you let it sit, the thicker it will get. Turn stove to low heat and cook gently while whisking or mixing regularly, until mixtures thickens to consistency of custard. Be careful not to overcook, or you'll end up with scrambled eggs and chia. Add blueberries, heat through. Sweeten if desired, serve warm.
You can also add other fruits, or no fruit at all, but I like the theme of purple people food, and blueberries taste good! If you want to skip the egg, just add another tablespoon of chia seeds. The acai was recommended by my doctor to help with my hypothyroid symptoms.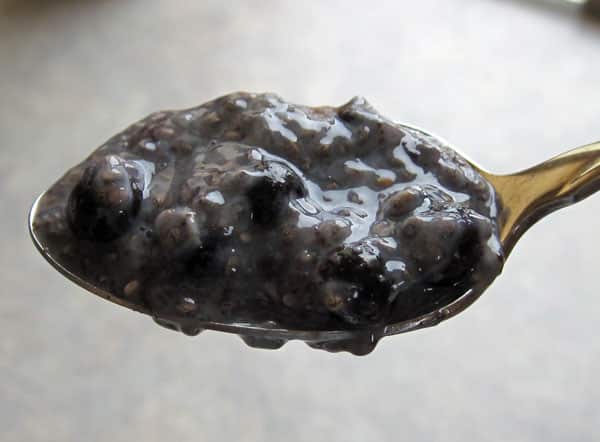 That's all there is to it! I put my porridge on to soak while I prep other things in the kitchen, such as making tea, washing the blueberries or putting away dishes. By the time I'm done, it's time to cook it, and it cooks up very quickly (5-10 minutes). Let me know if you give it a try, or if you have any chia recipe you'd like to share.