I was browsing the Missouri Entomophagy page on Facebook recently when I spotted a post about Chapul Cricket Bars. I've been rolling around the idea of eating bugs. (After all, they eat my garden, so why not give them some payback, right?)  Eating bugs that have been neatly processed by someone else seemed like a great place to start. 🙂  Note:  For those who are not familiar with the term, "Entomophagy" is using bugs for food.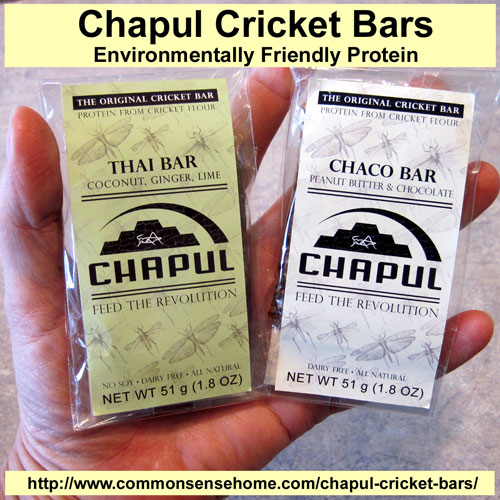 What are Chapul Cricket Bars?
Chapul cricket bars are energy bars made from a combination of ingredients, including cricket flour. They currently come in two flavors, the Chaco Bar and the Thai Bar. The Chaco Bar was inspired by the Chaco people of American southwest, who practiced extremely efficient agricultural practices using the Three Sisters – corn, beans and squash. The Chaco Bar has a Peanut Butter and Chocolate flavor. The Thai bar was inspired by Thailand and Thai cuisine, which includes a wide variety of insect recipes. It contains coconut, ginger and lime.
The ingredients in the Chaco Bar are dates, peanuts, toasted oats, chocolate chips, walnuts, agave nectar, cricket flour, flax seed meal, and salt. The ingredients in the Thia Bar are dates, almonds, cashews, agave nectar, cricket flour, coconut flakes, ginger, lime zest and salt. As you can see, they're not really all that different from other energy bars on the market, except for the sustainably harvested protein source.
What do Chapul Cricket Bars Taste Like?
That's the million dollar question, isn't it? I'll be honest – it was just a little bit anticlimactic to finally take a bite – not a leg or antenna in site. 😉 The bars are dense and mildly sweet, similar to a Larabar style bar. The Chaco is loaded with peanuts and chocolate, and was my personal favorite. The Thai has a distinctive ginger zing. The friends who tried them thought they were pretty tasty, too. My favorite taste tester was the five year old daughter of a close friend of mine. She gave her piece of bar a suspicious look when when told her it had crickets in it and took a dainty nibble – then quickly chowed down on the rest of it.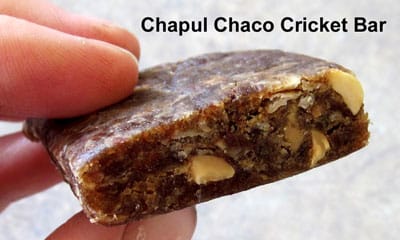 Why would you want to eat bugs?
Those who have been on the site for a while know that I am big on supporting genetic diversity through the use of heirloom seeds and heritage animal breeds. I firmly believe that the more diverse are diets are, the better chance we have of getting all the nutrients our bodies need. A more diverse food supply is also a safer food supply. If one crop fails, you can other crops as back up so there isn't mass starvation (no Irish potato famine). Insects can be raised in less space with lower inputs than conventional protein sources. Chapul also invests 10% of all profits in water conservation in the regions which inspired their bars.
This TED presentation by Marcel Dicke is one of the original inspirations of the Chapul bar creators.
Can the crickets transfer any diseases?
This question was asked by a friend of mine who is a little concerned about my latest undertaking. The answer is, "No". During processing, the crickets are baked. This sterilizes them and completely dries them out. They are then milled into a "flour" which is used in the bar. There are no antennae or legs (as mentioned above).
Where can I buy Chapul Cricket Bars?
Chapul bars can be purchased at select retailers nationwide (see store locator page) or ordered through their online store. They were featured on Shark Tank on March 21, 2014.
You may also enjoy our Herbs and Wildcrafting page, including the post Eating Bugs – Free Food from Your Backyard. We also feature other environmentally sensible product reviews and ideas on our Green Home page.
If you're a little more daring and want to use whole bugs, check out the references below: