You can enjoy home grown onions for months after the growing season has finished with just a little extra time and effort. In this post we'll cover onion harvest, curing onions, and several different onion storage methods.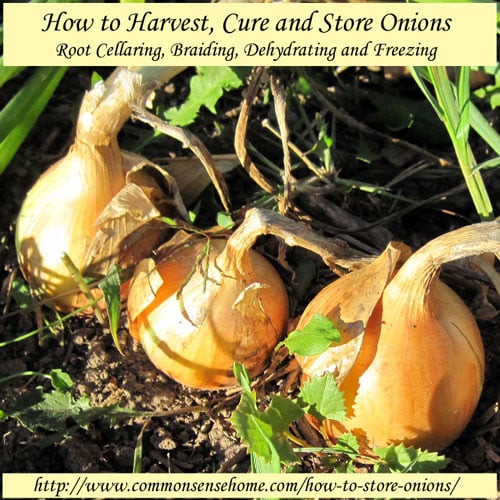 Which Onions are Best for Storage?
I usually grow onions from onion sets (the little mini onion bulbs). Out of the red, white and yellow varieties I've tried, the yellow Stuttgarter Riesen has been the best keeper. Stuttgarter Riesen is a large, deep golden-yellow onion with firm white flesh. The reds and whites I've tried have not kept as well, so I usually use them first. My friend, Tami, said that the onions she started from seed were much more solid and less prone to rotting than the ones that she started from sets. The Vegetable Gardener's Bible recommends Stockton Reds for storage. I've grown them, and they store fairly well, but the Stuttgarters store better. He also recommends the varieties Copra and Prince.
…