Best Whole Wheat Waffles and Cherry Berry Sauce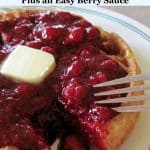 The night before
3 cups

soft whole wheat flour*

1

c. buttermilk or milk or yogurt or milk kefir**

1

c. water

¼

c. apple cider vinegar
Just before cooking, add
¼ cup

melted coconut oil

4

lightly beaten eggs

3 tsp

. baking powder

1 tsp

baking soda

1 tsp

salt
For the sauce
4 cups

mixed fruit, mashed, or frozen and thawed – I usually use cherries and raspberries

1/4 cup

sugar

2 tablespoons

cornstarch, non-GMO

1/2 teaspoon

vanilla or almond extract
For the waffles
Whisk together flour, milk product, water, and vinegar in a medium bowl (ceramic or glass preferred, no metal, plastic okay in a pinch – I use my 8 cup Pyrex measuring bowl) and leave on the counter, covered, to soak 12-24 hours. Just before cooking, add coconut oil, eggs, baking powder, baking soda and salt.
Place batter on waffle iron and cook for about 3 1/2 minutes for large round waffles.
Makes about 6 1/2 waffles using 1 cup batter each. If you'd prefer to make pancakes, use 1/4 cup to 1/2 batter per pancake. Both are delicious.
For the sauce
Place fruit in medium heavy bottomed sauce pan. Make sure there is juice from thawing or mashing the fruit. In a small bowl, mix together sugar and cornstarch. Mix into fruit (mixing sugar and cornstarch before adding will prevent lumps). Heat until bubbling, stirring regularly. Cook gently until thickened (mixture should turn glossy). Remove from heat and stir in extract. Serve warm (will thicken as it cools). You can add more sweetener or less as you like.
Notes
*Katie notes: "This recipe works with all regular whole wheat, is much better with half whole wheat/half pastry flour, and is best with all pastry flour. Pastry flour is more expensive, so I like to go 1/2 and 1/2 most of the time." Freshly ground soft white wheat flour is my default choice, and it gives these whole wheat waffles a great texture.
**Because you're adding vinegar to the milk, it's a "fake" buttermilk of sorts and I haven't had a problem with it sitting on my counter overnight. Raw milk would be safest for this if you choose to use milk. You can also use the dairy choice in place of the water for even richer pancakes. I have tried all three options, and I think the milk is the best one, but I often use homemade yogurt.