The new book by Laura Fuentes of Momables.com, The Best Homemade Kids' Lunches on the Planet: Make Lunches Your Kids Will Love with More Than 200 Deliciously Nutritious Meal Ideas is a great way to take charge of one of toughest food challenges faced by parents – packing nutritious foods your kids will eat and enjoy. Laura is the cool mom who acts like a trusted friend, sharing her secrets and taking you through everything step by step. One lucky reader will win a copy of her book. I hope you enjoy it as much as I did. What does this have to do with homesteading? I'll get to that in a bit.
The Best Homemade Kids' Lunches on the Planet
The Best Homemade Kids' Lunches on the Planet is divided into seven chapters, along with a feedback chart to record your family's likes and dislikes as you work your way through the recipes. The chapters are as follows:
Pack Like a Pro: Nourishing Foods on the Go – Tips for keeping food fresh and in great condition until mealtime, budget friendly shopping, stocking up
Get Out the Door: Breakfast to Go – 11 Awesome Portable Morning Meals from Perfect Pancakes to Breakfast Burritos
Fill the Box: Sandwiches and More – Not the boring sandwiches from ghosts of lunch boxes past, Laura puts her creativity to work to create fun meal options. From The Skinny Elvis, to Cheddar and Pear Quesadillas, and Baked Ravioli, you can get through the school year without have to pack the same meal twice – unless of course you find a family favorite and want to have it again and again.
Add Some Fun: Interactive Lunches for Picky Eaters – This has never been a problem with my two, but I know some families struggle to get their kids to eat. With options for dipping, skewering, stacking and building and plenty of variety in textures and flavors, you're sure to find something that will tempt even the fussiest eaters.
Fill the Thermos: Portable Hot Lunches – In our area, most of the school year is pretty chilly, so hot midday meals are a real plus. These recipes make enough for a small family, and leftovers reheat well for the next day. Includes tips for keeping your meals safe and hot until lunchtime.
Extra Credit: Staples, Drinks, Treats, and More – From sweet treats like a homemade version of a well-known chocolate nut spread (without the main ingredient being sugar) and cookie dough dip (yum!), to savory staples like hummus and protein bars, you can save a lot of money and skip a lot of garbage by making your own. Prep ahead smoothies can be packed frozen for refreshing drink at meal time.
Putting it All Together: Meal Planning and More – The book wraps up with two weeks of suggested meal plans, along with a quick check list of tips and techniques to simplify meal planning.
As many of you know, I homeschool my kids, so we don't normally have to worry about packing lunch. Even though we don't pack meals, it's way too easy for me to get in a rut for lunchtime and end up eating the same thing again and again. These recipes are easy enough that my teenage boys could make them without much fuss, giving them more variety in their diets and an opportunity to practice their kitchen skills. There are allergy friendly options, too, for those who need them.
Over the past few months, I've been fortunate to become friends with Laura via our online real food community. This book does a great job of capturing her enthusiasm for cooking and her upbeat personality. If you'd like to see her in action, you can watch her in this episode of Rewrapped on Vimeo, her first appearance on Food Network (but I'm betting it's not her last). In some way I can't picture someone more different from me – she LOVES the big city, and big cities scare the bejeezus out of me – and I bet she'd never consider herself a homesteader. That said, making the decision to take control of your family's food and saying "no" to all the processed garbage is one of the first steps you can take to becoming more self-reliant. Just wait – maybe by next year I can talk her into planting a small garden. 😉 If you need ideas for healthy, kid-friendly foods that are easy to pack for school or other outings, this book is a great reference.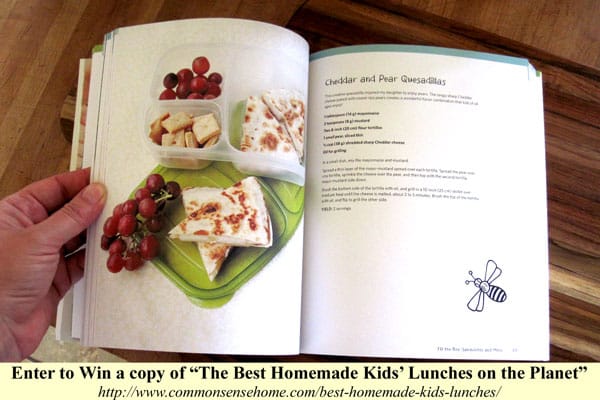 Win Your Copy of The Best Homemade Kids' Lunches on the Planet
As long-time Common Sense Home readers know, most of our book reviews are accompanied by a giveaway of the book being reviewed. To enter, use the rafflecopter widget below. There's a free entry for everyone – just leave a blog post comment sharing your mealtime struggles or suggestions. Social media users can get extra entries via Facebook, Pinterest and Twitter. Good luck!
All entrants must be over 18 years of age. Contest sponsored by Laura Fuentes and Momables. Open to residents of United States and Canada only. Winners will be chosen within 48 hours of contest completion. If winner does not claim prize within 48 hours, a new winner will be chosen. Retail value of prize is $15.80. Giveaway ends 7/24/2014. I received no money for this review, only a copy of the book. If you buy a copy of the book at amazon.com via my website, I receive an affiliate payment at no extra cost to you. Thank you for supporting the site!