The Best Garden Tools Help Make Gardening Easier
My seed catalogs have started arriving, and the unusually warm weather and new greenhouse have me thinking about next year's gardening season. Since I suspect I'm not the only one ogling the seed varieties and dreaming of gardens to come, I thought I'd put together a list of some of the best garden tools and supplies that I've used, as well as some that are on my wishlist for the coming year.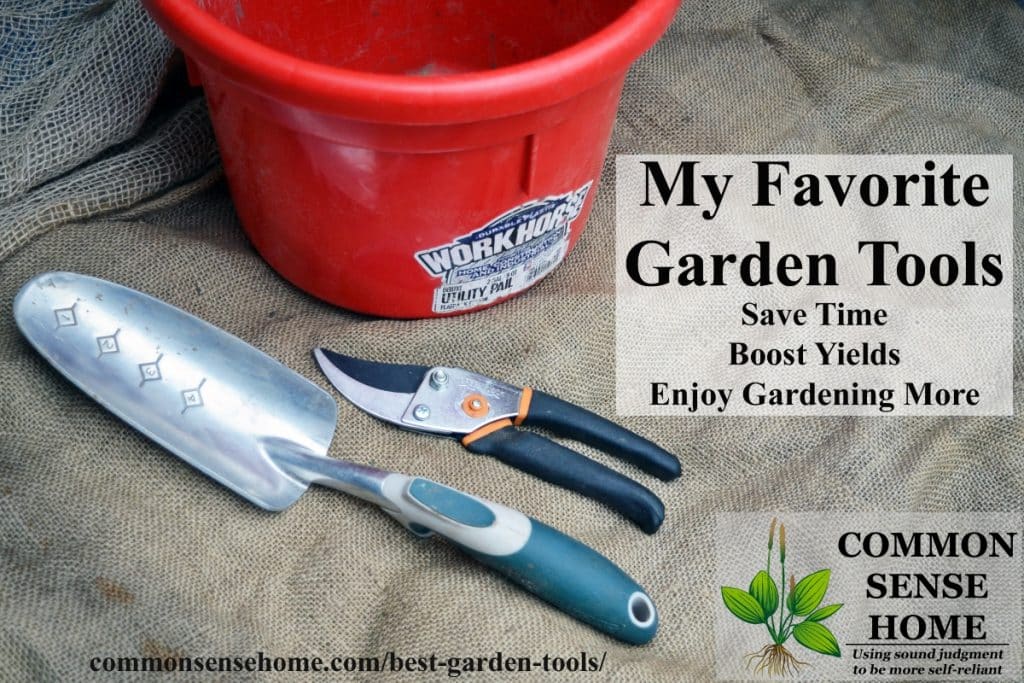 A good tool is like a good friend – they make a job a lot easier, and they won't break under pressure.
Cutting and digging tools that hold an edge, organizers that keep your tools handy when you need them – all of these will save you time and aggravation, making gardening a much more pleasant activity.
Seed Starting Supplies
Grow Lights
You can use regular fluorescent lights or plant lights from the local hardware store. If you do a lot of seed starting, it may be worth it to invest in LED lights. These T5 LED Grow Lights are lightweight and inexpensive.
The article "Plant Productivity in Response to LED Lighting" notes that, "Light-emitting diodes (LEDs) have a variety of advantages over traditional forms of horticultural lighting.
Their small size, durability, long lifetime, cool emitting temperature, and the option to select specific wavelengths for a targeted plant response make LEDs more suitable for plant-based uses than many other light sources.
These advantages, coupled with new developments in wavelength availability, light output, and energy conversion efficiency, place us on the brink of a revolution in horticultural lighting."
Seedling Heating Mat
I start my seeds out in my basement, which can be a little cool to jump start germination. This GreenLeaf Horticulture Waterproof Seedling Heat Mat fits underneath a standard seedling tray and provides the right amount of heat to get seeds sprouting without cooking them.
Potting Mix
FoxFarm Happy Frog Organic Potting Soil is the best premixed organic seed starting mix that I've used to date. It's not too heavy or too light, drains well, and has enough nutrients that my little seedlings get off to a good start.
Seed Starting Shelves
Readers who have been around a while know that I'm using seed starting shelves that my husband built for me that can hold hundreds of seedlings. (You can see the plans for the shelves here.)
Greenhouses
The Ogrow Compact Outdoor Seed Starter Greenhouse Cloche is a nice little pop up greenhouse that can be used for seedlings or to protect shorter plants right in the garden. I'd recommend this one for areas with low winds, as it is fairly lightweight. Easy to store when not in use.
For protection all season or more room for seed starting, check out the Ohuhu Walk in Greenhouse.
The next step up is the hard wall greenhouses with polycarbonate sheeting. The model we installed last year now appears to be out of stock, but the Rion EcoGrow 2 Twin Wall Greenhouse, 6′ x 10′ has good reviews and is a nice size for the home gardener.
Manufactured with 4mm twin-wall polycarbonate roof panels and 6mm twin-wall side panels, the EcoGrow 2 offers superior strength, safety, light diffusion and great heat insulation.
The durable resin frame is weatherproof and features simplified assembly with the pin and lock system, while the translucent roof panels now simply slide into place. Hinged door with latch and included roof vent provide excellent ventilation. Secure to concrete pad or heavy timber foundation.
(After installing our greenhouse last year, I would highly advise getting your foundation prepped before you even unpack the greenhouse. In an upcoming post, I'll share the system we used to create a solid footing that still allowed us to plant directly in the dirt inside the greenhouse.)
We strongly recommend a solid foundation if you choose a larger poly sided greenhouse or a larger hoop greenhouse. Related Article: Build a Secure Greenhouse Foundation That Preserves Your Growing Space
Best Garden Tools
Garden Hoes
I use two different types of hoes in my garden – a standard garden hoe and what I refer to as a scuffle hoe. The standard garden hoe is for earth moving – digging seed planting holes and anything else that requires earth moving.
The scuffle hoe, also known as a weeder hoe or hoop hoe, has a sharp open loop at the end, and is dragged across the soil surface in a sliding motion to chop off weeds at their base.
The Rogue Garden Hoe is made in the USA and has a lifetime guarantee.
The Flexrake 1000L Hula-Ho Weeder Cultivator is also made in the USA, also known as a scuffle hoe. It's self-sharpening and the blade can be replaced if needed. (I've had mine for over 10 years and it's still going strong.)
Pruners
My Fiskars Traditional Bypass Pruning Shears have held up better than any other pruning sheers I've tried. I use them for cutting back plants in the vegetable and flower gardens, as well as for pruning brambles, shrubs and smaller tree branches.
For larger jobs, I use the Fiskars 32-Inch PowerGear Bypass Lopper. This lopper will handle tree branches up to 2 inches in diameter.
For a basic shovel, the Bully Tools Shovel is a great choice. It is lightweight, has a limited lifetime warranty, made in the USA and is tough. It has a shorter D handle option if you prefer that style.
For hand tools, I like tools that are one solid piece with a non-slip grip. The Fiskers Soft Touch 3 piece set includes Trowel, Cultivator, and Transplanter. It has a Rust-Resistant Design with a Comfortable Ergonomic Grip. Each Handle Features a Hang Hole for Easy Storage.
This one's not exactly a tool in the standard sense, but I love using kneeler pads in the garden. I tried the pads that you strap on your knees, but found that they made my knees sweaty and tended to move around to the wrong spots.
This garden kneeler wave pad can also be used indoors for tasks like tub or floor scrubbing.
Watering & Hoses
We tried a lot of different hoses for watering around the homestead and DRAMM hose is the best. We replaced nearly all other hose, but Dramm has held up well.
Also the super simple Dramm brass hose nozzle will not catch on things if you have to pull it through debris.
Tool Organizers
The 5-Gallon Bucket Garden Tool Organizer from Apollo Tools keeps your tools and seeds tidy on the outside of the bucket while you use the inside of the bucket for weeds, deadheading, fertilizers or whatever else you need to tote along.
This four place heavy duty tool hanger is sturdy enough to hold even your heaviest tools or to hang more than one tool in each spot. We added two in our coop/garden shed.
The Roo Gardening Apron is great for fruit picking and also for protecting your clothes during messy jobs, and includes several storage pouches.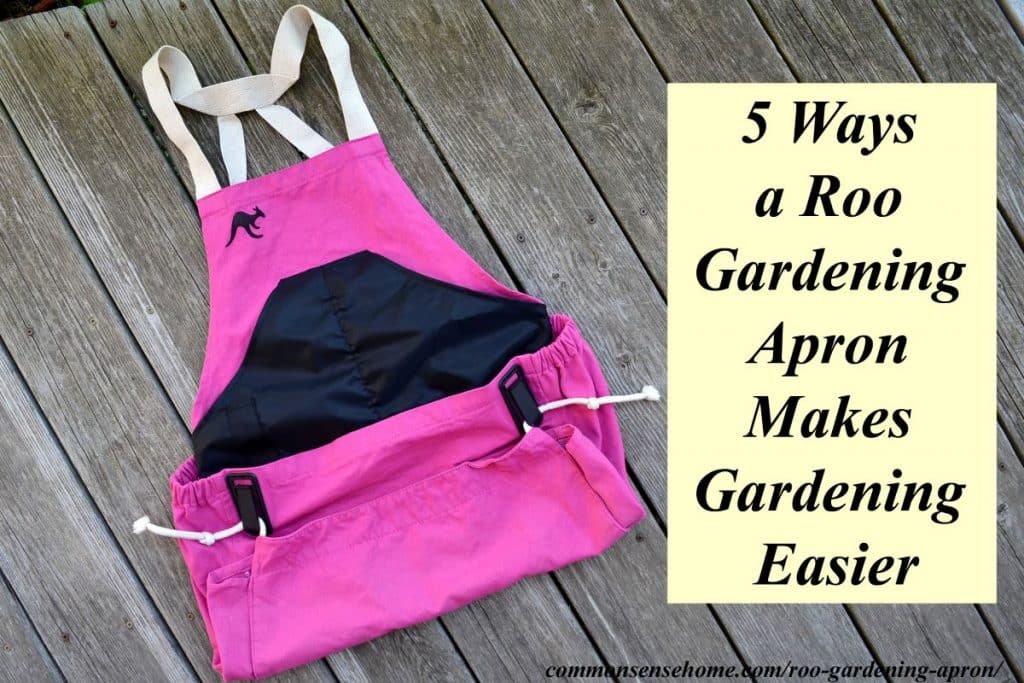 Natural Fertility Boosters
Worm poop is a great soil builder and gentle fertilizer. If you don't have your own vermicomposting setup, you can buy Earthworm Castings online.
Sea Magic Dry Soluble Seaweed Extract Fertilizer was recommended by a reader as a great all around fertilizer. I just purchased my first package of it this fall and used it to inoculate my biochar.
As we learn more about microbiology, we're finding that healthy soil life is essential for healthy plants. You can jump start the populations of the "good guys" in your garden by using products such as EM-1 Microbial Inoculant Fermented Micobial Product for Soil Conditioning.
I mixed some of these microbes in the biochar, too, because it starts out as barren charcoal waiting to be settled by bacteria, absorbing whatever nutrients it is exposed to.
Garden Plant Supports
The post "Transform Your Landscape with Vertical Gardening – 10 Reasons to Garden Up Instead of Out" discusses many different options for trellises, but one I'd like to highlight here is the Vinespine™ Garden Trellis.
The VineSpine trellis system is made up of a series of panels that can be arranged in different configurations, depending on what crop you're growing. It can also be used in combination with a floating row cover to make a mini greenhouse.
It stores flat (unlike the big round tomato cages), is very sturdy, and is made in the USA. You can learn more in the post, "5 Reasons the Vinespine is the Best Garden Trellis".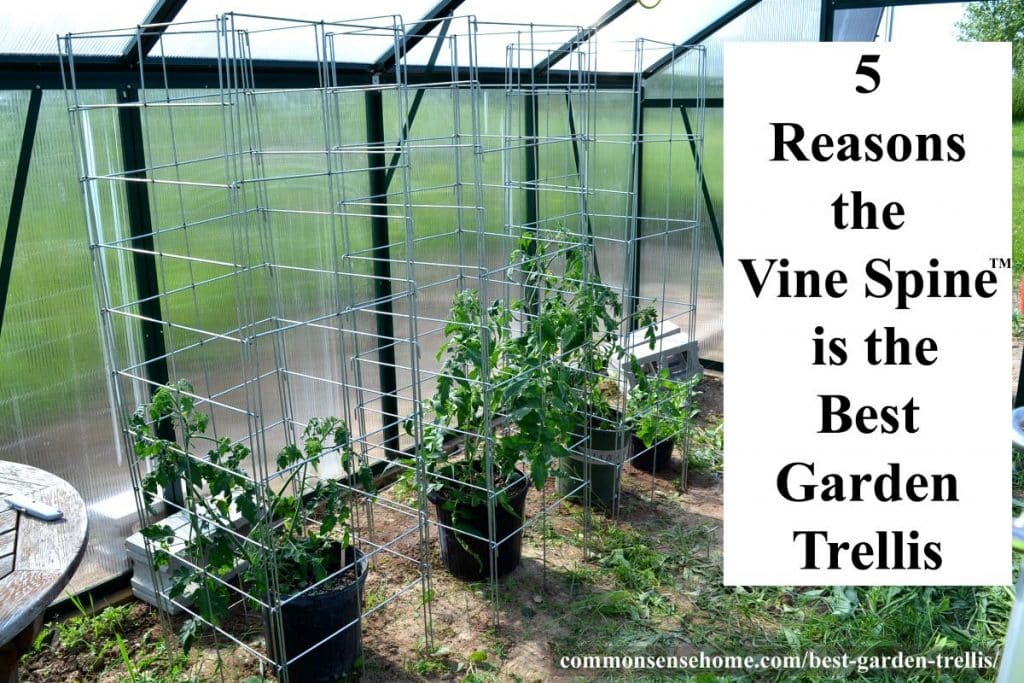 Gardening Books
I also have a number of gardening book reviews here on the site, including:
This list covers a lot of my garden favorites, but I'd love to hear what everyone else likes to use in their gardens, too. I've found some of my favorite gardening things via my readers and friends.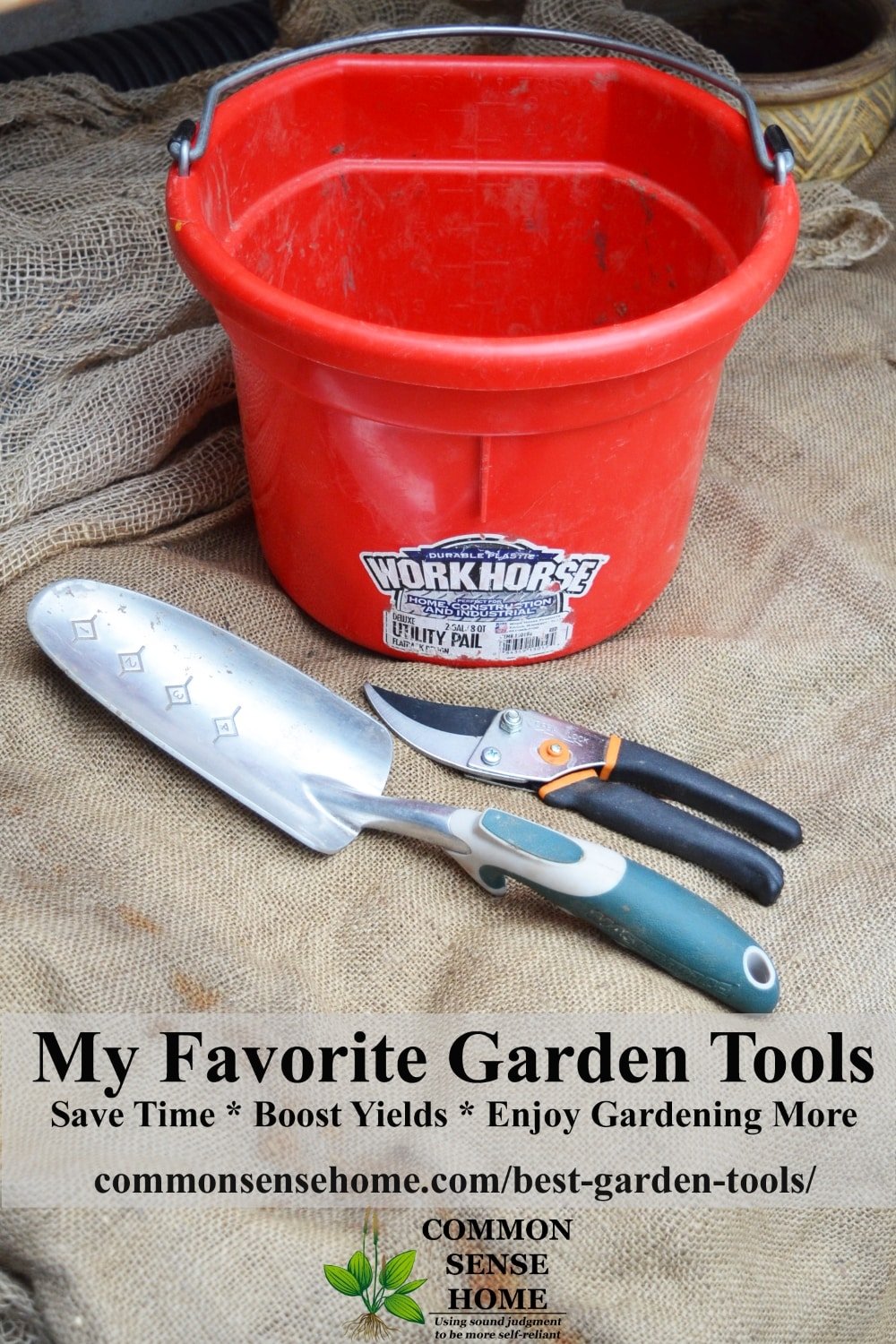 You may also enjoy: