Ever since I was diagnosed with Hashimoto's Thyroiditis, I've been trying to clean up my diet and environment and remove the toxins that are already built up in my body. Our bodies are designed to repair themselves. If they can't, something's interfering. I started using Herbalix Detox Deodorant about a year and a half ago (and am still using it). I saw positive changes from this – some big, some small.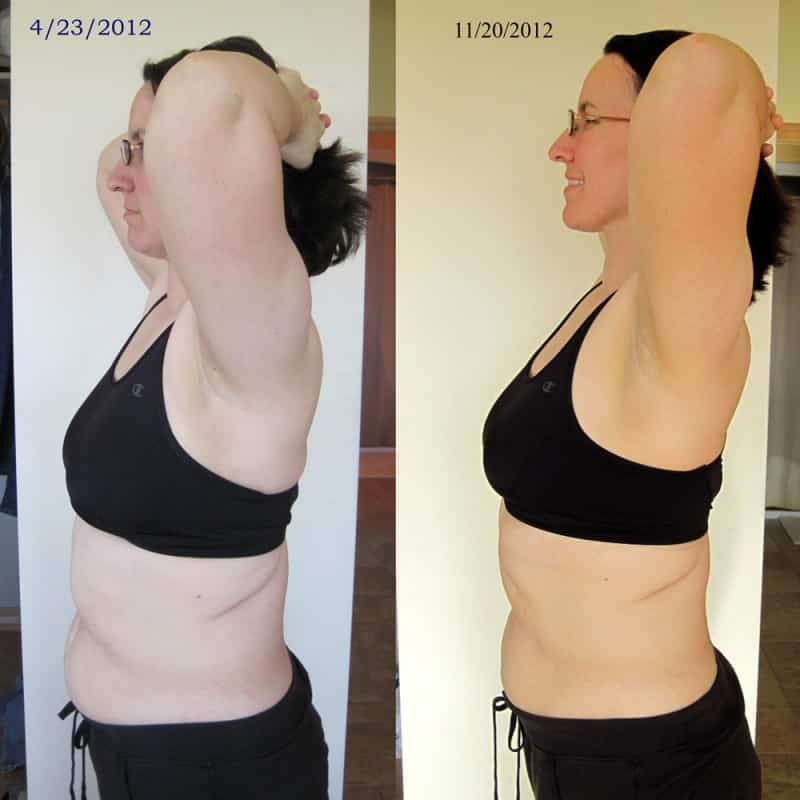 This year the team at Herbalix introduced a new product called Belly Stripper, and I became one of the guinea pigs. 🙂  (BTW, I did not get a tan, it's just different daylight levels in our bedroom where the photos were taken.)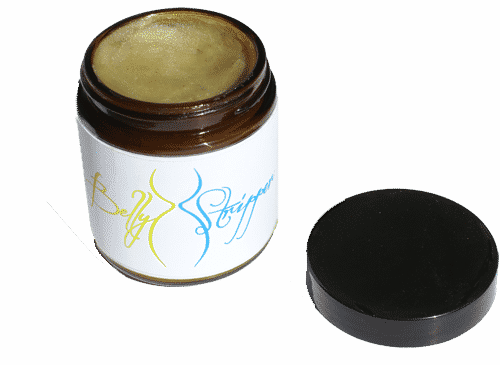 What is Belly Stripper?
Belly Stripper is a topical cream that is applied to the abdominal area at night. It is designed to pull toxins from your body through the skin, which is your body's largest elimination organ. It's made with all natural and organic materials, including the Herbalix™ Sea Blend Preservative System. It contains no synthetic anything.
Ingredients include:
Olive Leaf (Oleae europaea) – Certified Organic
Coriander (Coriandrum sativum) – Certified Organic
Kelp (Laminaria digitata) – Certified Organic
Rosemary Essential Oil (Rosmarinus officinalis) – Certified Organic
Herbalix™ Organic Preservative – Certified Organic
A proprietary preservative made from a blend of herbs and plants harvested from the land and sea. Free of synthetic chemicals; proven extremely effective in stringent lab studies conducted in the U.S.
Select Minerals – Certified Organic
Proprietary Blend of Carrier Oils – Certified Organic
It smells like herbs, not like something from a pharmacy shelf. It's yellow-green in color and has a consistency like semi-solid coconut oil.
My experience with Belly Stripper
I lost weight – 8 pounds between April and November with no other major changes in diet or exercise
I lost inches – My waist went from 37 to 35 inches, hips went from 44 to 42 inches
My clothes fit better – I can wear my "skinny" jeans, I've got more room in the thighs, waist and backside of my pants
I've got visible abs – No "six pack" yet, but I can clearly see the bottom of my rib cage (more visible in top photo) and the little fat pooch by my belly button is smaller.
Firmer skin, less puffiness under eyes – the skin under my jaw line has tightened, and I'm retaining less water weight. The skin on my belly is about as soft as a baby's bottom, too. (It's like "buttuh". ;-))
I think it pulled crud out of my liver – Every part of your body works together, but there's a direct feedback loop between your thyroid and liver. (Read some of the nutty-gritty details here.)
After using the Belly Stripper for several months, in October I developed a pea sized cyst right over my liver. I cleaned it out, and it filled up again. This happened repeatedly over the course of three weeks, with a small amount of discharge for a couple more weeks. I don't know what came out, because I didn't get it tested in a lab, but something left my body that should not have been there.
I've seen a similar pattern on a smaller scale each time I've started applying the detox deodorant on a different part of my body. Under advice from Mike at Herbalix, I used it on my spine for a while, and developed some acne that cleared after longer use. When I started apply it on my thyroid area, I broke out on my neck and shoulders – not where I had applied the detox treatment, but on the connected lymphatic pathways. I firmly believe these products help your body to help itself clean out toxins.
Why is removing toxins important for weight loss?
As a form of self-protection, your body sticks "bad stuff" out of the way in your fat cells. You loose weight, and those substances are released back into your system. (This can be verified by people who've had acid trips years after no longer using acid as a result of rapid weight loss. Bad juju.) Your body reacts by putting the weight back on to protect itself, and you get frustrated because you can't loose weight and keep it off. Until you clean out toxins, it's really, really hard to maintain weight loss.
I haven't been this weight for years, and the last time I was I had to run myself into the ground with exercise to drop the weight. When I stopped exercising like a crazy woman (burnout, anyone?), the weight came right back on. What I'm doing now (see "Switching on a Healthier You"), I can live with, easily.
I'll be trying (and posting about) other detox options. I try to remember to breath deeply, go barefoot in warm weather and I use cold rinses in the shower and dry brush, but there are more methods you can also use. As we head into what is often a season of indulgence, make sure to take time to give your body some TLC.
If you'd like to try Belly Stripper yourself, you can click on the image below, click here to visit Belly Stripper directly. One jar lasted me from April through October (longer than the website indicates). A little goes a long way. The price is currently $80, so if you do the math, that's $16 per month or about 50 cents per day.
Given my slow but steady progress, I decided to become a Belly Stripper affiliate, so I do make a small commission from your purchase. Herbalix provided me with my first sample jar, but I have since purchased my own product. All opinions are my own, as are the non-edited photos of my before and after caboose above. If you have a more pronounced tummy, you may see faster results, but I tend to carry more of my weight in my hips and thighs so it took a while for me to see the changes.
Please leave a comment below if you have any questions about my experience, and I'll do my best to answer them.